2.67 and will try that, thanks
I think it is the forum removed double comma, so it should be something else. I can try your file in the game tonight.
You mean 2.6.6.7

My thermals now work with kinetic assistant v0.7
Okay, it was bad idea to paste code here as it became broken after forum formatting.
I have fixed issues manually, and it started to work, even if all thermals has 0 elevation (you sure you have set elevation properly?)
you can try file I have got anyway (be sure you are lower than 500ft so at least inversion effect can be triggered). rename .pln into .csv (forum does not allow csv upload)
mwr2410_thermals.pln (6.3 KB)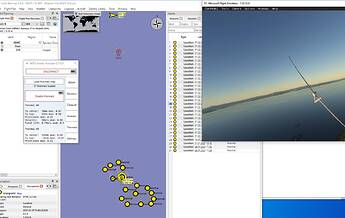 Hi @thealx2901,
thanks for the example .pln (.csv) file.
Can you give us a more detailed description of each of the datafields in a line of the provided .csv file please ? It seems there are way more parameters per line in your example file than in the official description. Maybe that needs an update.
Thank you for your work !

edit: nevermind, I was trying to create the csv by hand, I figure now it is way easier to use little Navmap.
you don't need to build CSV in text editor, most data will be ignored by assistant anyway. LNM currently is only proper way to build thermals map.
It would be great if there was a way to choose the direction of the Aertow aircraft.
For example north, south, east or west. Not only north .

And that the ai-plane climbs a bit quicklyer at the beginning of the launch.
It flies through the trees und buildings near the airport, because it don't climb up quickly.
Kinetic Assistant 0.8 is out! Main changes - UI improvements, some bugs fixed and missing features added, and most important - thermals import from https://thermal.kk7.ch/ available now. No need to mess with CSV files. Just check their map for coverage, find suitable location, start the flight in MSFS and press the KK7 button on Thermals tab. To see thermals in LNM - you can export them as CSV and load by Userpoints > import section.
7.02.2021 Please update to v0.8.1 if you are using KK7 data
transparency option
partially working Always on top feature fixed
Winch Initial acceleration field added
Custom AI tow plane name support (most aircraft will not take off without taxiing; names list can be found in Developer menu -> Aircraft Selector)
Automatic thermals data load from thermal.kk7.ch service (experimental! coverage is limited, check their website to choose supported location)
Thermals height field, for thermal.kk7.ch data or CSV thermals with 0 elevation set; should match altitude of lower clouds layer in the game (in feet)
Thermal Clear button added, as now several sources can be used same time – multiple CSVs made in LittleNavMap and thermal.kk7.ch server data
Thermal debug data moved into bottom window
Winch/Tow rope random failures option (chances still depend on tension, Training Mode is like use damaged rope that will fail during next launch)
AI tow plane altitude limit depend on launching position altitude (fix for mounting area)
Kinetic Assistant v0.8.2
Always on top and Transparency checkboxes removed (available on the window bar)
20 seconds minimum KK7 data update interval (to prevent server flooding by possible code issue)
KK7 thermals button state save (no need to toggle it after each program launch, just press Enable Thermals to start receive data)
Solved KK7 data load precision issues, program will request data for single grid cell (3 on far north/south) to avoid clipping
API thermals filtering, too keep distance between received hotspots
API thermals maximum strength decreased
This tool is just great. I've tested it a little bit and sound really great. I wonder about the NORTH-GOING limitation for the AI plane.
Anyone has tested it with a mountain close in north direction? To use this feature in areas I know in the alps can be really painful due to very close big mountains. I don't understand if AI is able to avoid mountains or not.
Thanks!
AI does not avoid hills, mountains or buildings, and that is real problem. Best chance you have with using Realistic option for AI towplanes, and start from parking. In this case plane will follow flight plan, which taking into account relief and runway heading. But, another issue here - most small airfields does not contain taxi paths, so either way it will not work in 30% of cases.
I do recommend to join some MSFS glider community, or participate in competitions - there you have good chance to find a live tow plane pilot.
Thankyou. I was missing that part about flight plan following.
Hello guyś …maybe itś my age (grin) i have try d to install the Kinetic Assistant program.Only each time when i try to start the programm,.The little startscreen opens and dissaperes within a few seconds.What do i wrong ??.
So iff one of you wiskids can help me out , would be great.
Thanks Andre
maybe your antivirus blocks it, which one you have? I've seen complaints about Avast but after sent EXE for analysis, it never did it again.
Kinetic update 0.8.4 - a lot of changes were applied to artificial thermals, as an attempt to make them closer to real life. New modifiers - weather, time of the day, and most important - wind. Please read the description for more information about how it all works together.
Minor catapult and arrestor improvements. Like a catapult launchbar now holds the aircraft until you initiate launch, in case parking brakes are not able to do that.
Program description now contains both user interface description and usage instructions, please check it out in case you are missing some feature (on the website or inside of the PDF included in the archive).
Unfortunately, previously announced XCSoar support delayed due to issue caused by the network script, but we hope to introduce it in the next update.
As Kinetic Assistant is now part of the ALBATROSS competitions app, some future updates may contain features that will be used in competitions only, but stay tuned anyway - thermals and towing improvements still planned.
Thank you for trying helping me out.I tryd again however it still shuts down??
i.am an older person and most things are completly new for me.
what did you mean by sending the exe for analysis.
i looked around in Avast virusscnner only could not find a clue.
so, first of all - do you have antivirus installed? or it is only Windows Defender?
really appriciate your help.Forgive me my bad English…Living in the Netherlands.
Then that is it. I will send EXE to them again, usually takes 24 hours until it will be whitelisted, you can try to update malware database in Avast control panel manually tomorrow and then launch application again.