Hi, Where did you see this? I must have missed it.
I've quoted it in several places across the web where people have asked us. I'm from JF.
Just cant wait for this
. Price is about right, you pay for what you get.
First takeoff will be from EGLC.
Great News! Thanks for the info.

That's going to be one very crowded airport on release day!
The price definitely moved it from the "must-buy day one" category to the "wait and see, evaluate other releases" category for me. I have no doubt JF will do a fantastic job on it, and I don't believe that's even a question. That being said, at this price, I have to seriously consider how much I'd fly it in the long term no matter how high the quality.
I have the exact same feeling. Liked how Aerosoft approached the CRJ series. Giving us a "taste" with the 550-700 series - and providing the 900/1000 as an option. Not forcing us to buy the whole package.
Would also love to add the BAe 146 to my hangar, but I am certainly sure that I will not fly it that often and thus cannot justify to buy the full package at full price.
Unfortunately too rich for my blood, 110+ nzd is a bit steep for something I probably won't fly enough to avoid crippling buyers remorse

Looks great though and I wish them luck in the success of the launch. I can't help but feel placing this in the same price bracket as the dc6 would have probably significantly increased sales.
£59.99 / €74.95 / $79.99 … out of my range, I thought MSFS customers base would make price lower than FSX/P3D but finally no. No go for me. Nevertheless I wish a good fly to those who will buy
Thanks fellow kiwi for putting it into NZD context…


I was just going to get the well worn credit card out (lucky there is no physical swipe involved with the credit card, or that little strip would almost certainly be ffff… in line for a replacement!!!)
I was just going carry on with my strategy, to get the credit card out and close my eyes and say… it's only 59, 74 or 76… pending on what server I get… Fingers x that the big spinning wheel stops on the 59…

and not look at my balance… It always works!!!
$110 NZD… that's like buying the cheapest version of MSFS all over again…
As what a poster above did say… every time you use it, by the time you get to the end of the year… you would have paid it off… But like a GYM membership… you must be committed
Dear Just Flight…
If you ax the Air New Zealand livery (seriously… it's got absolutely no relevance, regarding BAE146 history as it only operated it by pure default of the collapse of Qantas NZ who brought out Ansett NZ… and only used it for a year while waiting for extra 737-300)
If you replace that "small blimb with Air NZ " with either the legendary Shooting stars or the golden A southern cross livery Ansett New Zealand, Ansett NZ was more or less the flagship for BAE. The airline that has the true history with this aircraft… using both… the 146-200/QC and the 300…
Then consider it sold!!!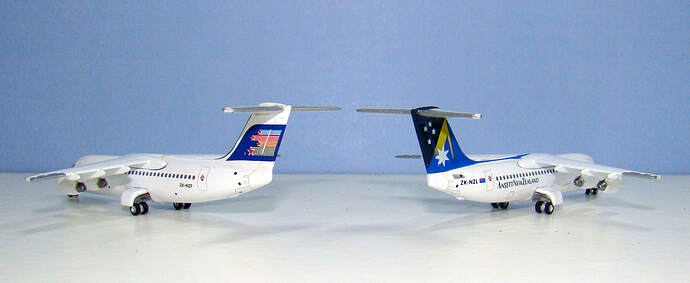 Same here. Out of my price range, unless it's praised to be one of the best aircraft ever released. Otherwise maybe on sale later. It's not like it's not my type of aircraft, it fits very well, but when an addon reaches that sort of price, I buy it because it's an absolute must. We'll see…
I'm really sad to see the pricing. JF is one of my favorite developers, and I was excited for this aircraft…but I can't justify $80 for it.
I'm not saying it's not worth that price. I'm saying I can't justify spending that much for it.
I will be really interested in how Wing42's pricing experiment goes with it's pricing for the Boeing 247D.
I'm going to definitely get the 146 when is is released. It is such a versatile aircraft, and very unique. The price is definitely on the higher side…but I have paid more in the past for a quality airplane. The Flight Factor 757 and 767 for X-Plane spring to mind…and some of the DCS modules are at the $80 price point as well.
At this price point the important question for me… Is the FMC custom coded, Or based on the MSFS defaults?
Never mind. I just read the justflight blog.
Flight Management Computer:
• Custom-coded UNS-1 FMC for accurate navigation
• Navigraph database support for up-to-date AIRAC cycles
• Lateral navigation integration with LNAV autopilot mode and HSI
• Vertical navigation information for use with autopilot pitch modes
• Ability to create full flight plans with import and export functions
• SID and STAR support
• Fuel management, performance, radio tuning and more
Absolutely sounds like an instabuy to me!
and, has got all of this items you mention?
Yes, you can read the blog I've linked below. Seems to be very complete. Lots of detail in this blog.
I'm surprised people are surprised by the pricing on this

I bought the JF 146 back in april last year for X-Plane 11. The price on that is 70 euros. Were people really expecting the same aircraft - which no doubt had additional work done to it since then - to be LESS expensive? I wasn't.
And frankly, I'm glad they're pricing it according to its worth. Because a race to the bottom hurts everyone. If developers lower the price, they'll most likely lower the quality as well. Which means eventually you end up with a bunch of cheap add-ons - which aren't as great as they can be.
In my personal opinion, we need to encourage developers to make more high-end add-ons, not less. There's plenty of cheap and cheerful stuff to buy already. I don't want a lackluster 30 euro 146, I want an all-singing, all-dancing 70 euro 146. No regrets, and life's too short to fly not-great planes.
And seriously… flight simulation has never been a cheap hobby for the masses.
That's not a positive thing. It's what Microsoft is trying to change.
Hope they'll make the RJ series as well. Personally I'm more interested in the RJ than the 146.