We are two months after the game's release. Any updates on Asobo adding MPTO?
if you look at the satellite imagery on Bing Maps, it's pretty clear why the AI can't recreate the airport, it's covered by clouds.
As with all the other things; file a ticket on Zendesk, and it might be added in a future world update.
it's not a conspiracy, the scenery is 99,9% autogenerated by AI.
I suspected the reason was something like this, nobody has claimed this to be a conspiracy (?).
This thread is simply a request for the content to be implemented through the Asobo process of Forum Upvote.
So, if you haven't already, please do!
The way to get airports added is by reporting the missing ones to Zendesk, if the only way to get airports into the game was to get people to vote on them here in the forums, this place would become a huge mess really fast.
also, the conspiracy theory part was aimed at the people above who post in all caps, and call it 'very shameful', and demand a refund if it's not added within a year.
I really don't want to distract the conversation from the subject at hand.
That said, the upvote mechanism on this official Wishlist channel, with the aiport and scenery tags applied precisely for this purpose. I did not not come up with it.
Again, I kindly ask to keep on subject to getting as many votes as we can to speed up having MPTO implemented in the base game.
Sorry, but no. The 'Wishlist' section is intended for missing features.
A missing airport, or incorrect approaches are not feature requests, but they are bugs, and should be reported to Zendesk.
We don't need this forum section to have 100's of requests for individual airport fixes, where people are competing for votes.
edit: you can also add it to this thread, it's where someone is collecting all airport fix requests that have been posted to Zendesk.
I'm pretty sure MPTO is already on this list.
So it appears we now have a [broken] MPTO back in the sim:

It has no gates and the taxiways are disconnected, but it appears to be flyable and programmable, at least with the latest Navigraph Add-on.
The pitch/yaw you see when I overfly the piano keys is the AP being disconnected from the LOC/GS, it took me a couple of seconds to tame that beast.
Wish MPTO soon in Panama

Just landed an A320 at this enormous international airport and was told by ATC to exit next taxiway, except…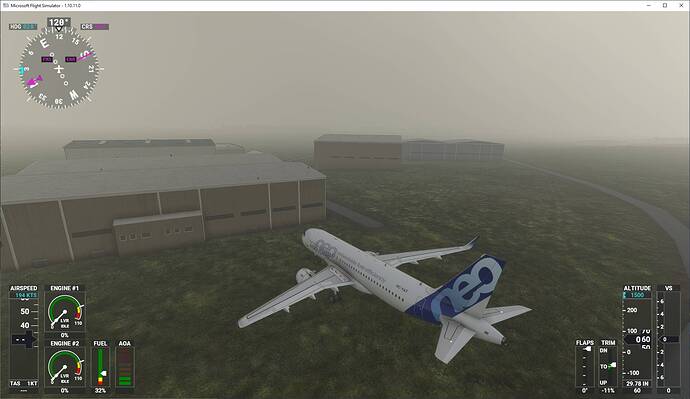 I'd like to have the scenery. Went to https://fsx-p3dscenerybuilders.blogspot.com/2020/11/mpto-tocumen-int-v30-msfs.html, then to https://mega.nz/file/R58SUJLC#UZf5DgLScsR8EaEL_Vn637ShT8L4xi1l9uyQAQ17sic, and this is the message I get:

Is there any other way to download it?
I have a bunch of identical screenshots : )
brou do you have the link or reupdate link for donwload this sceneray
'
Hello !! You have included all the little strips and domestic airports in Panama; however; the MAIN international airport (MPTO) is missing !!! You can see the terminals as part of the country scenery, but thats it ! No Runways or anything else ! How can Microsoft miss this important Hub for the Americas ???
I noticed that too! Actually, there are a lot of airports missing in FS2020. I have a feeling they will get added. I am hoping that the guys at FSimStudios will bring their terrific MPTO to this sim. Fingers crossed.
Lee
Yes !!! I think they mentioned before they were doing MSFS2020 versions of all their sceneries so Im thinking MPTO will be included… It had a lot of elevation issues on P3D V5 so this is their GOLD oportunity to do their best work now foe MSFS2020 !