Sky Dolly v0.7 is still in active development, but here is a preview of its major upcoming new feature: formation flight recording.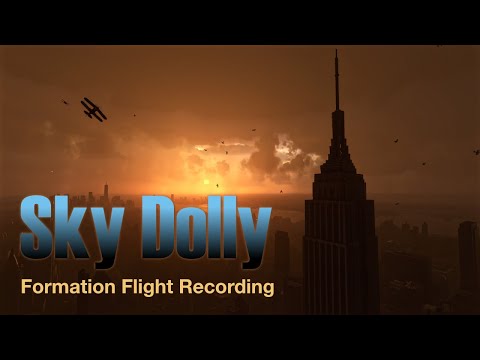 Except from RAM and CPU performance there is no limit set by Sky Dolly with regards to the number of aircraft in the formation. In fact the only limit in the video was my patience, to fly 32 times the same 2 minutes flight

And the usual limits of my iMac 27" with an Intel i7 4.2 GHz CPU, 32 GB RAM and AMD Radeon 580 Pro (with 8 GB VRAM).
To set expectations right: there is a serious "jitter-fest" going in FS2020 on when you sit in your own aircraft - or follow it with "flight following" enabled, but only for those aircraft which are nearby: mind you: the frames per second are as usual, but aircraft nearby jump ever slightly so "back and forth" - I call this "jitter" for now.
However as soon as you "detach" the drone camera from your user aircraft - so your drone camera remains "stationery" - all aircraft flight paths become smooth as silk, regardless of how close you move with the drone camera. As this feature is still in development I see what I can do, but for now it is good enough to shoot "cinematics", at least with the mentioned "stationery drone camera" (and again, aircraft "farther away" also seem to be moving smoothly, also with the "in-plane camera").
I hope you enjoy it! At least the video for now
UPDATE: Credits where credits are due, for this great "epic, cinematic soundtrack" with some "extra drama" - I love it! This is my "cinematic moment" in FS 2020

Music:
Victorious
AShamaluevMusic
Screenshot: