The current bug fix release v0.8.6 (aka "Drop Bear Edition") also introduces a new IGC file format import plugin.
The International Gliding Commission (IGC) file format is mostly produced by flight recorders in gliders.
Currently the following basic data is imported:
Header data (pilot names, glider type and ID, flight date and number)
Tasks ("C records") which are stored as "waypoints" in Sky Dolly
Position data: latitude, longitude, GNSS altitude (altitude above the WGS84 reference elipsoid)
Note that some flight recorders only sample in very rough intervals (e.g. only every 10 seconds), so while the interpolated flight path is "smooth" it is impossible to properly reconstruct "tight turns" (e.g. when rising in thermal updrafts) with so few sample points, especially the heading (which is "reconstructed" from the sampled positions).
The glider also typically "wildly turns on the ground" just before take-off, due to GPS "signal noise" (this might be amended in a future update of the IGC importer). Another known issue is that the initial altitude rarely matches with the terrain height in MSFS, so the glider starts either way below or above the terrain. This might be amended with a future altitude offset in Sky Dolly.
But for now enjoy the silence of gliders: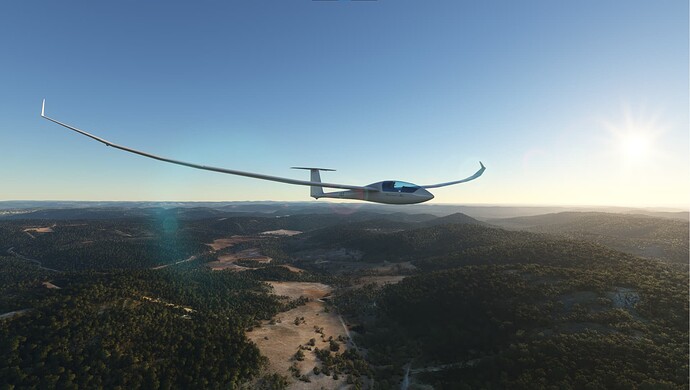 Glider model: Discus 2c Glider (flightsim.to) by @DigitalJonx et al.
Also refer to: [RELEASE] Discus-2c | Got Friends Remaster
IGC file: Madrid to Jerez.igc (available on skypolaris.org/)