I was having terrible stuttering with v sync on but I'm also having an absurd amount of cpu usage.
Thank you having done further testing, I also get increased stutters when V-Sync is on, my hope is that when they 'fix the V-Sync' I'll be able to lock FPS to 30 or 60, thus reducing CPU usage
Yep, didn't work. Listed as no 37.
Only found a reference to dynamic thread boost after i posted this. Its next on my list to test.
Let me know if it works out for you. I'm going to test this myself tomorrow.
Well here I am with cure number 46. Disable dynamic thread boost using Lasso. After 46 failures I didn't hold much hope of a solution. But have finally found something that made a difference. Now it's not a total cure for minor stutters, they still happen, but a lot less frequently. Where I found the big difference was the long major stutters during flight, which disappeared. Really noticeable in areas like Los Angeles and Sydney.
So went from this significant and consistent -30 FPS for about 5 seconds (notice all the nasty blue which as about 12FPS)

To this. While there a few red (less than 30) there was long stutters

I tested this a 3 or 4 times now to make sure it wasn't just MSFS being its usual inconsistent self. But every time without the fix, long stutters. Every time with the fix, pretty smooth.
Major Improvement !!! Thanks to

Now the only question is how do we turn this on permanently so we don't have to do this manual fix each time we start MSFS.
For anyone who would like to replicate the big stutters and test this fix for themselves. Take off from KLAX in the A320 and cut the power back after takeoff (autothrottle off). Turn right after as you cross the coast. Level off at about 2000 ft and follow the coast until Santa Monica Municipal is to your right. After you pass this turn right and follow the line of tall buildings which curve in an Arc towards the main Los Angele CBD, you'll have a freeway to your right, and beyond tahta Santa Monica airport again. Then as you cross another freeway which runs from left to right MSFS should have a major ■■■■■ spit. Then try the same circuit with the fix enabled. No ■■■■■ spit by MSFS.
Fix not applied - Big MSFS ■■■■■ spit

Fix applied - No MSFS ■■■■■ spit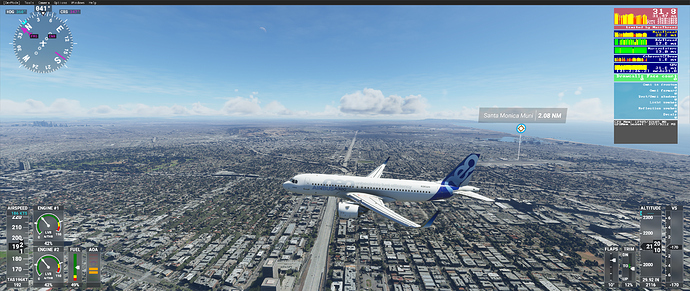 Cockpit issue solved, removed all the buttons , the airplane is still working, (but the wipers are going crazy)
https://imgur.com/a/x5SSIku , finnaly managed 60 fps (also i gain some weight)
I did not see any changes
Thats great! @BilingualHarp7
So happy to see you found something that works!
Maybe if you select "Always" instead of "Current" and make sure that Process Lasso loads when your computer starts, you won't need to mess with it each time.
Tried the process lasso tweak, no effect at all.
Its going to affect each machine differently. Im going to try this later today and see what happens.
Don't know if it is just me but does anyone else notice better performance when photogrammetry is turned off?
Thanks I'll give it a try. Contacted Tessellated in another thread and he say making it permanent caused MSFS to crash on load. Will give it a try and see what happens.
While this did get rid of the long stutters, it still drops the smoothness sometimes. But nowhere near as bad as before.
Made the permanent change on MSFS started up without problem. Did a lot more testing and while this improves things dramatically, MSFS still manages to through a few stutters at you every now and then. Also found that while this modification made a big improvement in Los Angeles (which initially had a huge stutter), the improvement in Sydney was less pronounced, but still better than before the change.
where do you disable this??? in MSFS
Yes in the data menu there is an option for photogrammetry
No effect. HW is 6700k at 4.8 / HT is on and GTX 1080TI, 32GB RAM.
Same screenshot at LA gives me about 44fps.
Since I run locked in driver to 32fps, when I set my screen to 32Hz, I get perfect smoothness.
Sim nevertheless stutters here and there, I am sure however that is the missing performance optimization.
Yes think so, mean I usually run P3D at 30FPS, 30HZ and it's super smooth, but when running MSFS at 30 HZ, 30FPS V-Sync I get some stutters, having explored most 'tweaks' on the forum I can only assume that this is just the base game being not properly optimised.
Well this works for me especially on the 12fps stutter issues. Thanks!