I have no desire to fire up Flight Simulator until this graphic issue is resolved.
See? We're getting a fix very soon.
Chicago is looking very strange all of a sudden. Also LA and NYC have changed for some reason?
I know i was tweaking my graphics for better fps, but i dont know how to get rid of this. Got everything back on ulta, but this is still happening.
Anyone got a solution?
This is the 'melted buildings' issue with photogrammetry and is not new, nor is it related to he terrain mesh issues in this thread.
I've previously issued one of the spike fixes available on flightsim.to but I believe I now have a more comprehensive fix which I'm mulling over issuing. Please see topic below

That's the photogrammetry, nothing to do with the issue reported here. Turn your terrain LOD slider up, check your network connection is good & don't zoom in so close.
Oops replied to a reply. Nevermind…
Also I see it, south of runway
This was all a massive issue around Virginia and West Virginia from day one, but they fixed it without acknowledging it in a recent update. Seems to have sprung up everywhere else. It's like whack-a-mole!
Hi,
i just try the Mod,then my sim Hang at Start…all other fixes i have remove
The Lord of the Wings - The Spike Tower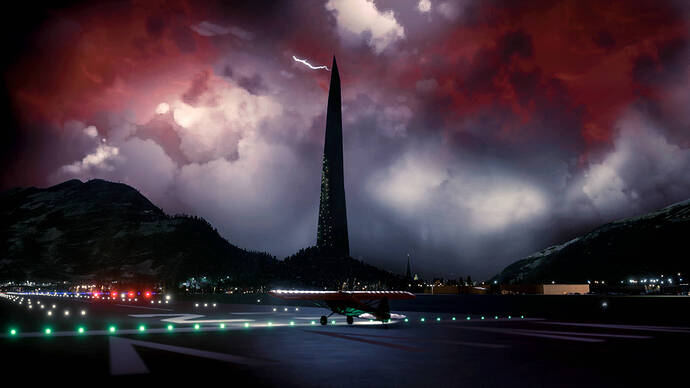 As seen from Interlaken airport (LSMI), Switzerland. Interestingly the "tower" is even lit (the FS 2020 mesh generator must really think that this is a building of some sort ;))
Note: overlay of several FS2020 screenshots (custom "Storm" weather at dusk) - and edited for effect
UPDATE: The tower must be using the magic force of the wing: when you approach the tower it makes itself invisible
Will mis these spikes after fix
RJTU(Utsunomiya of Japan)

RJSF(Fukushima of Japan)

Ver 1.12.13.0
3440 x 1440
GROBAL RENDERING QUALITY:ULTRA
AMD Ryzen 5 3600
Mem:32GB
GeForce RTX2080 Super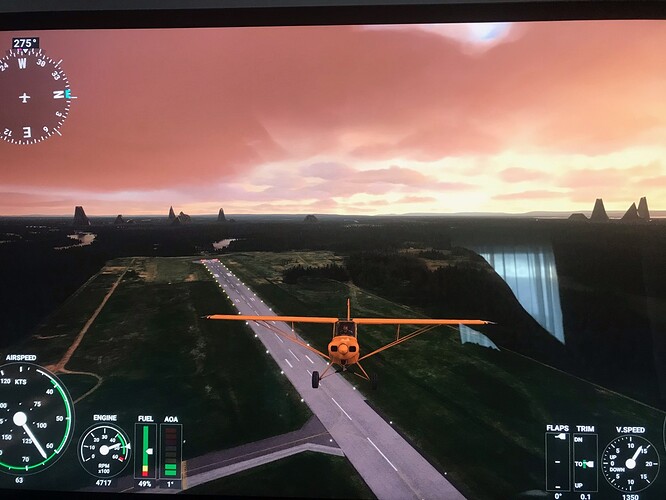 CYDF Deer Lake, NL, Canada
Please note that the two light blue objects on the mid - right screen area is not sim generated. It is a reflection of my window on the screen. The spikes, however, are a sim issue.
OK, I don't mind the development team taking holidays off with their families and only fix this mess next year.
However I think in return they need to apologize, EXPLAIN what exactly caused this game breaking issue, and how they plan to improve their quality control for future updates.
Isn't this "deal" reasonable, considerate, respectful, and necessary?
I believe MS follows the PR approach of 7-years old: "Don't tell the parents the vase was broken, maybe they will not notice".
There are several ways how you can take screenshots:
If you bought FS 2020 on Steam: Press F12 (the screenshots get saved in some folder - check the Steam configuration, which also let's you choose between PNG and JPEG formats)
Use the Snipping Tool which comes with Windows 10
Or simply press the "Windows + Print Screen" (Prt Scr) key, which screenshots the entire screen and stores the PNG under USER/Pictures/Screenshots.
Just sayin'