Thank you using the Bug section, using templates provided will greatly help the team reproducing the issue and ease the process of fixing it.
Are you using Developer Mode or made changes in it?
No
Brief description of the issue:
I hope you read here my please to make it possible to run MSFS on very Wide Screens and Multible Wide Screens like i have. I see the Q&A , you have around 30 different Setups/Configs of Hardware. Maybe you can add one Setup for Homecockpit Builder because there are really hard Problems getting a good view on Multible very wide Screens like these:
Amazon.de
I have 3 of them for a nearly 180 degrees View in my Homecockpit, but i am not able to set the Grafics to have a acceptable result. The Horizon Line did not match between the Monitors when i do a turn with the Aircraft. Also on the Side of each Screen i have still distortions.
The Resolution of on Screen is 3840x1080, so i have overall a resolution of 11520x1080.
I really hope you can fix that until you release the final version of SU 10…please…
Also, because i sit in a B737-800 ( Prosim737 ) i need to set up the View for the Pilot, so when the Aircraft is perfectly aligned on the Centerline of the Runway, the View forward out of the Window if wrong. I need a option to set this View correctly. ( see pics )
Provide Screenshot(s)/video(s) of the issue encountered: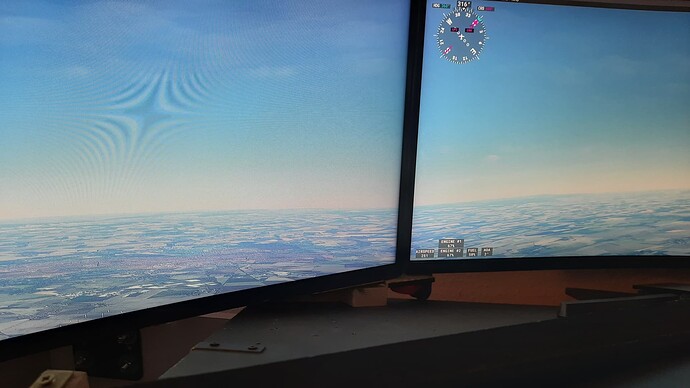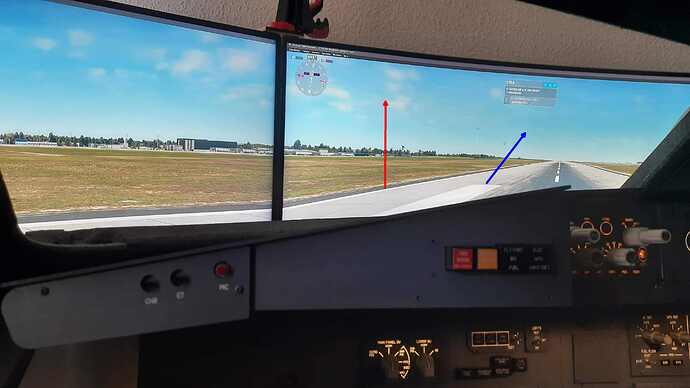 Detailed steps to reproduce the issue encountered:
just reproduce the setup with 3 of these screens pleas
PC specs and/or peripheral set up if relevant:
Intel Core i9-11900KF 8x5.3GHz | Nvidia RTX 3080 Ti 12GB | 1TB M.2 NVMe + 2TB HDD | 32GB DDR4 RAM | Windows 10
---
For anyone who wants to contribute on this issue, Click on the button below to use this template:
Do you have the same issue if you follow the OP's steps to reproduce it?
Provide extra information to complete the original description of the issue:
If relevant, provide additional screenshots/video: