This weekend, we're going to a place we've not visited, Eastern Anatolia. We will begin our flight in the shadow of Nemrut, a dormant volcano on the shores of Lake Van. We will depart and begin a short climb to the caldera where the daring pilot may wish to attempt a landing. From there we will begin a trek to the south, traversing the valleys and following the rivers, ending up just a stones throw from the border with Syria at LTCV. This route will have multiple opportunities for impromptu landings, but two areas have been designated as stops along the route. The first one is situated on a plateau just west of the town of Obali, the second is on the recently completed Ilisu Dam.
4 landings in total, 136nm. The highest point we'll pass over is around 10,000 feet.
The Bush Divers Invitational: Eastern Anatolia Run 2
Sun 22 January - 0200 UTC (SE Asia server)
Starting at LTTA Tatvan
Recommended cruise speed: 120 knots.
To join: just turn up at the starting airport in a suitable aircraft, MSFS multiplayer on, name tags on, and join the Discord "The Bush Divers Invitational" voice channel. You can load the flight plan if you like, or just follow the group. (edited)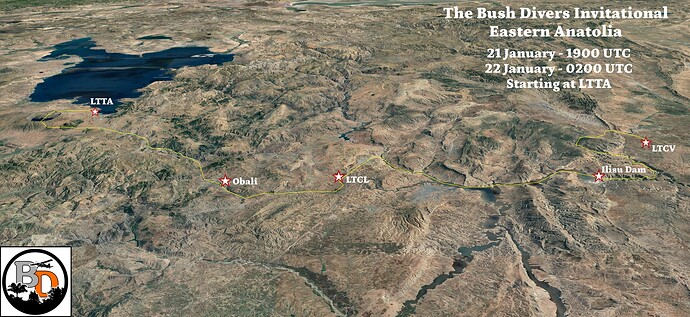 LittleNavMap Flightplan: BDI_Eastern_Anatolia.lnmpln
10.98 KB
MSFS Flightplan: BDI_Eastern_Anatolia.pln
13.93 KB