This weekend, we're returning to Papua New Guinea! Our extended tour continues as we begin in Gulf Province, climbing from the coastal town of Kerema into the Nabo Range, and beyond into the Albert Mountains. This trip will involve landings at many small bush strips in Gulf, Morobe and Eastern Highlands provinces, including a run up the Yaiga valley, with seven landings in the space of just a few miles. We'll end up at the Aziana valley, trying our luck at AYLA Aziana, which may be the steepest runway in PNG, before finishing just over the rise at AYKS Owena. Some of the strips on this trip might be familiar to you from Missionary Bush Pilot videos, including Menyamya and Gema.
20 landings in total, 207nm. The highest point we'll pass over is around 9,000 feet. The shortest runway is 1021 feet (AYLA Aziana), but it is very steep.
The Bush Divers Invitational: PNG series: part 3: Kerema to Owena
Sat 1 October - 1900 UTC (US East server)
Sun 2 October - 0200 UTC (SE Asia server)
Starting at AYKM Kerema
Recommended cruise speed: 120 knots.
To join: just turn up at the starting airport in a suitable aircraft, multiplayer on, name tags on, and join the Discord "The Bush Divers Invitational" voice channel. You can load the flight plan if you like, or just follow the group.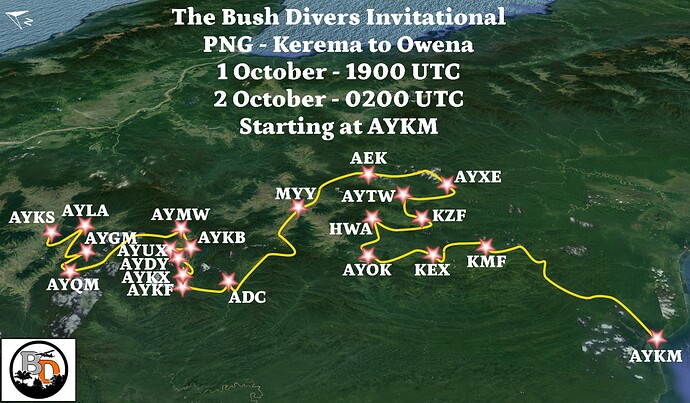 LittleNavMap Plan: https://cdn.discordapp.com/attachments/828718703943352331/1024261793973026816/BDI_PNG_part_3_Kerema_to_Owena.lnmpln
MSFS plan: AYKM to AYKS
Join our Discord at: Bush Divers