I would uninstal aircrafts that i do not use
Core install is the same size for all versions.
Nope.
Core premium deluxe.
Included +10 airports and + 10 airplanes

10 airports
EDDF - Frankfurt Airport (Germany)
EGLL - Heathrow Airport (UK)
EHAM - Amsterdam Airport Schiphol (Netherlands)
FACT - Cape Town International Airport (South Africa)
HECA - Cairo International Airport (Egypt)
KDEN - Denver International Airport (Colorado, USA)
KORD - O'Hare International Airport (Chicago, USA)
KSFO - San Francisco Airport (California, USA)
LEMD - Adolfo Suarez Madrid-Barajas Airport (Spain)
OMDB - Dubai International Airport (UAE)

10 airplanes
787-10 Dreamliner
Beechcraft Baron G58
Cessna 152 Aerobat
Cessma 172 Skyhawk
Cessna Citation Longitude
DA40 TDI
DV20
Shock Ultra
SR22
Virus SW 121
So just to clarify guys, if I uninstall my present MSFS (that is about 147GB) and re-install it again the final uncompressed size will be about 86GB?
If you re-install all the things you had installed before, the file size will be exactly the same as before.
Microsoft must clarify this, because other people here say otherwise…
yeah would be nice for someone official just to pop in an say wouldn't take minute.
But I can't believe they would have found 34gb to cut off the file size.
It's surely compressed files just like when you download add-ons on orbx central the download size is usually smaller than the installed size.
If you have quick internet then just re-install and find out if you can be ■■■■■.
Though if it was me, if the sim is stable for you id leave it be anyway.
I agree with you. My sim is very stable now and I still have 173GB free space on my 500GB disk, so if its not broken Don't fix it…
Core means base install, it doesn't include any additional aircraft and airports.
That would be a full premium deluxe install.
I know what means "core".
In this case premium deluxe core = 86GB not 79GB.
Because you must install +10 airports and +10 aicrafts.
I've got the premium deluxe version and the content manager says 79GB.
That's not the content manager. Recommended is not mandatory.
Premium deluxe 86GB. open your eyes
For testing purpose create new folder named msfs2020
After that edit file named UserCfg.opt
In notepad open file UserCfg.opt
scroll down to the bottom and edit last line
InstalledPackagesPath
to for e.g.
InstalledPackagesPath "D:\MSFS 2020"
save changes and run msfs
This is becoming annoying. No need to test anything. Simply check what the content manager states.
I'm out.
I'm not blind
MSFS 2020 Premium Deluxe download size 86.4GB

MSFS 2020 Premium Deluxe install size 101.6GB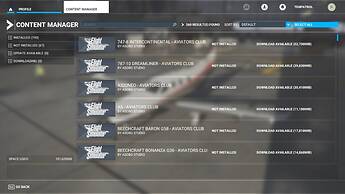 MSFS 2020 Premium Deluxe with WU1,2,3,4 all liveries, aicrafts, airports (without freeware EDLP) install size 128.8GB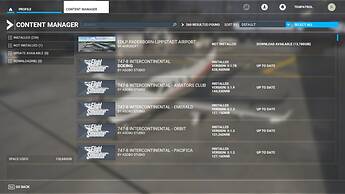 36.4 Gib is actually 92.7Gb's and the 128GIb is 138.2gb's
Thanks for the clarification
This topic was automatically closed 30 days after the last reply. New replies are no longer allowed.