SAVAGE CARBON - STOL REALISM MOD
A lighter, faster and stronger Savage Cub with a 141HP Rotax 915iS powerplant.
The Savage Carbon is a custom backcountry aircraft built to be a versatile high performance stick and rudder bush machine. She excels at STOL yet flies with XCubs.
She's a load of fun. She's also awfully close to a study level aircraft.

---
DOWNLOAD AND INSTALLATION
The Savage Carbon will install as a new plane, appearing next to the Savage Cub. 13 Liveries are included.
1. Download the Savage Carbon (v1.0.6 / Nov 28)
2. Drag into the Community Folder
Delete older versions of the mod
Extract the ZIP file
Drag the folder named gotgravel-savage-carbon directly into the Community folder
Restart the sim
If done correctly, your folder structure should look like this:
/Community
   /gotgravel-savage-carbon
      /RTC
      /SimObjects
/Official

---
WHAT'S IN THE BOX
An Awesome Experience
Bush machines are extreme machines, often pushed to the edge of their performance envelopes. To give you the most authentic STOL experience possible, we knew from the start that the flight model had to be pushed to extremes as well.
To this end it took well over 150 hours of research, engineering and test flights to tune all aspects of the model to satisfaction, always supported by actual Zlin Aviation POH data and Rotax engine specifications. Performance is frequently evaluated by 2 seasoned pilots with experience in similar planes.
Some of the highlights:
Flight model parameters like parasite drag, induced drag, flap drag and lift, moment of inertia along all axis, P-factor, propwash, torque, weather vaning, gyroscopic precession and more have been finely tuned.
The CG has been reworked by correctly positioning all simulated masses in 3D space, resulting into a stable aircraft and a natural feeling flight experience.
Ground handling is what you would expect from a purpose-built backcountry aircraft: Lift your tail, propwash left and right, brake on a dime.
Vortex Generators on wing and tail are accurately simulated, delaying stalls and enabling those slow STOL approaches.
Aerodynamic pressure on control surfaces at high speeds is correctly represented giving you full control of the aircraft at all velocities.
Two auxiliary fuels tanks of 10gal each were installed giving you that extra range when you need it.
Night VFR. It's got all the illumination and navigation lights you'll need.
Parking brakes were added (use a keybind to control).
More STOL stuff:
A 3rd monster flap setting has been added (60 degrees!) so you can fly slower approaches, with higher sink rates, giving you 15ft landing bragging rights.
The mains were moved forward a bit so you can (almost) safely prime the brakes before touch down.
Flaps move faster so you can pump them for short take offs and retract them at touchdown for maximum braking power.
A Strong and Light Airframe
The Savage Carbon's airframe is constructed of a tough carbon fiber skeleton, making her about 10% lighter than a Savage Cub while enabling her to sustain higher g-forces.
A Powerful Engine
Powered by the latest turbo charged and injected Rotax 915iS, this reliable 141HP workhorse is responsible for giving the Savage Carbon an unmatched power to weight ratio.
All 3 engine gauges - oil temperature, oil pressure and CHT temperature - are accurately simulated as well providing an immersive flight experience.
So yes, you do need to warm up your engine for 2 minutes or so, and the choke is needed on a cold day.
A Large Prop
A larger 2 meter carbon fiber fixed pitch propeller was installed converting all that power into plenty of thrust.
14 Liveries
Comes with 14 custom designed liveries including 2 popular historic D-Day designs (USAF and RAF). All liveries come with red lambskin seats.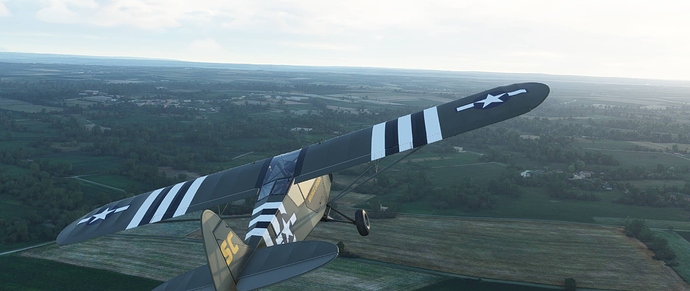 ---
BE A SUPPORTER
This Savage Cub to Savage Carbon conversion mod is free and always will be, but if you enjoy it and feel you want to contribute towards this project it will always be appreciated.
---
CHANGE LOG
Changelog v1.0.6 (Nov 28, 2020):
Autopilot. All setup and configured, but it is disabled by default as it does not come with the Savage. If you want it, please enable it by following the instructions in the next section.
New livery "Rust Bucket", bringing the total to 14
Night VFR! With a flick of the strobe switch you now have illuminated gauges, navigation lights and double strobes. The landing light is also brighter.
Electrical system upgrade
Multiplayer sunken planes fixed
Propeller upgraded from wood to carbon, adding 3% power
Flight model realism improvements
Correct white arc added to the cockpit ASI (but the original white arc is still on the glass as it comes with the gauge itself, this is currently beyond my control)
Changelog v1.0.5 (Nov 19, 2020):
3rd monster flap added (60deg!) to enable steeper high-sink rate approaches…and even slower ones
Faster flap change speed of half a second…commonly seen in STOL work
Auxiliary fuel tanks installed in the back seat
Prop shutdown a little slower to sync with shutdown sound exactly
Rotating prop 3x more transparent to match real-life looks
Increased maximum gross weight from 1111lbs to 1150lbs
Much easier to trim elevator
Faster roll at lower speeds
More tips added to the loading screen
Changelog v1.0.4 (Nov 13, 2020):
Added 2 more liveries (D-Day USAF and D-Day RAF), bringing the total to 13.
New and improved Rotax 915iS with much more accurate power curves
Further refined engine gauges (Oil temp, Oil press, CHT temp)
Simulated aerodynamic back pressure on control surfaces at higher velocities
Dramatically improved STOL realism and control
Excellent ground handling, can throw your tail left and right with just propwash
Fixed: much reduced nose-up attitude upon flap deployment
Much more realistic flight model overall
Changelog v1.0.3 (Nov 6, 2020):
Added 5 more liveries (purple, teal, black, batman and zebra), bringing the total to 11
More realistic oil temperature and pressure gauge simulation
Much improved ground handling
Much improved CG (even harder to nose-dip now…unless you don't apply stick back pressure)
More powerful pneumatic brakes
Ground effect (added)
Gyroscopic precession effect (stronger effect)
P-Factor (stronger effect)
Torque (stronger effect)
Weather Vaning (added)
Adverse Yaw (added…but FS2020 does not do this very well yet)
Propwash (stronger effect)
Changelog v1.0.2 (Nov 1, 2020):
Added 5 new liveries to the default white: red, orange, yellow, green and blue
Added handbrake
Adjusted brakes (it's now harder to nose-dip)
Increased fuel capacity by 50%
Improved flight model
ICAO Type Designator set to SVCB (seen in multiplayer labels)
Changelog v1.0.1 (Oct 28, 2020):
---
AUTOPILOT
The autopilot is disabled by default as it is not installed in the Savage. If you want its functionality you will need to manually enable it as per the instructions below. Use your own keybinds to manage the autopilot on / off state, altitude hold and heading hold.
Go to your community folder
Go to gotgravel-savage-carbon / SimObjects / Airplanes / Asobo_Savage_Carbon
Open the file engines.cfg in a text editor
Go to the last line and change the 1 to 0 (DisableAutopilotControls = 0)

---
PERFORMANCE
Most of this information is also found on a placard on the left side inside the cockpit
All performance data was obtained at sea level under ISA (clear skies) and MTOW (Maximum Take Off Weight) conditions
Power Settings
TAKE OFF POWER 5800 RPM
MAX CONT POWER 5500 RPM
75% POWER 5500 RPM
70% POWER 5000 RPM
V-Speeds
NEVER EXCEED SPEED (VNE) 160kts
CRUISE SPEED (VC) 115kts
MANEUVERING SPEED (VA) 100kts
BEST CLIMB RATE (VY) 65kts
MAX SPEED FLAPS (VFE) 70kts
STALL SPEED CLEAN (VS) 35kts
STALL SPEED FULL FLAPS (VS0) 28kts
BEST POWER OFF GLIDE SPEED (VBG) 48kts
Fuel Flow
4500 RPM 5.2gph
4800 RPM 6.7gph
5000 RPM 7.2gph
5500 RPM 9.8gph
5800 RPM 11.5gph
---
RECOMMENDED STOL TIPS
---
RECOMMENDED SENSITIVITY
Sensitivity settings are personal and very much depend on your controller and preferences, but if you don't know where to start…this is a good one!
(X is Aileron, Y is Elevator, Z is Rudder, Slider X is Throttle)
---
CREDITS