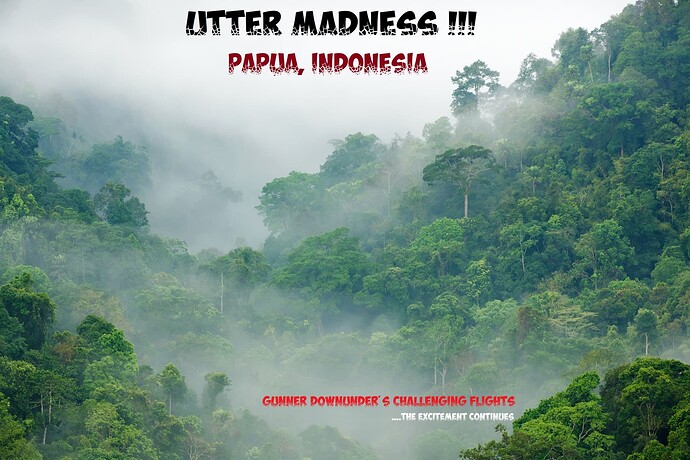 Welcome to the 85th flight event across the GUNNER DOWNUNDER series. This challenging event will be conducted in Papua, Indonesia , and is again guaranteed to give you more of the unique and challenging flight experience that you have come to expect from Gunpilot's flight events.
This event is not for the faint-hearted!. We will be flying in one of the most inhospitable regions of the world that is reknown for its mountainous jungles claiming aircraft that dare to fly thru these mountains in inclement weather.
Talking of inclement weather, this flight has been titled *UTTER MADNESS !!!*as the weather on the day of our flight is forecast to be extreme, with poor visability and strong crosswinds that will have you on final approach almost 90 degrees to the rwy…better practice sideslipping approaches for this one. And if this is not tricky enough, you will at all times durng the flight have to be aware of the wind direction and the land formations you are flying thru/over to make sure you don't catch a down draft that will drop you into the jungle with little or no warning.
By the end of this flight you will definitely understand the old avaition saying …"THERE ARE OLD PILOTS, AND THERE ARE BOLD PILOTS…BUT THEIR ARE NO OLD BOLD PILOTS!"
In the real world of aviation, pilots would definitely be sitting this weather out …
When: Friday 10th June 2022 @ 2300 UTC
Where: Papua, Indonesia
Flight Duration: Approx 3hrs (depending on numbers attending)
Aircraft: Cessna Grand Caravan - if you have a different favorite aircraft then leave it in the hangar for this event (as always, as flight planned around Caravan performance)
Server: SOUTH EAST ASIA
Discord Server: https://discord.gg/rDSJaBy8V7 Click on this link and you will be sent a very welcoming INVITE that will enable you to fully participate in the radio chatter with all the other pilots in the flight
Voice Chat accessed by clicking on Comms Radio
###Sometimes there are music tracks played - to turn the volume either up or down for your individual liking just right click on MEE6 tag in the list of people on Comms Radio and adjust volume up or down as you desire###
RECOMMENDATIONS
Cessna Caravan as all landing and other challenges built into flight are
tailored for this aircraft specifically
Turn Damage mode off as you will most likely suffer at least hard
landings if not full on crashes
Bring plenty of Duc Tape for running repairs
Crash Helmets are optional, Prayers are advisable
Embrace "SLEW" as it will be your friend by the end of the flight
Practicing to make Caravan landing approaches at IAS of between 40-50knts max will see you nailing difficult landings with ease and precision.
If you are new to these Gunner Downunder Challenging Flights, ensure you download the Caravan mod which can be found in the #Add-ons-and-downloads channel (mod is pinned to the top RHS of this channels screen) in Gunpilot's Server. Download and extract into your Community folder and you will have the real life SUPPER 900 kit that is installed by Texas Turbine Coversions in the USA. Improved performance both in the air and on the ground.
Make it easy on yourself to navigate around the route and accurately pinpoint the exact landing areas by downloading and using the free "LittleNavMap" s/w you can get on the web - you will never open the standard sim VFR Map again once you have tried this fantastic app that integrates seamlessly with MSFS2020.
From time to time in Gunpilot's flights there will be music tracks played. By right clicking on the MEE6 name tag in the COMMS RADIO channel you will be able to adjust the volume to suit yourself.
[
Utter Madnesspln.pln (8.8 KB)
Load this plan into your Little Nav Map
Then go to Gunpilot's Server and extract a packaged up weather conditions file into your Community Folder. The file (called gunpilots-challenging-wx.rar) can be located in the #gunpilots-events section where all the flight details are posted. Extract this file to your Community file and that will negate you trying to set all the weather parameters yourself