On Wednesday 19th January 2022, at 9pm GMT (2100Z) we will host an IFR flight from VIDP Indira Gandhi Intl, New Delhi, to VNKT Tribhuvan, Kathmandu in India.
Pilots are requested to follow published standard instrument departures and standard approach routes, taking off one-after-another with generous separation. While we do not operate air traffic controllers, we at least want to avoid total chaos. Between the SID and STAR, pilots are free to follow routes of their own design - a suggested route via VORs is outlined below and in downloadable flight plans in the #flightplans channel of the VirtualFlight.Online discord server (details below).
Flight Plan
IFR Indira Gandhi Intl (VIDP) to Tribhuvan Intl (VNKT).pln (4.7 KB)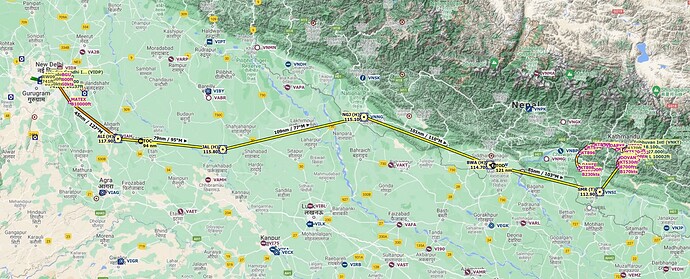 Departure
Airport : VIDP Indira Gandhi Intl, New Delhi
Runway : 09
SID : ALI5D
Suggested En-Route Waypoints
JAL NGJ BWA SMR
Destination
Airport : VNKT Tribhuvan, Kathmandu
Runway : 02
STAR : RNAV KT530
Discord Server
To chat with other pilots en-route, join our Discord server:
Flight Simulator Server
SOUTH EAST ASIA
Final Note
We are an inclusive, relaxed group - we recognise that some may not have flown IFR before, or operated the commercial jets, so encourage mentoring from more experienced pilots as much as possible.
Although take-off is scheduled for 9pm, it may be worth arriving early to setup your aircraft, and/or to help others set-up theirs. Use the streaming functionality in Discord!