Pilot? I wish. No I was a passenger with my wife and two friends. I take the point you made which is why I flew today at 3500 feet rather than lower in the canyon. Of course, since my flight there have been a number of tragic crashes resulting in the restriction on flying in the canyon. But, we can still do it in MSFS.
The A320 mod is coming along so well. I wish the A330 was to that point.
I remember trying to deal with lag in FSX and then P3D over LA to arrive at KLAX. So nice not to have those issues. However, I don't have the AI Traffic I insisted on using and did this flight with wonky Rex weather - excessively overcast in Honolulu. Trade off was the gorgeous late afternoon approach into Los Angeles.
KOSH → C16. On the way I buzzed Drezieckie's Navy Pier and did a loop around the Loop. Then put it down on the grass strip at Flyt Simulation's Frasca Field. Some of the most fun I've had in Flight Simulator yet. Now I think I'll head over to that Lucille's hot dog stand.
I have so many questions. I tried the same thing over the Alps, and I was never able to gain altitude. Maybe it was not windy enough. What were the wind conditions ? Were did you take-off from ? Any add-ons ?
DonQuilmi3528: I used Kinetic Assistant for a winch launch. I can't remember the exact location - an airfield in a valley somewhere. It turned out not to be ideal since it was on a slope, and thus one-way takeoff, downwind. Fortunately Kinetic Assistant's imaginary winch could cope with that.
As for the conditions pretty blowy, from what I recall. The amount of lift will depend on more than just wind speed, but I'd recommend not trying it in less than about 10 kt to start with. If you can find a nice steep exposed ridge at right angles to that, and don't start too low, you should have no trouble finding lift close in, and with much more wind, working your way up way beyond the top of the ridge itself, giving you the chance to move on to the next one. I suspect that MSFS overdoes the high-level lift, as I've got up to some rather implausible heights on occasion.
Where did you get the aircraft?
playing around with SDK scenery editor… Dutch mountains from Saba
The funny little jet is a 3d-printer thingy I converted with Blender.
Beautiful !!! I see you now have the Black Sheep. Have you considered the AD ? It must be frustrating, flying that plane with nothing to chase or shoot at.
Not a bad flyer. Reminds me of so many models I bought from Just Flight in FSX/P3D. Hopefully more bugs will be dealt with down the road. Still, a full Hokkaido patrol provided some nice sights.
1C6 → KALN. Frasca to St. Louis Rgnl. Please don't judge my take off and landing. The simulator says I did not crash, and I'm sticking with that.
I don't know the different squadrons, but I've been reading up on them a bit as I try them. There are 21 different liveries included with this aircraft.
I played Combat Flight Simulator and the sequels way back in the day:

But shooting stuff never appealed to me as much as just flying these planes. I grew up watching them at airshows like the Sunday warbird show at Oshkosh. Rather than working guns, I'd rather have an add-on (or a live multiplayer event) where you fly in one of those shows, with pyrotechnic explosions and smoke to fly through, and a bunch of other warbirds in the circuit.
Tried to fly the Spitfire through the mountain passes in New Guinea from Port Moresby using live Wx (where RAAF Spitties were used in WWII). I lasted about three minutes.
VR on a Reverb G2 with an AMD 5600X and Radeon 6800XT. This combo guarantees crashes from seconds in to (if you are lucky) twenty minutes or so.
I finally managed a nice flight in the western part of the Pyrénées. I had to boost the wind, real weather was too calm.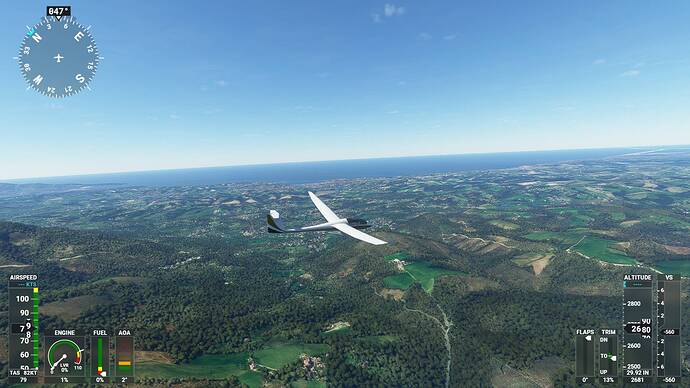 The Great Rift Valley in Africa. I have to go there, it is mesmerizing.

Then, star chasing over the Big Island.
Mahalo.

Ishigaki to Haneda. Last flight before the standalone change.
Some GA pattern work, touch and goes, VOR tracking and an ILS to finish it off all on VATSIM.

I checked out the poles today, to see if it would be an idea to include them in my world tour. Definitely not.
The North Pole

There is no ground or water, my plane is 'resting' on the null barrier
There's nothing above 85 degrees, just a void with trippy effects
The South Pole is a bit different, very high, you need to stay above 8,200ft or at least the camera gets stuck up there. At about 2,800ft you bounce of a barrier (no damage on) which catapults you back up. The plane never comes to a rest when you let it fall, keeps bouncing.
At 8,200 ft where the camera still works

With slew mode to 0 ft

The map stops working above 75 degrees, the world ends at 85 degrees.