So I assume your next destination will be the blue skies above the czech republic
This is cool, just got this aircraft myself.
Need to learn how to use flight plans and fly IFR properly to nail a landing like yours. Im a bit more proficient in more modern aircraft but the islander is a little more dated.
Flew from Verona > Milan > Genoa > Nice Cote D'Azure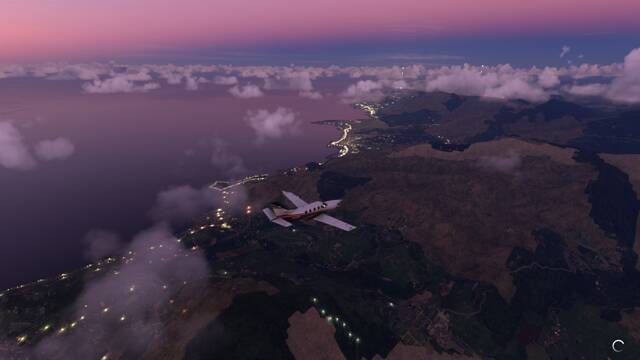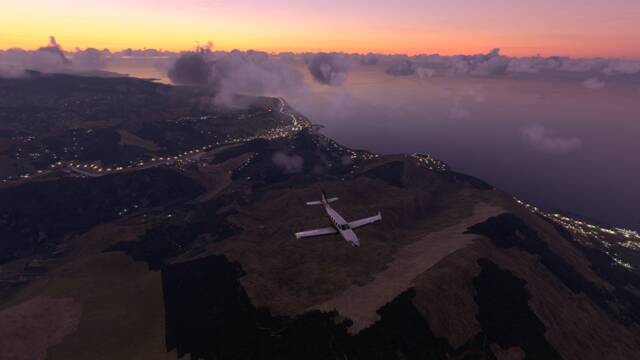 On to Barcelona for the next leg.
Southwest of Iran - on the way from Tehran ( OIEE ) to Kuwait ( OKBK ) …
Woke up early, made myself a coffee and joined the MSFS community stream flying in the jungles of Papau
Been 'installing' and restarting for the past 3 hours. Instead of a flight manual this game should come with a 150 page installation manual. It counts as play time on Steam, so technically I was in MFS today.
Attempt 3 incoming at world update 6.
That plane and the 787 I don't bother with. Always give me CTD. Xbox Series S
So following the update decided to fly Hamburg to London Heathrow (about 80mins flight time).
Start of the flight was fantastic with a very short taxi and almost straight out SID from runway 23. One of the best things about EDDH is the short taxi time to departure off 23.
Had a great view of the city at night from the captain's seat. At times the aircraft deviated from NAV mode when either looking at other views in the cabin or looking down at radios. Once looking straight again it sorted itself out without any input. [Bug of drifting nav mode with a roll to the left or right is still present.]
About 40 minutes in we were passing over Amsterdam at FL380. Then decent into Heathrow another great view, of London this time. Again all those seated on the left getting views of London from FL160.
Unfortunately below 10,000 feet we got another bug. The ATC couldn't be heard anymore, only our replies to ATC.
Then after a wonderful landing another bug. The screens went black again. Thankfully this was after landing but it shouldn't still be happening after waiting so long for updates. Would be nice if this dumb black screen bug Default A320Neo and ATC completely stop talking be sorted in a hotfix asap. The Ramp GA Medium being the largest at many A320 airports is still an issue, with even LOWI Innsbruck still being a "no pushback tug available" airport despite WU6 targeting Austria. All highs and lows can be watched below. Most of the troubles were from around 10,000ft coming into Heathrow.
I can't start the load as I follow their link to the store and there's nothing to update with. You are not kidding about a manual.
Evening reposition IFR - Quonset Point to Block Island - glad to have the radar alt fix back and NXi is amazing for understanding all 23 procedure leg types: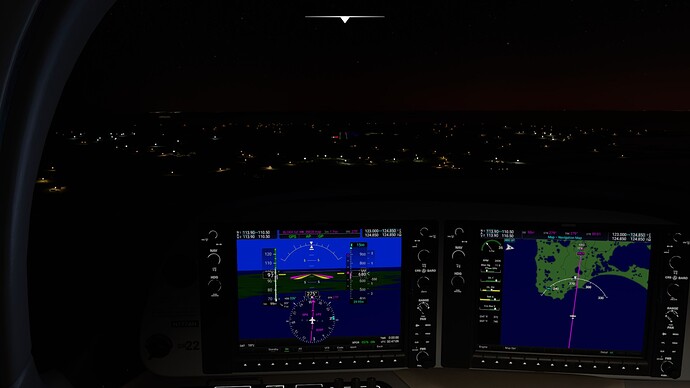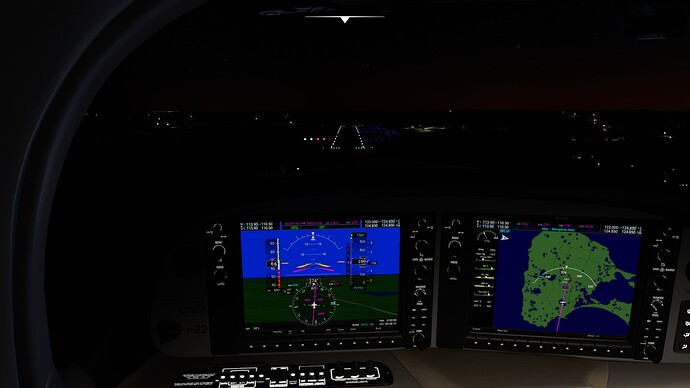 Did some test flights after WU6; haven't checked out the new Germany/Austria/Switzerland stuff yet, just confirming things work in my regular US West Coast haunts.
Had a perfectly fine VFR flight around Portland, which confirmed the 'pop-in' issues are gone and performance in photogrammetry cities is still great! Yay!
Then popped down to Los Angeles, did a VFR from KSNA to KBUR. Had a couple CTDs, but this seems to have resolved when I removed a few scenery mods. Will track down which one is the cause later.
Then a slightly longer low-altitude IFR flight, KSNA to KBFL. No problems with altitude (I cruised at 10,000 feet which should have shown an offset if the SU5 bug with ATC altitude had remained, so so far so good). This was also a chance to test some stuff with the G1000 NXi early access preview; the direct-to function worked correctly for skipping past some bits of the auto-added departure procedure that weren't needed because the flight was pretty short, without destroying my flight plan.
Also tried out the VNV mode when descending, which gave me guidance on how fast I needed to descend to hit the target altitude for the next waypoint. Nice!
Overall, for an MSFS update day – not bad.
I've spent most of my time in the sim recently flying the Islander. It's a fun one to fly. Pretty basic - nothing real fancy about it but that's what I enjoy about it too. A few little bugs I've noticed, but nothing earth shattering.
I love the TBM, are you using the WT G3000 and or the TBM improvement mods, they do a number for the TBM in a good way
plain jane (pun intended) version of TBM. Fly's nice still learning, though on the XBOX
so not sure if/when they will move onto that platform.
Had a wonderful long flight from Tokyo to Shimojishima, enjoying the smooth framerate and no CTDs brought by the World Update (and spotless LNAV with the experimental version of the A32NX)
And yes, I know Jetstar doesn't fly from Haneda, but I'm still waiting for the dev to fix Narita
Hurricane Larry chasing
The plan was to fly to Miami and divert roughly due North to find Hurricane Larry. I added 50% extra fuel, estimating an extra 35% for the 2 sides of a triangle. It turns out the radar I was looking at was showing the estimate for tomorrow, and we had to go further East than expected. I followed the cloud formations, then the very very pink weather radar to find it. Due to the diversion, fuel became a concern, so I chose to return to San Juan instead.
time-lapse from dark cockpit, normal speed as we break into the eye (?), then accelerated for the trip home. Had a minor issue on the approach
watch for the sun as it flickers below the horizon…
I spent a moment on the NOTAMs. I hope nobody was trying to put out a hurricane with a nuke… lol
PR…AIRSPACE VIEQUES, PR…TEMPORARY FLIGHT
RESTRICTIONS WI AN AREA DEFINED AS 4.1 NM RADIUS OF
180818N0652012W (STT244022.1) SFC-5000FT TO PROVIDE A SAFE
ENVIRONMENT FOR ORDINANCE DISPOSAL OPS. PURSUANT TO 14 CFR SECTION
91.137(A)(2) TEMPORARY FLIGHT RESTRICTIONS ARE IN EFFECT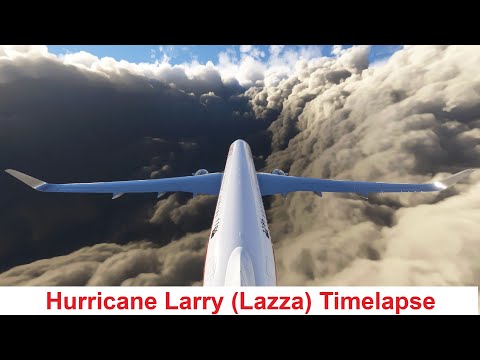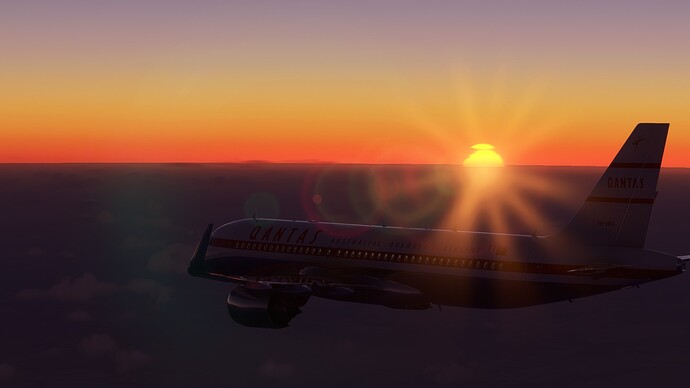 After a ridiculous time updating this sim, and finally got to fly, I had the most beautiful flight. Flew Munich to Innsbruck, in the Just Flight Turbo Arrow III. So nice to have a turbo for a flight like this. the climb, so fast. The toughest part is losing altitude fast enough once you enter the valley. Just gorgeous.
No matter how frustrated I get with the silly aspects of this sim, I have to say its really a step beyond anything to date.