Flew over the English Channel from EBBR to EGKK ( VATSIM ), with a lot of Air and Sea traffic

And a test flight EGKK to EDDM with the new B78HX Mod from Heavy Division
Quick flight to a Mulholland Drive fire pad. Sure hope a clever livery maker puts out an LAFD one for this.
Wowww. great hires images !! What are these shadows ? the first one looks… exotic
finished the Melbourne To Christchurch New Zealand flight.
Worst turbulence I have experienced… some really bad jolts and sudden loss of altitude that I suspect would have left a few bumps on the passengers heads. - anyone got guidance for when to turn on seatbelts signs while at cruise altitude?
cross-sharing a flyby from this morning…
NOTAM - So today I learn Qantas are flying Aurora Australis flights… and they fly without lights.
I have only seen the Aurora Australis once, and it was '89 with that major solar flare… and I saw it from Melbourne (just) - hey… is it modeled in the southern hemisphere in the sim? might need to attempt my own hunt
QANTAS 787 OPERATING WITHIN THE FOLLOWING AREA FOR VIEWING OF THE
AURORA AUSTRALIS:
5500S16300E / 6500S16300E / 6500S12800E / 5500S12800E
ACFT IS NOT DISPLAYING EXTERNAL LGT AND WILL BE OPERATING
ACCORDING TO ATC CLEARANCE IN CLASS A AIRSPACE. GENERAL TRAFFIC
BROADCASTS WILL BE MADE EVERY 30MINS ON FREQ 121.5 AND 123.45
https://www.chimuadventures.com/en/southern-lights-flight
Since I departed so early,may as well start a tour… on the Wellington, then Norfolk Island, Noumea, Vanuatu, Suva, Tonga, Samoa…
leaving Christchurch for Wellington (SE-Asia server) at 0130z , or in an hour
I also caught the movie airplane yet again… I think I need the Otto Pilot add-on since my vintage Qantas livery is perfectly described… even the chrome wings and engines
"It's white with red strips down the side and looks like a big Tylenol"
Nearly got lost and dead in Alaska.

Started out at KEB, was supposed to be going to Anchorage but turned the wrong way, wasn't using any aids and got it in my head to go East, flew dangerously between mountains in thick fog and rain, then realised I was going the wrong way when I was quite far out at sea, loaded the nav map and boy was I way off route.
Managed to fly back to 5SK through some pretty treacherous terrain, all in VR and quite scary.
Today ? Been sitting on this forum mainly…
This afternoon I did have a properly logged 1 Carenado WYMF5 landing. That doesn't happen often with the old lady, in a new place. At least for me it was a new place, KSLI Los Alamos Aaf, 4 knots side wind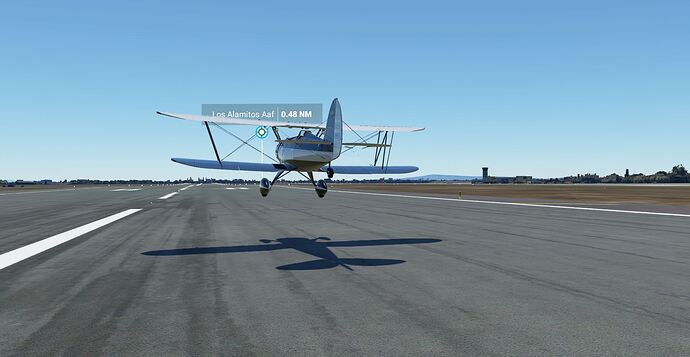 Discovered that red on the terrain display in the A320-----------is bad!
In other words, "You are too low dumb&%*#@!"
Once again this post is delayed a couple days by real-life commitments, as well as weather not permitting safe visual flight out of Tallahassee. The clouds finally cleared up just barely enough to keep a safe height above the trees on my way back to the coast, although I was still forced to duck down as low as 200 ft for a large part of the trip along the coast to the Fort Walton Beach area.
Yikes, that's a long bridge just east of Apalachicola! I wouldn't want to be driving on that, especially in this visibility.
More of the ubiquitous barrier islands with beaches and fancy hotels in Panama City.
And finally slip underneath Eglin AFB airspace and land at KDTS. Sadly I forgot to take a screenshot on final.
hi @bwc1976 what's that minibar (??) doing on the runway ? they sell hamburgers ?
Alligator burgers maybe?
But probably just fuel.
aha… you get that when you switch certain assistents off ? You order it in using ATC sequence ? I always fly small aircraft (in MSFS that is ! not in RW !) but I've never seen it appear. It seems small.
I asked ground control to be directed to parking, and this is where they put me. I think it depends on the airport, sometimes I get sent to a jetway, sometimes I get sent to a fuel pump, and sometimes I get sent to a plain GA parking space.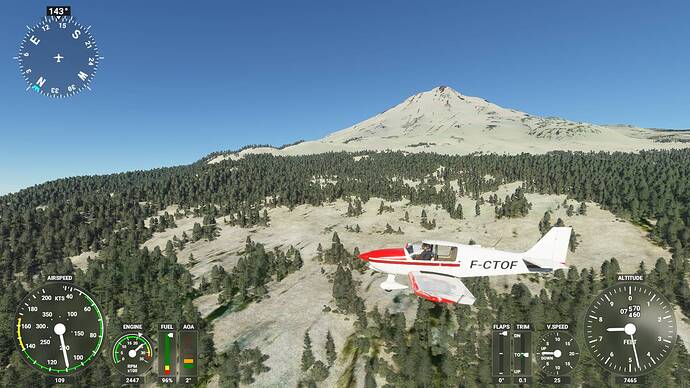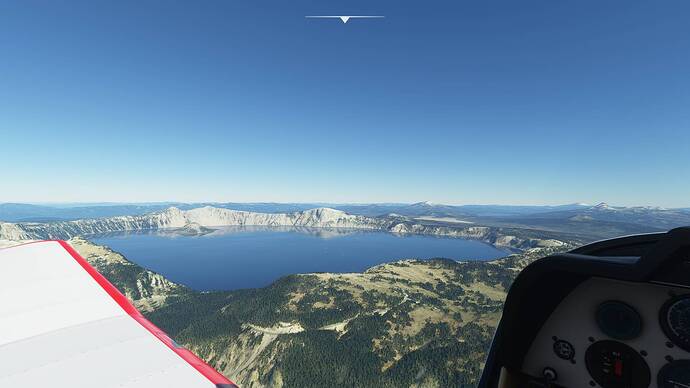 I continued my Rocky Mountains scenic tour in my Dr400. Today : Mount Shasta-Crater Lake-La Pine. Nice weather, nice scenery.
Any good restaurant in La Pine ?
My next stops will be Portland and Vancouver. There I will have a choice to make : heading east through BC, Alberta and maybe to the east coast and my cousins from Québec, or I'll take advantage of the summer season to continue to Alaska, and why not cross to Asia, which will be a good start for a world tour (automn and winter in Asia to avoid the monsoon). But a westbound world tour in a Dr400 seems overly optimistic, even without the Atlantic crossing. I'll let you know !
A good aircraft and the Garmin 1000. Grenoble hospital to Courchevel and back. First time up there, but did not have the sexy views others have with the recent weather around the French Alps.
Tried a replay tool… normally I don't like hobby executables, but this is a very small thing that comes with the source code… so…
I tested with C152 takeoff, fly around and land. If you do that in say 5 minutes, the recording will be 670kb. It can be stored on disk, loaded AND activated. Put your aircraft on the runway and start the recording. Fly around, land, park and stop recording. Then save. Then restart, load the flight… and off you go ! it autoconnects and its little info screen can be on top or not. You choose. After the landing, look at the graphics you see your descent. There is no keyboard intervention during replay, but you can switch to drone camera, the top menu option ingame keeps working. I really like this for practicing !