I saw this earlier today! I can't wait to get this, it looks amazing!
Did a real life flight from KJFK - UVF (TTPL), Saint Lucia in the eastern Caribbean. Quite beautiful flying over the islands on approach.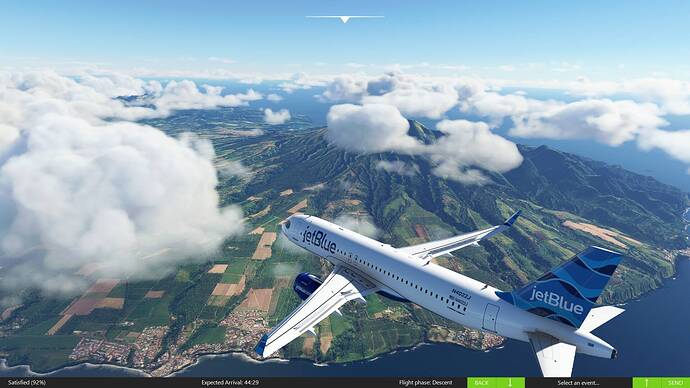 Cleveland to Panama City, when I got there I couldnt find the runway, guess its time to relearn ILS LOL:

Finally finished my cockpit texture overhaul for the Mooney M20 before midnight. Now the seats are cleaner (but still realistic) and new carpets, corrected EDM800 gauge and some other texture changes…
The next plane will be either the Carenado Piper Seneca or the Aerosoft CRJ700. The Piper Seneca would offer more special and interesting cockpit instruments and a perfect weather radar with vertical and horizontal scan
Good grief what a flight I just had. Maybe I should take more notice of live weather…
Anyway decided I'd fly a little route in New Zealand. So chose to leave at Manuka Point Lodge. Bloody weather they are having is storm and gales, heavy rain. Took off and couldn't see anything. Wasn't sure if I was on a plateau or what or whether I would run out of runway but managed to get up surrounded by mountains I couldn't see.
Visibility must have been literally metres. Anyway flew to arrive at Christchurch, and I must have flown in thick, stormy cloud for 70 kilometres. Brilliant using my instruments to make sure I didn't fly into the side of a mountain.
Anyway made it out of that cloud and it was windy but clear the rest of the way. Brilliant experience. Here two shots from the front. You can see the storm in the distance behind.
More rain along the ohio river:

Stopped just in time after a road landing in the river valley…Asobo we need some bridges here:
Followed this highway in the sunshine. Where the days are longer and the nights are stronger than moonshine. Where am I?
The whole way in both directions. What a blast.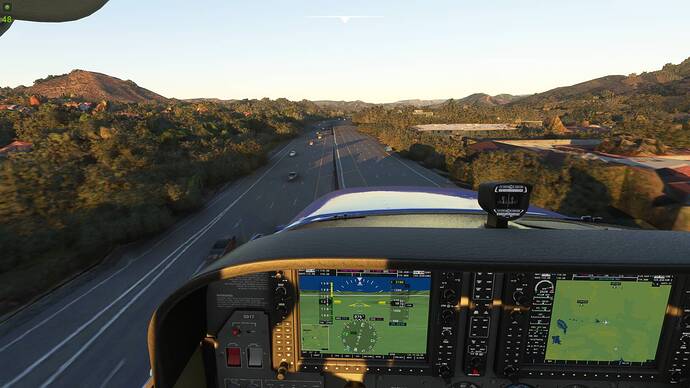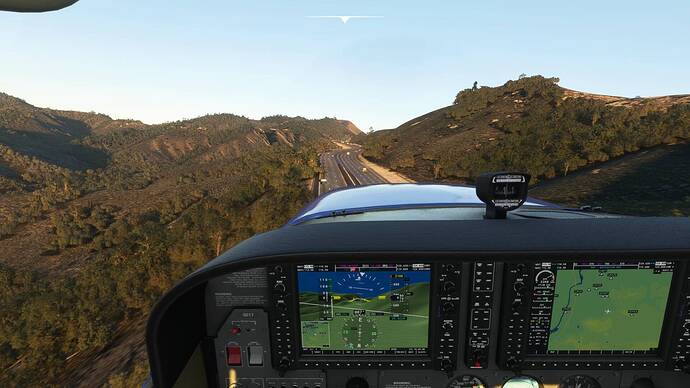 Eww, nastly looking pixelated clouds

Other than that, great shots!
actually it seemed to be just the lighting that did that, the rest was glorious. I noted it too, but thought it worth haring anyway.
I have noticed this for a long time. If you grab a screen in some conditions, it appears pixelated when the cloud gets illuminated in a certain way… couldn't catch it with the ■■■■■ eye, cause it's only for the flash duration. and to be clear… a high spec machine on Ultra, and the other pics were within moments of the lightning… same specs for every pic i post here
seriously Microsoft? N*KED EYE can't even be used… this censorhip is leaning towards, "double plus good" end of excessive.
Actually, the excessive pixelation in clouds was noticed by many after the SU5. Happens when moving not when the game is paused. When paused the pixelation goes away. Moving…you can see pixelations all over the place on edges of clouds especially. Prior to that there was pixelation but was very minimal. It's just an ugly price we paid for Xbox to be playable.
4 months and 6 days ago I left BC heading east and today, 35 airports later, I arrived at my starting point from the West so the world is in fact round. At least Asobo thinks it is.
JustFlight Piper Arrow III. Very highly recommended.
Flew the CYQY to CYYG after I could not find St Anthony Canada's airport to depart from in the Cessna 172 Amphib after starting down on my trip (literally straight down) after figuring out the Appalachian trail in Canada starts in St Anthony in my trip on the Appalachian trail
checking out a new payware for Honolulu. More airports, trees cleared on beach - good. structures, airport items not as good as other payware sceneries, but capable. I did notice a lag at the end of each flight. Nice bit is PHTO is treated.