Would really like to fix this, but not sure If I can fix this from my end, Here Goes.
So, I've downloaded this scenery from Flightsim.to, it is a very nice scenery pack compiled by 30WEST, Refuge Cove - Discovery Islands.
----In the screenshot provided, you can see an Object within an Object, which indicates 2 sceneries in one, but when disabling JUST the Refuge Cove scenery everything disappears along with the scenery, so I don't think it's s second scenery for that area, when I re-enabled JUST the Refuge Cove scenery, the scenery comes up along with this Object that shouldn't be there.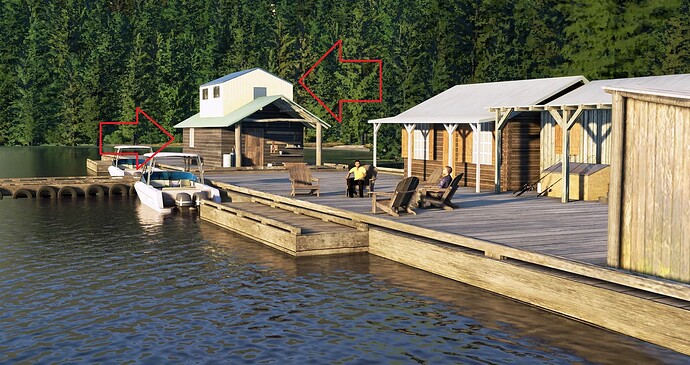 ---- Ok, now, Last night, I went through my community folder, I disabled all USA, CANADA, and ALASKA Scenery, and the Object DID NOT disappear.
---- I then Disabled all Other Regions such as PNG, Indonesia, Asia, UK, ect: ect:, Object still DID NOT disappear.
---- I was left with Aircraft and other folder's Such as GSX Pro, and FSLT non scenery related, except for one that I missed, PAKD Kodiak Municipal Airport----> PAKD Kodiak Municipal Airport/9Z3 Lilly Lake Seaplane Base » Microsoft Flight Simulator
---- Turns out getting rid of this scenery resolved the issue, but here's the thing, although it did get rid of the issue, after placing all of the other sceneries that I've Removed during the troubleshooting phase back into the community folder, the Object came back.
---- Last thing I Did to try and get rid of the Issue is Move his Refuge Cove Scenery to the very bottom of the list in the Content.XML File which DID NOT resolve the Issue.

The only thing I Can think of i,s his scenery may be calling for that Object to appear, whenever a scenery that Uses the Object is installed. Any Thoughts? Is there anything I can do to fix this from my end? I did Contact the Developer but still Pending a Reply.