Will do , VR is the way to go !! Happy flying buddy
I hear ya and yeah , I agree with the night flying bug but compared to WU5 , it's incredible that the major bug is lights at night … haha , I personally never fly at night and I suspect that 90% of the community never does too. It'll get fixed easily and quick I'm sure. I'm just glad I can enjoy my fav game daily as I used to before WU5. I was going crazy trying to guess what altitude was 18000ft … is it 18600, is it 18500 … lol
Yep - best yet. no issues here. Very happy!
I was…until CTD at 40 minutes into my first test flight. Hopefully this will be very rare.
Complete sim re-install. Only addon is the Working Title G1000 NXi from the in-game store.
Yeah I think you're right, a lot of people are like wait what bug?? I'm a weirdo, love to fly at night
I'll be patient though and use 100% scaling to solve it for now.
Kudo to you for trying even though you knew what was coming…
no, I can't even open mine… no matter what I do… follow all the little new rules and still nada…
Apart from the night lighting issue that has had a workaround posted for it already, the installation was seemless and the visuals and performance are both spectacular for me.
I've posted a bunch of screenshots from the new world update scenery area here: WU6 First Impressions
I must admit, this by far is the best update! Keep up the good work Microsoft and Asobo and all of those working on this project! KUDOS
Sadly not. I still find it all too bright and bleached during mid day. Adjusting my monitor's brightness doesn't fix the whitewash so not really an option. Drone exposure (CTRL F3 / CTRL F4) is also not fixed (not working since SU5)
It looks great in the morning and afternoon, and no more pop in with pre cache on ultra. I haven't tried a flight with ATC yet. It took a long time to get everything installed.
The landing challenges all work, but I still find it a lot harder to see the papi lights and the blue target since the changes to TAA in SU5. Lighting is a bit weird too. In one landing challenge I turned the strobe lights etc all off to be able to see the runway
Somehow the nav lights were impeding visibility, fog?
It's working at least, I'm flying again.
Works great for me. Performance is awesome, it fixed the CTDs I was occasionally getting after SU5, and ATC has stopped nagging at me.
I just did a 2.5 hours flight from Tokyo to Shimojishima, and it was fantastic.
Incidentally, it's funny that some people can't help but trying to taint positive threads with complaints instead of posting in the threads opened by the other complainers.
Smooth, CTD-free performance. Nice lighting. Amazing sunset. Nice to have some lite turbulence back. It still has a long way to go, but I'm happy with today's update.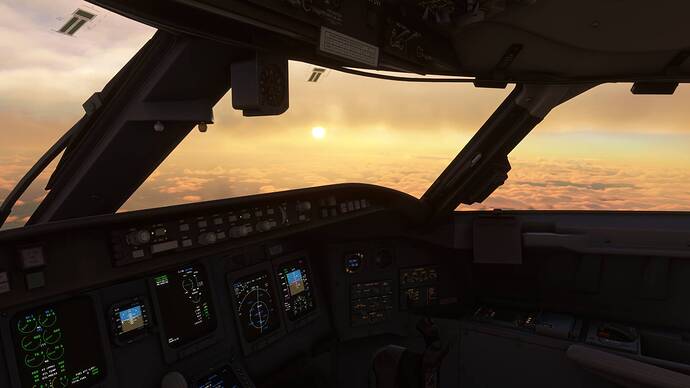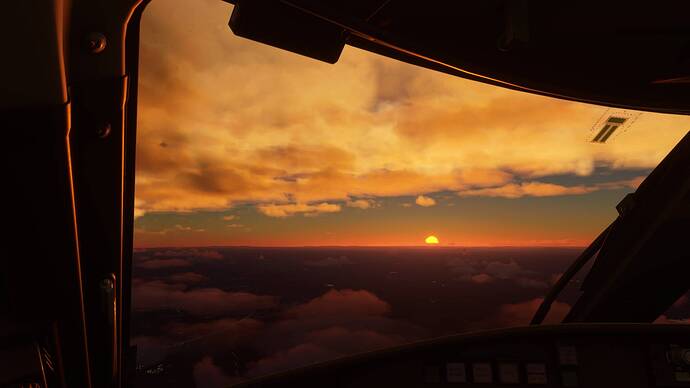 Go back to basics. Empty your community folder. Also delete your rolling cache. If this works then you can start adding your addons back one at a time.
Thanks for the reply, appreciated! About 2 GB left in my download and then I'll give it a whirl.
Such a pity they didnt fix the lighting and its still puzzling to me as to WHY its so messed up. Do they not see it?
ReShade can help a lot with it. I dont know what I'd do without it.
Im also hearing about light issues with AI planes. Oh gosh its gonna be like this then? Monthly nervousness every time.
Loving WU6. No performance loss, no scenery popping, updated SR22. Its just unfortunate that real weather over Germany is cloud free on the first day of the update. No cloud cover highlights the less that ideal lighting in MSFS which oversatuates the visuals with clear skies. Just a bit of cloud and the problem is mostly gone.
Update process went smooth as silk for me. Yes, it takes four steps (MS store, mandatory in-sim, world update in store, other updates in store), but download speeds were great and no trouble at all.
Did about1.5 hours of flying last night in different locations in Germany and Austria. The Alps look amazing, sharp ridges and peaks, great texture resolution. No problems at all on my side.
Been enjoying WU6 so far, only had one CTD but that was at an airport where I think the scenery hasn't been updated. Got lucky in that the updating process went smoothly.
Very happy in my case. Increased FPS and FOV, A32NX works fine, some US airports that i wasn't able to spawn at in SU5 are now working perfectly. Still early in my testing but so far so VERY good.
This is huge update in my opinion in terms of fixes and scenery (especially the airports).