Are you using Developer Mode or made changes in it?
no
Brief description of the issue:
Often out of nowhere a popup appears and gives the message of memory could not be read. Then all you can do is close the popup and it automatically closes MSFS as it is not responding. This issue has been a problem before sim update 10 but seems to still be active in the beta.
Provide Screenshot(s)/video(s) of the issue encountered: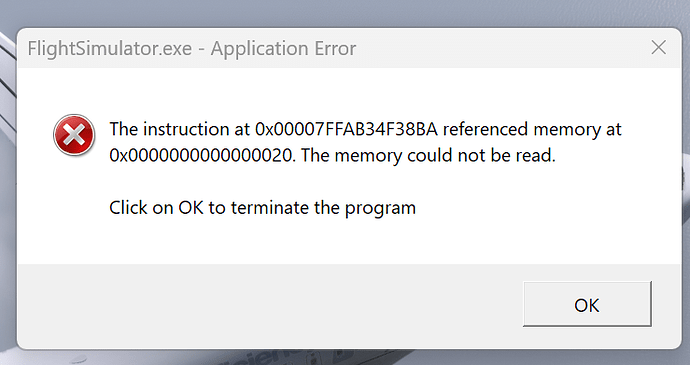 Detailed steps to reproduce the issue encountered:
Just start a flight. It happens pretty randomly but possibly go to an area where there are a lot of objects or data to load. Next just take off and fly for a little.
PC specs and/or peripheral set up if relevant:
If on PC, Fault Bucket ID - Instructions here - Please type in just the Fault Bucket ID # rather than a screenshot for privacy reasons:
Didn't show up.
Are you using DX12?
no
Are you using DLSS?
no
---
For anyone who wants to contribute on this issue, Click on the button below to use this template:
Do you have the same issue if you follow the OP's steps to reproduce it?
Provide extra information to complete the original description of the issue:
If relevant, provide additional screenshots/video:
If on PC, Fault Bucket ID - Instructions here - Please type in just the Fault Bucket ID # rather than a screenshot for privacy reasons: