Please only post bugs that are new in this build, and tag your post with #pc and/or #xbox.
Are you on Xbox, Steam or Microsoft Store version?
Microsoft Store
Are you using Developer Mode or made changes in it?
No
Brief description of the issue:
The Marketplace has a button that says, "SEE ALL CATEGORY", which is bad English.
You can find that bug in the Official\OneStore\fs-base\en-US.locPak file as shown:
"MARKETPLACE.SEE_ALL_CATEG": "See all category",
Provide Screenshot(s)/video(s) of the issue encountered:
The button is highlighted in red in the upper-right corner: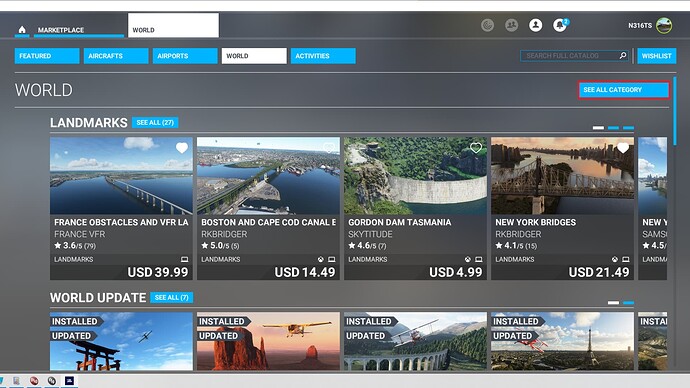 Detailed steps to reproduce the issue encountered:
Start Microsoft Flight Simulator.
Navigate to the Marketplace.
On the top menu, click "World".
Expected result: A button that says, "SEE ALL CATEGORIES"
Observed result: A button that says, "SEE ALL CATEGORY"
PC specs and/or peripheral set up if relevant:
Not relevant