Nope, that's Phoenix AZ. Too many hills or mountains to be Orlando.
Whoopsie! It even says so in the title of the linked post
Munich, Olympia Tower and view from there

Home overfly ;p - pretty impressive for default AI generated scenery, although in MSFS my pool is all dry

Some houses are totally wrong while others are almost spot on, can't wait to see how this tech will continue to improve!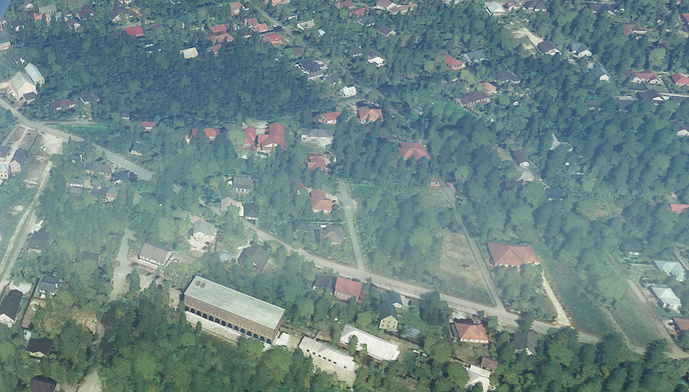 Just an example, among several other videos were I compared real and in-sim of my landings. Not sure it's easier in the sim
I love your videos! I should start doing this to compare where I'm at. My last flight was a week ago and I thought I should put a camera in the cockpit. I need to find a mount for a Cessna 182RG
In honour of Japan world update, and me finally being able to download it… Here are some comparison screenshots from a few of many trips to Japan. Did many comparison shots in various countries during alpha but unfortunately I can't share
Sim crashed 3 times in 20 minutes while attempting my screenshots so I gave up doing all the pictures:
Tokyo Tower

Tokyo Tower Night
Unable to get blue hour colours

Views from Tokyo Tower

Views from Tokyo Tower 2

Cruise off coast of Fukuoka 1

Cruise off coast of Fukuoka 2

Updated:
View of Shibuya crossing from Shibuya Station

View of Tokyo from ferry

View from Chikushino, Fukuoka

View from Itsukushima island(Itsukushima Shrine)

Excellent comparison !!
Thank you for these beautiful images / photos which really reflect reality.
A good omen for future updates of the world map. !
Wow. Amazing. (not the crashes, the photos)
Revisiting Himeji Castle
A friend of mine in the UK took me for a flight in an Ikarus C42 and we flew over Membury, a small airfield in Berkshire. When I got home I took the Cessna 172 for a spin and checked it out…was super impressed
Loving this new sim!! Keep up the good work!