Original post by @rwflush:
From reading many posts, I thought maybe a place where we can share helpful tips for flying the MSFS A320 might be useful. Full disclosure, I'm not a RL A320 pilot, but I thought I'd share what works for me, and maybe it can help others, or more people can share their knowledge and tips as well. Just focusing on flying for now, not startup or ground services.
Start with the Flight plan – selecting a departure and arrival, checking flight log to make sure I have the cruising altitude I want, assigning SID/STAR and approach (you can change approach in flight, but not destination at the moment)
Set fuel load at weight and balance page, circles on the map can help you set reasonable fuel load
Once in the jet I…
• Make sure flaps are set to the first notch (1+F)
• Add about a degree of nose down trim (seems to work for me)
• CTRL+5 and check flight plan – under F-PLN select your departure airport click departure and select your runway. You'll have to select a SID to enter the runway. This should populate the PERF page. You can also select a STAR and approach and transitions here. Even if they are there, I just reselect the ones I chose at the flight UI.
• Go to PERF page and click on the V speeds, you should see your departure runway in the top right. This should set up your speed tape for V1 Vr and V2.
• Scroll up in ATC window to see what altitude my initial clearance is and put that in for the altitude for the autopilot
• Turn on FD
• If desired you can set this knob to plan and step through your plan to see it all.
•

• Your autobrakes should be set to Max
• Set your lights as required
• For takeoff here's what I do:
o Set throttles to the FLX MCT detent – it's not full power, it's not supposed to be
o After 1500 ft AGL or when you notice the prompt on the PFD set throttles to the CL detent and leave them there until flaring to land
o Here you see the trim setting as well
o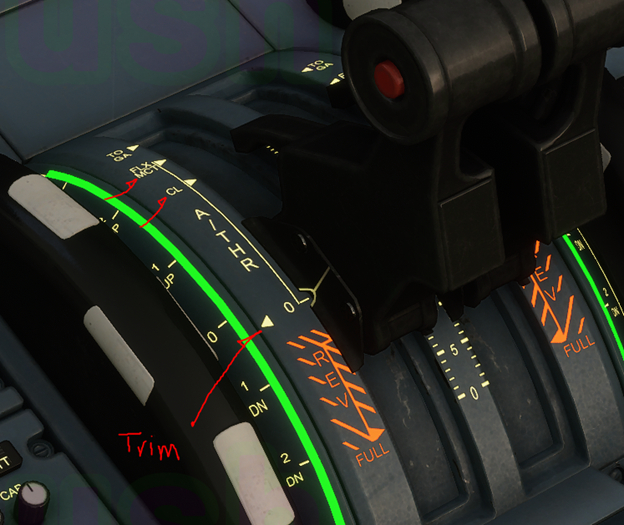 • After you're climbing away and have your gear up and flaps up (don't over speed) and set CL detent, autothrottles should target 250 knots until after 10,000' (where it targets about 285 – override with manual speed if you want faster, I usually set about 310-315 for climb until Mach 0.8)
• For autopilot altitude push the button for managed mode (you'll see the little circle) and autopilot will climb or descend to that altitude
•

• To override managed climb rate, click on the bottom of the V/S knob to the right and roll for climb or descent rate (inop. if you are at or close to your target altitude)
• If HDG shows dashes and a circle, then AP will fly your flight plan (NAV mode or LNAV mode essentially) Click top of button for managed, click bottom and manually set headings
• Same for speed – push to give control to AP, pull to set manual speed
• Click AP1 (or AP 2 doesn't matter) to turn on autopilot – I fly entire route in AP using managed or manual control for navigation, altitudes, speeds, headings and rate of climb.
• RAD NAV page should show your selected approach and it will auto tune frequencies for you
•

• When you're well set up for an ILS, for example, the APPR button under the VS knob will engage the ILS, (double check your displays for correct frequency, course, and identifier)
• Before landing select autobraking LO or MED depending on how hard you want the plane to brake
• There is no Autoland yet so what I do is disengage the AP and the autothrottles at about 500' or so and hand fly landing, reverse thrust until 80 knots or so. Tapping the brakes will disengage autobrakes
Other tips:
• If you allow yourself to get too slow, the plane will command maximum thrust and enunciate A.FLOOR. Break the AOA with forward pressure on the yoke and make sure you're out of the stall and you'll get regular autothrottle control back – I'd set them back to CL for normal autothrottle behavior
• I pretty much always land with full flaps and good approach speed If you have no idea aim for around 150-155 but it can be less when lightweight. With full flaps and proper speed you'll be nose down enough to see runway over the glare shield
Hope this is helpful!