Hello everyone, just started using the forums, glad to be here.
I'm encountering a peculiar issue after updating to Windows 11.
Motherboard: ASUS B550-F STRIX GAMING WIFI
GPU: AORUS MASTER RTX 3080
CPU: AMD Ryzen 5800X 8c/16t @4.5GHZ
Ram: G.SKILL TridentZ RGB Series 32GB (4 x 8GB) DDR4-3200
Boot SSD (MSStore app game installation drive): TEAMGroup MP33 PRO 1TB NVMe
Game SSD (Packages installation drive): Intel 660p M.2-2280 1TB NVMe
Windows 11 Pro build 22000.194.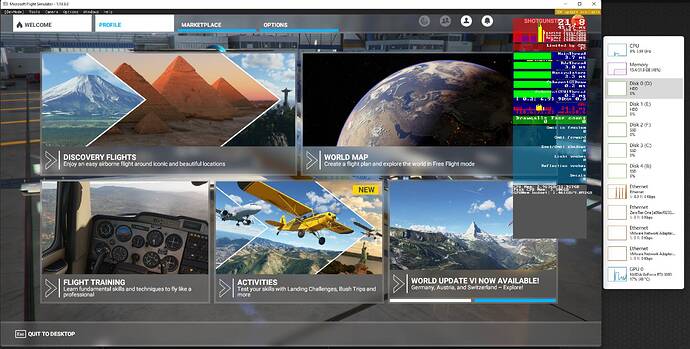 Here is the kind of performance I am getting when I'm focused on the window: I'm getting less than 30 fps, only one of my CPU threads are being used and my GPU is hardly being used at all, only in small spikes.
And here's what my performance looks like when I click on my desktop. Perfect 144FPS, CPU and GPU usage has gone up significantly and my fans are now running.
This kind of performance is not only affecting the smoothness of the menu, but creates an issue to a point where it lags trying to select anything on the menu, and most of my clicks aren't registered, making it very hard to navigate anywhere. I do not have this performance issue when flying. Maxed settings 55FPS on San Fran discovery flight.
Here's the command line I use to open the sim:
C:\Windows\System32\cmd.exe /C start shell:AppsFolder\Microsoft.FlightSimulator_8wekyb3d8bbwe!App /High "-FastLaunch"
I am using dev mode to measure my FPS, but haven't made any other changes.
I do not have any addons, just the regular standard edition MS Store game with all free content installed from the marketplace including all world updates.
I've already attempted to uninstall and reinstall the app, but to Hell with waiting days to redownload the packages.
Any help appreciated.