Do you have any add-ons in your Community folder? If yes, please remove and retest before posting.
Yes, only a few, and I didn't change anything for weeks, so it's SU5 related
Are you using Developer Mode or made changes in it?
No
Brief description of the issue:
In Assistance Options, Piloting, the AI radio communications (ATC) gets set to ON, even after I set it to OFF.
When I set it to off it stays to Off, but after a while or after I restart FS, I often have it set to ON, although I never set it to On myself.
Provide Screenshot(s)/video(s) of the issue encountered: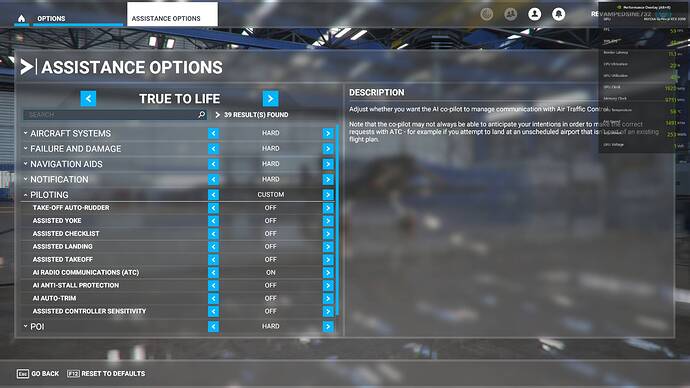 Detail steps to reproduce the issue encountered:
Set this option to off then check it each time you use FS.
PC specs for those who want to assist (if not entered in your profile)
i7 5960X
GEFORCE RTX 3090 TUF GAMING OC 24GB
FS client on C:
Data on D:
Build Version # when you first started experiencing this issue:
1.18.14.0
Are you on the Steam or Microsoft Store version?
Store
Did you submit this to Zendesk? If so, what is your ticket #?
No