Yep, I went to find and download it as soon as you mentioned it
Hi @BostonJeremy77 and everyone on the thread,
I received guidance we can move this to #aircraft:pistons since technically it's an Asobo product. Please carry on. Thanks!
Love the captain's uniform haha
I'm a big fan of ultralights, but my concern is that this is actually too low and slow for Flight Simulator's limited low level detail. Probably good for payware touring like Drzewiecki's Chicago Landmarks, or flying a circle around individual POI landmarks, but at 100 feet and 30 mph you're exceeding the game's smallest LOD.
I'll probably pick it up when I get back into VR after DX12 launch. Thanks for the review as always.
That was my first thought - I know I have the Captain uniform as default… but that looks… uhm… special.
To address your concern, nah… It actually feels right. I don't feel like I can't immerse myself in detail at all.
Flying low, making steep turns, it's really nice with the 103 Solo.
But as expected, the missing implementation of thermals, reduced up and down drafts are spoiling the fun.
still a nice addition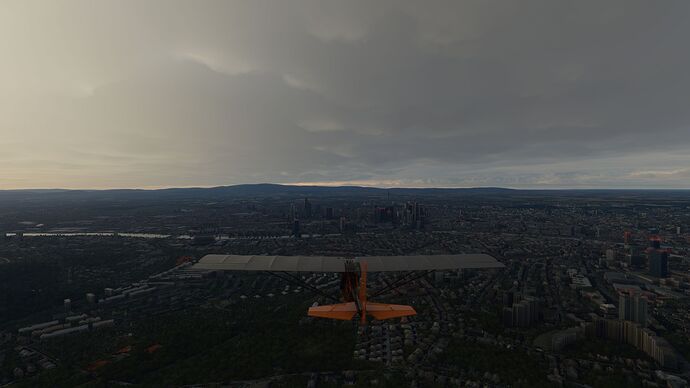 Just did a 45 minute flight in VR with the 103 solo, and I must say, it's a simply amazing experience in VR.
Fly low, pull up agressively, and nose down again when you're almost stationary. The VR really fooled my body into feeling weightless at this point (seeing the horizon between your legs in front of you while pulling up really sells it).
If you have a VR HMD, I fully recommend this little aircraft. On a pancake screen it seems a bit underwhelming, but in VR is really shines.
Really happy I bought it.
after 45 minutes though I think my body needed a rest
same could have been said about your A330 a well
indeed sir.
Great summary! Pretty much agree with everything just wanted to add that I actually LOVE the sound of the enging when you idle. That rattle is very nice.
For the future, I wonder if some moders would be able to make the panel a little bit more exciting. I'm personally missing an altimeter. Overall love this thing - especially in VR. Fair pricing - recommended from me.
It's a nice UL, great sound, detail and flightmodel.
Only bug I found so far is the LOD for the landing gear when flying in multiplayer with several people with this plane, the landing gear seems to vanish on the other peoples 103 Solo's when you get a bit of distance between the planes.
It is true for all planes from a distance. There is a petition to increase the dostance from which landing gear is seen on other aircraft… because it does look ridiculous.
This plane was made for my equipment. Having so much fun in it. Price is excellent. Well done to the dev.
Motherboard: Asus Rog Hero x11 wifi Z490
55" curved oled Tv.
CPU: Intel i9-10900K @5.3mhz per core.
GPU: Gigabyte GeForce RTX 3090 turbo
CPU-Cooler: Liquid cooled 240mm
PSU: Kolink 1200watt Platinum
RAM: Corsair Vengeance 32GB (2x16GB) DDR4/3600mhz
M.2 NVME SSD: 1TB Samsung 970 EVO Plus
M.2 NVME SSD: 1TB Samsung 970 EVO Plus
SSD: NVME Samsung 970 EVO 500GB
5.1 logitech sound system Soundblaster Z.
Next level V3 Motion platform on GT Ultimate rig.
2 Buttkickers on race rig with 300watt earthquake amp.
Sim Racing studio wind and tactile generators.
Saitek Quadrant.
Saitek Multi panel.
Honeycomb Alpha Yoke.
Honeycomb Bravo Throttle controller.
Saitek fuel controller and deicer levers.
Thrustmaster TPR Rudder.
VR. HP Reverb G2
Looks great! One semi-related question, has the Marketplace always been updated only once a week? Or is there still a chance it will also be updated on the usual Thursday afternoon even though this came out a day earlier? I'm still holding hope the Carenado Seneca V will be this week, their latest Facebook post makes it sound super close.
It's usually Thursday. They make exceptions here and there. But I am expecting to see the Seneca today.
I think you've sold it to me now.
Well done!
Once you get it, try it in VR in the rain
sim crashes when i try to install it… getting fed up after the 6th attempt. I cant for the life of me understand what the problem is…
Perhaps you can try to delete the existing folder and all files related to Top Rudder 103 Solo in Packages/Official. MSFS starts crashing once corrupted files and folders were created and you try to overwrite them with a new install.