Also there is YSHT Shepparton Aerodrome by Impulse Simulations for free:
Thanks, looks great. Think I'll have no choice but to pick it up!
I flew into Luskintyre to relive a real world flight in a Jab to visit the museum and see the Tiger Moths. It is not marked as an airfield but if you taxi near the shed that represents the museum there are 2 white aircraft silhouettes on the ground taken from the sat images of Bing. Be really great if someone who designs airfields could make a better Luskintyre so more can visit the museum!
The Topic author already has it in so hoping it will get done sometime soon.
Good to see YMML and Melbourne city are getting done. Has been short on love in the South.
I'm working on Cairns City currently, got about 7 high rises to go so a couple of weeks out, trying to custom model everything over ~8 levels. But i've also included custom marina, ships, skyrail gondola, helipads, convention center with the redevelopment completed, custom trees and some other bits and pieces at the reef / islands and around town.
Not touching the airport, i have a free high quality control tower for YBCS on flightsim.to if anybody wants it. Can't disclose anymore about the airport but it will come.
I am thinking Townsville city after this.
Snippet.

Have a good day everyone and keep enjoying the best country in MSFS
That looks great @Nethiuz, look forward to the release!
I've updated to Sim Update VIII (1.23.12.0), I'm still seeing the World Update VII (1.22.2.0) splash screen, did they update the splash screens for SU8?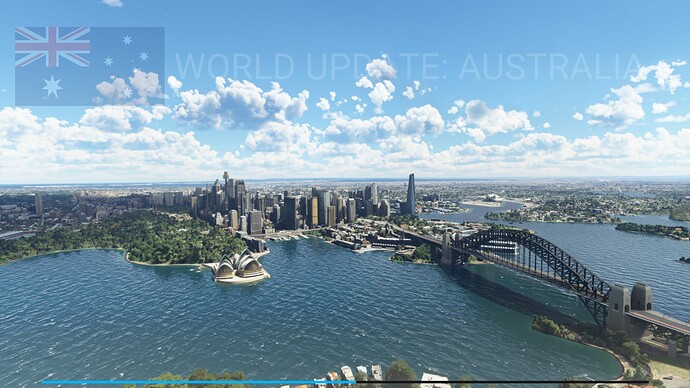 nope still the same loading screens. I think they only change when they add stuff not just fixes. So mostly world updates.
Okay not just me then, good to know. They updated the splash screens for previous sim updates e.g. Sim Update VII (1.21.13.0 Game of the Year Edition) they had the Pilatus PC-6 on one of the splash screens. I guess they didn't want to update the splash screens just yet as Australia really is the best place to fly
Where about have you been flying?
Last flight I did was from YSHL Shellharbour to YCFS Coffs Harbour. I normally fly around the Illawarra, South Coast NSW, ACT, Sydney, and the Central Coast NSW.
I think Nethiuz version will be better since he is actually from Cairns. I've looked at the Impulse Simulations one and it doesn't look that great. Also I don't think OrbX needs anymore money until they fix Brisbane and Sydney cityscapes.
Yes they have, it is the one i made myself, i am close with Josh from Impulse and we decided to drop it under his banner and it is now in 4 locations.
@LtBran2936 Thanks but see above haha, different screenshots were taken. Same package. (I must take better ones lol).
I am always open to any criticism, it's my first major scenery and i WILL be updating it.
You don't need to buy from ORBX there is flightsim.com store and impulsesimulations.com directly.
Townsville has started and it is coming along…
Alright sneak peak of Townsville, you might notice a couple famous buildings already modelled in the background.
The Stadium is nowhere near done, no lighting yet and glass isn't in.
However the current Sim only had it partially constructed so this will be great to have!
We shall see how i go, i learnt a lot on Cairns and will be increasing quality of the cities, i think the biggest issue is textures, i wanted real photos but i see everyone else uses generic facades for their buildings and it still looks decent, i may go that way with Townsville as it makes emissive lighting easier too. Any thoughts on that would be welcome.
I find that taking real photos it's impossible to get level with the balconies so you always get the underside of them. (You can't legally fly a drone in Cairns City, i have one).
This is another solo project so give me a month or two from this point.