Do you have any add-ons in your Community folder? If yes, please remove and retest before posting.
No
Are you using Developer Mode or made changes in it?
No
Brief description of the issue:
Bora Bora looks much better with most of the reefs surrounding the main island showing beautifully. However, the Southwest quadrant is not showing all of the reef. Bing Maps does have the data at least at max zoom, lower zooms do have the data mostly, but somewhat of a mozaic of multiple satellite images.
Provide Screenshot(s)/video(s) of the issue encountered:
Here is MSFS 2020 currently looking North-up, staring straight down (with missing reef detail in the SW quadrant):
Here is a straight down view in Bing Maps for comparison: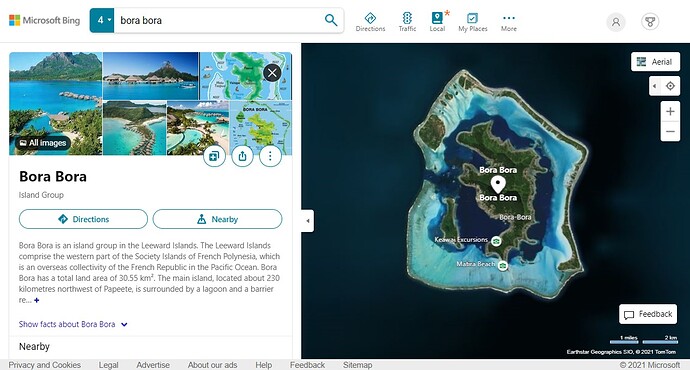 Detail steps to reproduce the issue encountered:
Fly to Bora Bora and look for the reefs in southwest quadrant including the entrance into the lagoon area.
PC specs for those who want to assist (if not entered in your profile)
Build Version # when you first started experiencing this issue:
Latest version with World Update 4.
Are you on the Steam or Microsoft Store version?
Steam
Did you submit this to Zendesk? If so, what is your ticket #?
Not yet.