GRAB YOUR PASSPORTS!
Flight time approx : 60-90 minutes. Stay as long or as brief as you please.
Join us this Wednesday as we head North into Canada from Minnesota. The plan is to soar over the beautiful boundary waters in the ICON A5, wet suit suggested… Scuba Steve sightings are likely.
[ https://discord.gg/PdUa6cwh ]<— voice server for the event and all future events.
Looking forward to flying with you all.
SUGGESTED PLANE is the ICON A5, as we will be flying through and over the boundary waters.
That being said, the sky is ours to share. If you need the airbus, COME ON WITH IT!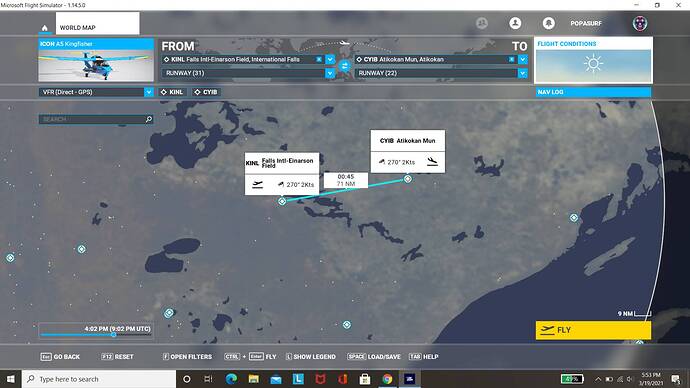 WE WILL CHECK IN AROUND (19:00-19:15) 7-7:15pm EST and prepare for the flight. I plan to walk everyone through creating the route if they need assistance. If you're capable of plotting your own route… The stops go as follows,
KINL → CYIB
DEPART FROM RUNWAY 31
ARRIVE AT RUNWAY 22
Multiplayer settings: ALL PLAYERS
AIR TRAFFIC : LIVE TRAFFIC
WEATHER : PRESET / CUSTOM
SERVER : EAST USA
SUGGESTED AIRCRAFT : ICON A5
BOUNDARYWATERS.PLN (2.0 KB)
Flight plan attached
PLEASE LET ME KNOW IF YOU HAVE ANY QUESTIONS… Don't get left out because you didn't ask. I'm happy to help! No question is dumb! Dumb is the one who never questioned!