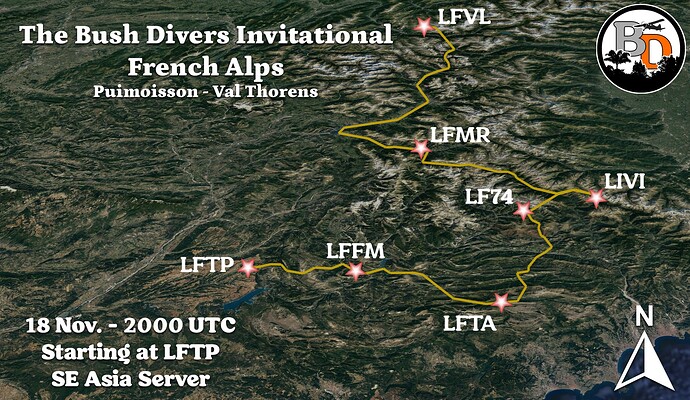 This Saturday November 18th we will be venturing into the French Alps starting in the region of Alpes-de-Haute-Provence, tracking east into Alpes-Maritime close to the border with Italy. We land at the high-altitude Isola 2000 airfield (LIVI; just in France, but somehow has an Italian ICAO code?). From this cul-de-sac we retrace our flightpath a little and then turn northwest towards Lac de Serre-Ponçon. Following the Durance river north, past Briançon, we will end up at the high-altitude Val Thorens Alti Airport (LFVL; 8068 ft).
6 Landings in total, 181 nm. Highest point to pass at around 11,000 feet (approaching Val Thorens).
The Bush Divers Invitational: French Alps
Sat 18 November - 20:00 UTC (South-East Asia)
Starting at LFTP Puimoisson
Recommended cruise speed: 110 - 120 knots
To join: just turn up at the starting airport in a suitable aircraft, multiplayer on, name tags on, and join the Discord "The Bush Divers Invitational" voice channel. You can load the flight plan if you like, or just follow the group.
MSFS flightplan: BDI - French Alps - 18 Nov 2023.pln (20.6 KB)
LittleNavMap flightplan: BDI - French Alps - 18 Nov 2023.lnmpln (11.9 KB)