Thank you using the Bug section, using templates provided will greatly help the team reproducing the issue and ease the process of fixing it.
Are you using Developer Mode or made changes in it?
No
Brief description of the issue:
When launching the Cloud Gaming version of the sim after some time only playing it on PC/Xbox due to SU10 Beta, I launched the sim on Cloud Gaming and saw that my content manager downloads were wiped (not a big issue by any means), but for the first time I was met with the message that I was unable to download everything because of space limitations. I wasn't aware such a limitation existed (download was 45.91GB according to the sim). However, when I tried to click the "FREE UP SPACE" button, it did nothing. I suspect it might be left over from the Xbox version, but in Cloud Gaming it does nothing when clicked. Is this a button that should have some UI connected to it, or should it perhaps be worded differently on Cloud Gaming?
Provide Screenshot(s)/video(s) of the issue encountered: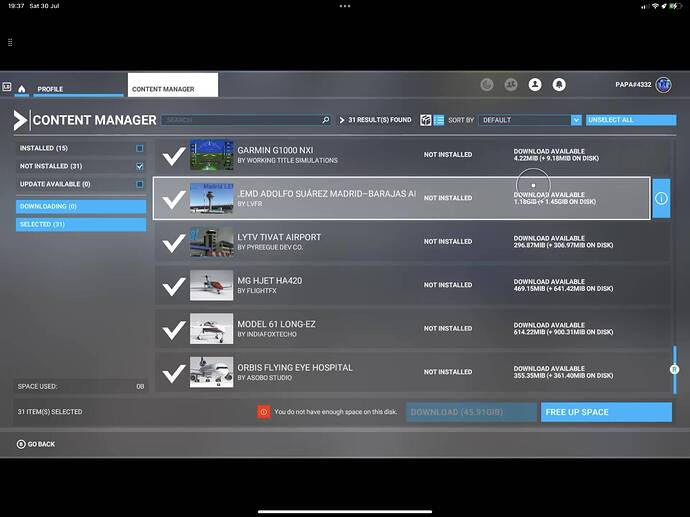 Detailed steps to reproduce the issue encountered:
Start with an empty content manager.
Attempt to download a lot of content from the marketplace at once, in my case over 45GB
Observe that there will be a message saying "You don't have enough space on the disk" next to a button that reads "FREE UP SPACE"
Click the button, nothing happens.
PC specs and/or peripheral set up if relevant:
Build Version # when you first started experiencing this issue:
1.26.6.0
---
For anyone who wants to contribute on this issue, Click on the button below to use this template:
Do you have the same issue if you follow the OP's steps to reproduce it?
Provide extra information to complete the original description of the issue:
If relevant, provide additional screenshots/video: