Hi,
I need some advice here… I'll be to the point.
MSFS was installed on Drive F where Steam was too. And that's where the Community Folder was.
A year later, I reinstalled MSFS on Drive E, while Steam being on Drive F. Now there is a Community folder in the new location and it is empty. So I copied the contents from the previous location (Drive F) to the new location of the installation in the empty Community folder (Drive E). But MSFS doesn't pick up the contents of the Community folder in the Drive E installation location.
So, I copied back the contents to the Community folder in Drive F and it does show the contents in MSFS. How can I make the Drive E Community folder active?
Also, there is an Official folder in either location and I don't know where MSFS is picking up that data from, I assume Drive E (new location) but the populated folder in Drive F is larger than Drive E Official. Please refer to the red markers in the images. The .fscontent folder is only in the new location of the Official folder.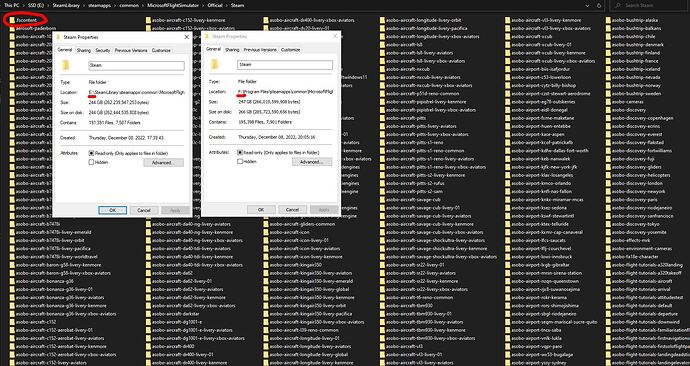 Also, please take a look at the Drive E new installation Official size below and an empty Community folder: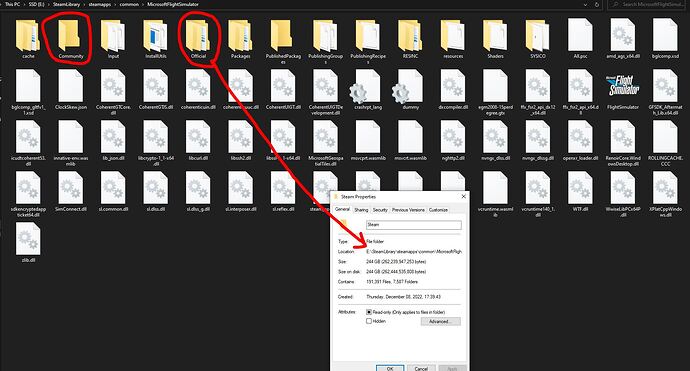 Whereas, the old location only have two folders, but MSFS picks Community folder data from this location. And I wonder if it's safe to delete the Official folder in this location to reclaim the 266 GB space:

Please advise.
Thank you.