Thank you using the Bug section, using templates provided will greatly help the team reproducing the issue and ease the process of fixing it.
Are you using Developer Mode or made changes in it?
Yes, just to enable replay mode
Have you disabled/removed all your mods and addons?
I was using the PMDG 737-600
Brief description of the issue:
During the flight LIBP-LIML, I had a CTD during the final part of the approach. Recording the dimensions of the paging file, it was possible to see a jump from a constant dimension of 32 GB to 46 GB in the exact moment of the crash. The popup of the error said>
Popup dell'applicazione: FlightSimulator.exe - Errore di applicazione : Si è verificato l'errore di exception unknown software exception (0x80000003) nell'applicazione alla posizione 0x00007FF9FCC690F2.
Fare clic su OK per terminare l'applicazione
Fare clic su Annulla per eseguire il debug dell'applicazione
Provide Screenshot(s)/video(s) of the issue encountered: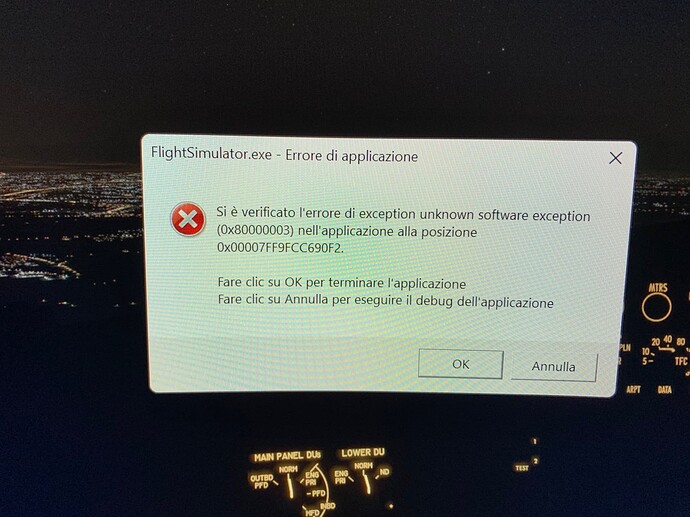 Detailed steps to reproduce the issue encountered:
Create a file plan (I used Simbrief) and import it in the main menu. Start the flight. Fly unitl the crash in the final phase of the approach.
PC specs and/or peripheral set up if relevant:
5950X - RX 3080 - 32 GB RAM 3800 MHz - nvme 4.0 1 TB (where the sim is installed) - paging file enabled only on that same SSD, dimensions of the file determined automatically by the system
If on PC, Fault Bucket ID - Instructions here - Please type in just the Fault Bucket ID # rather than a screenshot for privacy reasons:
no events with code 1001, in the application section. In the system section, there is an event that coincides to the crash with code 26.
Build Version # when you first started experiencing this issue:
1.26.5.0
---
For anyone who wants to contribute on this issue, Click on the button below to use this template:
Do you have the same issue if you follow the OP's steps to reproduce it?
Provide extra information to complete the original description of the issue:
If relevant, provide additional screenshots/video:
If on PC, Fault Bucket ID - Instructions here - Please type in just the Fault Bucket ID # rather than a screenshot for privacy reasons: