Do you by any chance uses Bijan's Season pack with season masks enabled?
Ah, I now see what you mean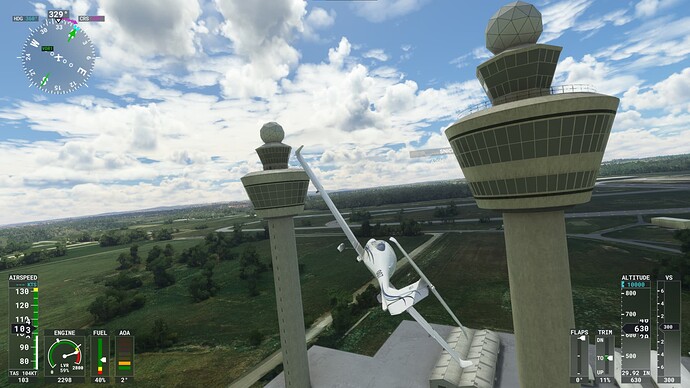 Well, that must be "The Two Towers" from Lord of the Rings then… oh wait, no: that was in New Zealand
Nice! What FPS do you get around FlyTampa YSSY and what are your specs?
Yes, I have noticed problems around Sydney too. At the main international airport there is a broken road bridge on one of the approaches which looks quite bad. You picture instantly make me think of Hastings and Main Street, (city east-side) in Vancouver Canada in real-life! That's sad…
Charles.
You can report your missing airport in this thread:
Tout baigne !! → Everything's fine !!
Here in Australia we say either no worries mate or she'll be right.
Hey all, I updated to the Australia Scenery, restart sim, it's on my splash screen when loading but it's not there ingame, not in uninstalled content either, vanished. Anyone have a idea? Cheers.
You have to get the WU7 from the Marketplace for Free. Yeah another download.
Yeah it's not in there. Downloaded and updated everything, no Australia, but as I said the Australia splash screen comes up when loaded msfs
Same here. All the other world updates are in my "installed" list but no World update VII. The only "Not installed" item i have is the GTN750 addon that has always been there.
No mention of Australia anywhere .
As with all other world updates you have to "Buy" it first.
Like Razalom has written: The Update is in the MARKETPLACE in the FREE section
nothing in the MAERKETPLACE!!!
Its there, I am downloading now
it's not there, otherwise I'd be playing instead of writing here
In marketplace, click on paid
I too thought there was no update. I downloaded the game update via Xbox store, then downloaded the updates in Content manager. But I still did not see the Australia update. I found it lurking in the marketplace under FREE and WORLD UPDATES sections.