With SU5 being written for XBox which has AMDs version of resizable bar, direct access for the GPU to RAM in large blocks (or something), I wondered if the closed-case of resizable bar not helping, might be reopened.
I updated card bios and mobo bios. Precision X1 shows resize bar enabled, so the system is good to go.
MSFS doesn't support RB, or rather, it's not on the NVidia whitelist of games. However there's a published way to modify the driver profile to enable it using NVidia profile inspector. That's what I did.
I booted up with the default settings, no RB, with multiplayer off, clear weather, xcub at Meigs field, looking north, in cockpit, engine and avionics off…just spawned in. Identical situation with RB off and on, after relaunching the game.
Off: 58.0
On: 59.3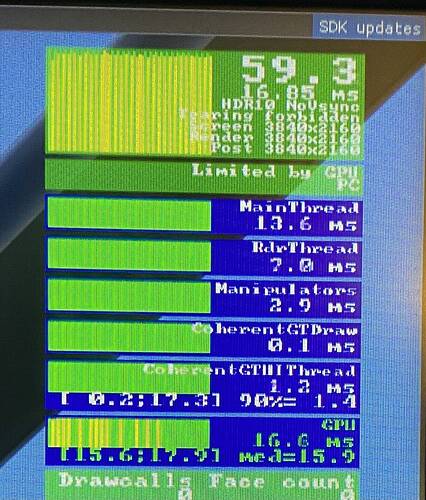 The numbers bounce around, but those were the values I captured with my cell phone cam.
Not a huge improvement, but definitely not a reduction as was reported previously. I flew around with it on and could find no downside. I plan to leave it that way and see if I notice anything bad.
If anyone else experiments with this, post your results and impressions.
10900k, 3090 FTW3, 471.68 GR, 4K in HDR10.