Same for greater San Diego where I live, it's eerie seeing all my local stores, schools, etc.
San Diego is coming up soon, any places I should visit?
I made it to Oceanside to today, will be heading to Palm Springs first before San Diego.
I've been to San Diego before, San Diego Zoo is amazing, or was, I was there back in 2000. I saw Chicken Run there in the theaters, so must have been end June, early July, 2000. Sea world has probably change a lot since I was there. I saw today that there's a whole extra theme park next to Disneyland.
This was the view from our hotel in San Diego back then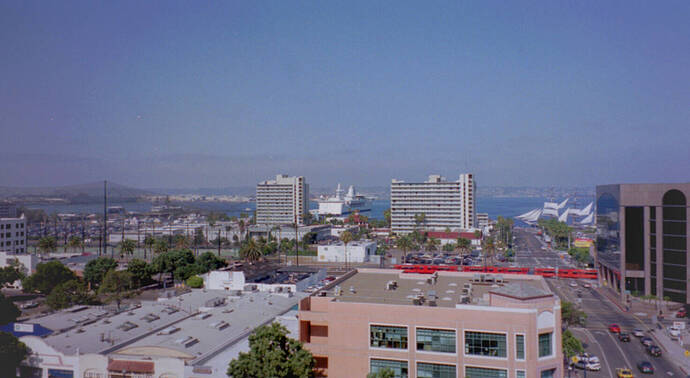 No luck placing it anywhere with Google Maps, probably all changed
Yup, Disney California Adventure opened around 2002 or so. As for San Diego there's La Jolla Cove with the Children's Pool (albeit more for seal children than human children these days) and breakwater, the USS Midway museum (retired WWII aircraft carrier), Miramar air base (former home of Top Gun), Coronado Bridge and the Hotel Del Coronado, Belmont Park on Mission Beach with the Giant Dipper roller coaster, Petco Park (Padres baseball stadium), Qualcomm Stadium (former Chargers football stadium), Balboa Park near the zoo, and San Diego State University. In general there is so much variety of microclimates (coast, valleys, mountains, and deserts) packed in a relatively small area. And if you keep going east from there, the Salton Sea isn't too far away.
Also looks like you're along Ash St between India St and Columbia St, which would place you at the Best Western Plus Bayside Inn, looking west, over the Mission Federal Credit Union and towards the Embarcadero and Wyndham Hotel.
Yes! I was looking one street too close to the bay. That little red roof sticking out is Ruth's Chris Steak House. It did change a bit, the tennis court is gone. I got all the places converted to coordinates, will check em out when I fly by.
When we first got to San Diego (started our tour there in '98, visited again in 2000) us ignorant Europeans had never heard of North South designations for streets, or rather that they each start numbering from 0 again. We couldn't find our hotel, right number, completely on the wrong side of town!
Great city, I'll be back one day showing my kids around.
Leg 245, Three Rivers via Los Angeles to Oceanside, California, USA


DAY04_23.PLN (12.6 KB)
Another day in California, exploring the Greater Los Angeles Area. It's all a continuous PG area, flying over this ocean of building for hours really drives home how many people there are. Sure you see it on maps, and I've actually driven through the area before. Yet seeing it like this from the air is different, buildings to the horizon which ever way you look.
The Greater Los Angeles Area has 18.7 million people. Far less than Tokyo-Yokohama (38.5 million) yet there a lot is auto gen buildings which don't convey the same feeling of endless variation. Or rather, autogen buildings don't draw as much attention and you fly much higher over them. To see all the detail in the Greater Los Angeles area I was at 1,000ft above the terrain at most.
04-23 Three Rivers KTHR 9:45 AM Sequoia National Park
General Sherman Tree 36°34'53.8"N 118°45'05.3"W
04-23 Sequoia Ranch CA44 10:08 AM
04-23 Exeter O63 10:19 AM
04-23 Visalia Muni KVIS 10:29 AM PG Area
04-23 Hanford Muni KHJO 10:36 AM PG Area
04-23 Salyer Farms 24CL 10:43 AM
04-23 Porterville Mun KPTV 10:55 AM PG Area
04-23 Kern Valley L05 11:11 AM Lake Isabella - Seagulls 35°39'22"N, 118°28'2"W
04-23 Bakersfield Muni L45 11:35 AM PG Area
1:50
04-23 Bakersfield Muni L45 5:17 PM
04-23 Taft-Kern Co L17 5:25 PM
04-23 7R Ranch CL25 5:31 PM
04-23 Santa Barbara Muni KSBA 5:45 PM Runway Tears PG Area
04-23 Point Bennett Research Station KLOP 6:12 PM
04-23 Ranger Station KBUE 6:15 PM
04-23 Bechers Bay Airstrip KISS 6:22 PM
04-23 Christy Airstrip CA97 6:30 PM
04-23 Oxnard KOXR 6:44 PM PG Area
04-23 Point Muga Nas (Naval Base Ven KNTD 6:50 PM
Simi Valley PG Area 34°15'12"N, 118°46'28"W
Santa Clarita PG Area 34°26'31"N, 118°32'6"W
04-23 Skyotee Ranch CL74 7:24 PM Willow Springs racetrack 34°52'23.0"N 118°15'50.0"W
04-23 Rosamond L00 7:33 PM
04-23 Lancaster KLAT 7:40 PM Unclear runway, bumpy terrain PG Area
04-23 Palmdale USAF Plant 42 KPMD 7:43 PM PG Area
04-23 San Gabriel Valley KEMT 7:59 PM Runway tear, flipped plane PG Area
Downtown LA PG Area 34°3'4"N, 118°15'36"W
Glendale PG Area 34°8'56"N, 118°15'27"W
Hollywood PG Area 34°8'1"N, 118°19'20"W
Universal Studios 34°08'15.8"N 118°21'06.7"W
04-23 Bob Hope KBUR 8:47 PM
04-23 Van Nuys KVNY 8:52 PM
04-23 Santa Monica Muni KSMO 9:05 PM PG Area
04-23 Los Angeles Intl KLAX * 9:10 PM Inglewood PG Area 33°57'17"N, 118°20'17"W
04-23 Jack Northrop Field/Hawthorne KHHR 9:13 PM PG Area
04-23 Zamperini Field KTOA 9:23 PM Longbeach PG Area 33°45'33"N, 118°11'37"W
04-23 Long Beach/Daugherty Field/ KLGB 9:40 PM Downey PG Area 33°56'15"N, 118°7'30"W
La Habra PG Area 33°55'47"N, 117°56'44"W
04-23 Fullerton Muni KFUL 9:45 PM Disneyland Anaheim PG Area 33°48'45.3"N 117°55'08.4"W
Santa Ana PG Area 33°44'57"N, 117°52'24"W
04-23 John Wayne Airport-Orange County KSNA 10:02 PM
04-23 Catalina KAVX 10:16 PM
04-23 San Clemente Island NALF KNUC 10:27 PM
04-23 Bob Maxwell Memorial Airfield KOKB 10:51 PM
Flight time 7:24 34 stops
I snuck in a couple hours in the morning, departure from Three River

To check out Sequoia National Park

Sequoia & Kings Canyon National Parks

There in the middle is the General Sherman Tree

From the other side, General Sherman Tree Car Park above the tree

General Sherman Tree, just under 275ft tall, one of the tallest trees in the world


By volume, it is the largest known living single-stem tree on Earth, estimated to be around 2,300 to 2,700 years old. Cowboy James Wolverton, discovered the tree on August 7, 1879 and named it after the Civil War general under whom he served.
Flying a bit further into Sequoia National Park in Tulare County

Moses Mountain (9,331ft)

Springville, preparing for a 180 degree turn to land at Sequoia Ranch behind me

College of the Sequoias at Visalia

Kings County

Tulare County

Porterville in the San Joaquin Valley

Lake Isabella in the southern Sierra Nevada

Finally spotted a seagull!

I managed to chase it with the drone while pausing the plane

Still not easy to follow, reducing sim rate helps (Fauna slows down too unlike traffic)

Then suddenly a whole flock appeared

Lot of birds

Things not to do in real life, with a lot of pausing not to quickly overshoot the birds

Flying with the birds is nice, except I'm actually moving nearly 100 mph faster

Definitely not the view you want to see in a real plane

Enough bird watching, on to Bakersfield, the country music capital of the West Coast

Home of country music singers Merle Haggard (1937-2016) and Buck Owens (1929-2006)

Kern County

Santa Barbara County

Flying into Los Padres National Forest


Over the Santa Ynez Mountains to Santa Barbara

La Playa Field on Leadbetter Beach in Santa Barbara


The pier (behind) is unfortunately mostly under water
US 101 overpass at N Calle Cesar Chavez

Santa Barbara downtown

Flying out to the islands on the coast, San Miguel island

Caliche Forest on San Miguel Island

Home to Cabrillo Monument, the Portugese navigator who discovered California in 1542

Santa Rosa Island

Santa Cruz Island, Channel Islands National Park

Landing at Christie strip on Santa Cruz Island

Back to the mainland, landing at Oxnard Airport

Oxnard, a seaside city west of Los Angeles

Bard Lake

Simi Valley in the southeast corner of Ventura County

Brandeis up in the hills

Over the Ronald Reagan Fwy at Topo Canyon rd

Six Flags Magic Mountain at Santa Clarita

Following Bouquet Creek up into Bouquet Canyon

Skyotee Ranch

Willow Springs International Raceway, just over 50 miles north of LA

Approaching Pasadena

Descending back into the metropolitan ocean, San Gabriel Valley

San Gabriel Valley Airport

Remember to always wear a seat belt, runway tears flipped my plane upside down after touch down


The whole ground shifts up an down while the terrain tiles get updated
Monteray Pass Rd, heading for Los Angeles

Crossing the Los Angeles River, the Terminator 2 vibes are strong

Walt Disney Concert Hall, downtown LA

Los Angeles Central Library between the sky scrapers

1000 Grand by Windsor construction at Los Angeles S Grand Ave - W Olympic Boulevard


Opened 2015, another indication data is from 2014 at the latest
STAPLES Center, hosts LA teams, the Lakers, Clippers, Kings & Sparks


L.A. Live behind, massive entertainment complex featuring a theater & The Grammy Museum
Elysian Heights

On top of Mount Lee, since 1923

Hollywood Reservoir

Hollywood Boulevard, Chinese Theater on the left as well as the Walk Of Fame


I watched a movie there once, it wasn't all that good, the theater made up for it. Beautiful theater
Hollywood Boulevard at N Highland Ave


Another chance to date the data, when was that combination of billboard up
Back along Hollywood reservoir

To Universal Studios Hollywood


We got drenched there in the Jurassic park ride (replaced 2018) then warmed up at Backdraft (replaced 2010). The park has changed a lot, 1998, 2021
Crossing the San Diego Freeway

To Santa Monica, Pacific Park on Santa Monica Pier down below


Unfortunately the rest of the pier is under water
Santa Monica at Broadway and (end of) Promenade, Muscle Beach (Venice Beach) in the distance

Looking down Ocean Ave along Santa Monica Beach

Santa Monica Municipal Airport

Los Angeles International Airport

Even with ground traffic at 10 my laptop can barely handle all the details

Los Angeles Southwest College along Glenn Anderson Fwy

Making a loop around Lunada Bay

Terminal Island at Long Beach

Long Beach, RMS Queen Mary is moored in Queensway Bay, a museum/restaurant since 1930

Sadly overgrown by trees in the game

Fullerton Municipal Airport

Disneyland Anaheim, the original, opened July 17, 1955

And directly behind it, new to me, Disney California Adventure Park

Santa Ana River, at first I thought that transition was a glitch, it's real

Most of the river has been replaced by concrete, some parts are turned into parks again

John Wayne Airport-Orange County

Newport Center

Escaping the urban sprawl to enjoy the sunset on the way to Santa Catalina Island

Catalina Airport

San Clemente Island

Arriving back at the mainland after sunset, already very dark under the clouds

Last stop this leg, Bob Maxwell Memorial Airfield

More of California next leg, Palm Springs and San Diego up next.
Leg 246, Oceanside, California, USA to Isla Natividad, Baja California Sur, México


DAY04_24.PLN (15.7 KB)
Visiting Palm Springs and San Diego this leg, then on to Mexico. San Diego was great to visit again, another huge PG Area and thanks to @bwc1976 I had a great itinerary of places to visit. The area is not quite at the level of London photogrammetry, yet it's vast. Then you get to the Mexico border and all detail abruptly ends. It's a digital as well as physical border, big contrast.
Since it was full moon I kept on flying into the night, long itinerary this leg.
04-24 Bob Maxwell Memorial Airfield KOKB 4:58 PM Oceanside PG Area
04-24 Fallbrook Community L18 5:08 PM Temecula PG Area
04-24 French Valley F70 5:19 PM
04-24 Pines Airpark 8CA5 5:22 PM Unclear runway
04-24 Perris Valley L65 5:27 PM PG Area
04-24 March Arb KRIV 5:31 PM Moreno Valley PG Area
04-24 Riverside Muni KRAL 5:39 PM PG Area
04-24 Ontario Intl KONT 5:47 PM PG Area
04-24 Rialto Mun/Miro L67 5:55 PM San Bernardino PG Area
04-24 San Bernardino Intl KSBD 6:03 PM
04-24 Redlands Muni KREI 6:06 PM Yucaipa PG Area 34°2'12"N, 117°3'4"W
04-24 Banning Muni KBNG 6:13 PM
04-24 Palm Springs Intl KPSP 6:32 PM PG Area
Desert Hot Springs PG Area 33°57'54"N, 116°30'57"W
04-24 Yucca Valley L22 6:48 PM
04-24 Twentynine Palms KTNP 6:59 PM Joshua Tree Natl Park 33°51'54.8"N 115°54'20.8"W
04-24 Desert Air Sky Ranch 63CA 7:18 PM
04-24 Salton Sea KSAS 7:26 PM
04-24 Ocotillo L90 7:33 PM
04-24 Hunt's Sky Ranch 04CL 7:42 PM
04-24 Gillespie Field KSEE 8:01 PM
04-24 Miramar MCAS KNKX 8:07 PM Former Top Gun HQ
04-24 Montgomery-Gibbs Executive KMYF 8:10 PM
04-24 San Dieogo Intl KSAN 8:29 PM PG Area Sea World, San Diego Zoo
La Jolla Cove 32°51'01.2"N 117°16'22.0"W
USS Midway Museum (aircraft carrier) 32°42'49.5"N 117°10'31.5"W
Coronado Bridge 32°41'21.5"N 117°09'11.6"W
Hotel del Coronado 32°40'47.7"N 117°10'45.8"W
Belmont Park Giant Dipper 32°46'16.3"N 117°15'02.9"W
Petco Park stadium 32°42'26.7"N 117°09'25.6"W
Qualcomm Stadium 32°46'59.3"N 117°07'10.7"W
Balboa Park (San Dieogo Zoo) 32°44'03.8"N 117°08'40.9"W
San Diego State University 32°46'31.5"N 117°04'16.5"W
04-24 Imperial Beach Nolf (Ream Fld) KNRS 9:13 PM
04-24 Gen Abelardo L Rodriguez Intl MMTJ 9:24 PM
04-24 Reider Ranch CA75 9:33 PM
04-24 Jacumba L78 9:42 PM
04-24 Calexico Intl KCXL 9:55 PM
04-24 Yucatan Airstrip MXFD 10:04 PM
04-24 Yuma MCAS / Yuma Intl KNYL 10:18 PM PG Area
04-24 Wellton KWEO 10:30 PM
04-24 Ajo Mun P01 10:52 PM
04-24 Sonoyta MXTC 11:11 PM
04-24 Aduana de Sonoyta Airstrip MMWX 11:19 PM
04-24 Mar de Cortes Intl AMC 11:32 PM Crater 31°50'44.1"N 113°23'30.1"W
04-25 Golfo de Santa Clara MMHM 12:04 AM
04-25 San Felipe Intl MMSF 12:23 AM
04-25 Meling Ranch Airstrip MMEM 12:44 AM
04-25 Rancho Magana MMFI 12:55 AM
04-25 Lorenzos de Baja MMRZ 12:59 AM
04-25 Los Pinos MMOE 1:04 AM
04-25 El Socorrito MMOB 1:08 AM 149nm next 19 knot headwind
04-25 Airport Isla Duadalupe MMGD 2:04 AM 173nm next 17 knot tailwind
04-25 Isla Natividad Airstrip MMBS 3:02 AM CTD on end flight
Flight time 10:04 43 stops
Departure from Bob Maxwell Memorial Airfield

A look at Oceanside by daylight, here at Oceanside Fishing Pier

Carlsbad Power Plant further down the coast

Heading insland, Fallbrook Community Airport

Temecula in southwestern Riverside County

Pechanga Resort Casino in Temecula

Turning to land at French Valley Airport

Perris, Riverside County, California

Casa Blanca, formerly known as Blanca, now an annexed neighborhood of Riverside

Riverside Municipal Airport

The Santa Ana River is rather full here

Ontario International Airport


I live in Ontario, CA as well, except this is Ontario, CA, USA
Ontario Mills along the I-15

Auto Club Speedway in Fontana

San Bernardino connected to Fontana with Rialto in the middle

San Bardardino History and Railroad Museum

Redlands Municipal Airport ahead

San Gorgonio Pass wind farm

There are a lot of windmills there (3,218 units operational) but not this close together!

View from Whitewater

View from Riverside County on the way to Palm Springs

Palm Springs in the Sonoran Desert of southern California

Cathedral City, flying over the Whitewater River

Palm Desert a bit further along the river, in California's Coachella Valley


Water from the Colorado river keeps this desert oasis going via the 123-mile Coachella Canal
Twentynine Palms in San Bernardino County

Pinto Basin Road

Joshua Tree National Park

Desert park with geologic wonders & signature Joshua trees

The two pictures on the right are my own, first time I saw a Coyote


We have Coyotes up here (Ontario) as well, never seen them but you can hear them howl sometimes and warnings to look after your pets are common in late fall. Red foxes are easier to see. My wife had a staring contest with one just yesterday. He came up from the riverbank while she was gardening, prompting a serenade of 'What does the fox say'
Flying back towards the coast over San Diego County, the landlocked Salton Sea on the horizon

San Diego River below

Approaching Gillespie Field, El Cajon

Riverview Farms, Winter Gardens

Landing at Miramar MCAS, home of TOPGUN (US Navy Fighter Weapons School) until 1996

Flying along Scripps Coastal Reserve

La Jolla Cove, popular with divers and seals

The Giant Dipper at Belmont Park

Who doesn't love a good wooden rollercoaster
Sea world, can't miss it. Flying by the high dive

San Diego International Airport

Visiting Downtown San Diego

Flying over San Diego Santa Fe Depot, W Broadway on the right

USS Midway Museum. The USS Midway is the longest-serving aircraft carrier in the 20th century (1945-1992) named after the Battle of Midway of June 1942. The ship missed WW2 by one week.


Too much 'clutter' on the deck to attempt a landing, a low pass will do, one plane does not belong
Petco Park, home to the San Diego Padres. Convention Center behind along the shore

Hotel Del Coronado along Coronado Beach. The curved Coronado bridge connects the island

The world famous San Diego Zoo (opened 1916) in Balboa Park


Balboa Naval Medical Center visible behind
Murphy Canyon next to Qualcomm Stadium

SDCCU stadium opened in 1967 as San Diego Stadium, was known as Jack Murphy Stadium from 1981 to 1997, then Qualcomm Stadium until 2017. It closed 2019, being replaced with the new Aztec Stadium


It's not half demolished in the game, half covered with trees, still fully standing
San Diego State University, nice amphitheatre

Chollas Lake Park next to Hwy 94

Crossing the Sweetwater river on the way to the border

International Gateway of the Americas, US-Mexico border crossing at the Tijuana river


Tijuana border city on the other side in Mexico
Gen Abelardo L Rodriguez International Airport in Tijuana along the border

Flying over Jacumba Wilderness Area while following the border inland

A long road with a fence marks the border

Acueducto Río Colorado Tijuana

Celexico International Airport next to Mexicali

Mexicali, the capital city of the state of Baja California in northern Mexico

Catedral de Nuestra Señora de Guadalupe

Monumento La Ciudad que Capturó el Sol ("The city whose sky captured the sun")


Vicente Guerrero Park on the right
Yuma, Arizona, Yuma Territorial Prison Park below

Ocean to Ocean Highway Bridge and a look at the accommodations inside the 1876 prison

Ligurta, Arizona

Barry M Goldwater Air Force Range

New Cornelia Mine at Ajo, Pima County, Arizona

Sonoyta, Sonora, Mexico

Rocky Point, Sonora, flying to the Gulf of California

But first back inland a bit to visit Reserva de la Biosfera El Pinacate y Gran Desierto de Altar

Cráter El Elegante

Cerro Picacho del Diablo (10.157ft) the highest peak on the Baja California peninsula

Meling Ranch in Ensenada

Santo Domingo, Baja California, Mexico

Isla Duadalupe in the North Pacific Ocean

Where you can swim with sharks

Final stop today at Isla Natividad

Next leg, further into Mexico.
Thanks for the great views! I don't often get a chance to play during the daytime here, so I end up "chasing daylight" in other parts of the world. Maybe that will change in the summer. Gillespie Field is actually my local airport where I'd be taking lessons for real if I could, and Winter Gardens is where my wife grew up.
Chasing daylight will be a problem for the last part of my trip, flying in my own timezone. Actually the shape of South America already pushes me into my own timezone reducing the daylight hours I can fly in. I'll improvise.
It was the same problem when my wife and I played World of Warcraft. It is (or was) tied to real time day/night cycle. Since we only played in the evening I only know the game as the eternal nighttime world of warcraft.
Leg 247, Isla Natividad, Baja California Sur to Nuevo Laredo, Tamaulipas, México


DAY04_25.PLN (12.5 KB)
A very relaxing leg over a variety of desert and mountains. Mexico is a lot bigger than I previously though it was and I never really knew about the terrain apart from desert. There is a lot of desert, yet also plenty mountainous terrain.
04-25 Isla Natividad Airstrip MMBS 12:15 PM
04-25 Bahia Tortugas Airfield MMBI 12:21 PM
04-25 Bahia Asuncion Airstrip MMBH 12:39 PM
04-25 Rancho San Cristobal Airstrip MMEL 1:02 PM
04-25 Cadeje Airstrip MMMU 1:21 PM
04-25 Mulege MXNG 1:40 PM
04-25 Mulege MXNF 1:47 PM
04-25 Punta Chivato MXND 1:52 PM
04-25 San Marcos Airstrip MMST 1:56 PM
04-25 San Lucas Militaty Airstrip MMSR 2:01 PM
04-25 San Ignacio Downtown Airstrip CYD 2:18 PM
04-25 San Ignacio 1 MM26 2:20 PM
04-25 Vizcaino MMEE 2:31 PM
04-25 Rancho El Caracol Airfield MMEI 2:33 PM
04-25 El Barril MMVT 2:54 PM
2:39
04-25 El Barril MMVT 4:47 PM
04-25 Punta San Francisquito Airstrip MMSU 4:50 PM
04-25 Bahia de Kino MXCA 5:08 PM
04-25 Bahia de Kino MMBA 5:15 PM
04-25 El Socorro MMZN 5:30 PM
04-25 Sahuaripa MMSH 6:17 PM Bumpy Runway
04-25 Col Alamillo MXMC 6:47 PM
04-25 Bodegas Generales del Campo MMKD 7:10 PM
04-25 Campo Diez MMBP 7:15 PM
04-25 Gen Div P A Roberto Fierro Vil MMCU 7:33 PM
04-25 Santo Nino MXDG 7:50 PM
04-25 Minera La Perla MMHD 8:12 PM
04-25 Los Novillos MMHL 8:34 PM
04-25 Laguna Del Rey MM82 8:54 PM
04-25 Cuatro Cienegas New MM64 9:22 PM
04-25 Monclova Intl MMMV 9:34 PM
04-25 San Roberto MMLK 9:49 PM Virtual vision landing
04-25 San Manolo MMQJ 9:53 PM Virtual vision landing
04-25 La Pitaya MMRE 9:58 PM Drone cam landing
04-25 Quetzalcoatl Intl MMNL 10:22 PM
Flight time 8:14 33 stops
First getting back on the peninsula at La Lobera, La Lobera Baja California Sur

Bahia Tortugas Airfield

At Clambey

Mulegé Municipality

Salina el Cuarenta Seasonal Lake

Comondú Municipality

Very dry on Baja California peninsula

San Ignacio, a palm oasis town in Mulegé Municipality

Near Guillermo Prieto

El Barril on the Gulf of California

Isla Turón on the way to the mainland, crossing the Gulf of California

Bahia de Kino

Landing at El Socorro Airport, La Habana, Sonora

Hermosillo Municipality

Very sparse vegetation

Until Mazatán in the center of the Mexican state of Sonora

Villa Pesqueira Municipality

Soyopa Municipality

Sahuaripa

Sahuaripa Municipality

The mountains are getting more rugged in Madera Municipality

Gómez Farías Municipality, Chihuahua state

Chihuahua state

Chihuahua, capital of Chihuahua state

The Metropolitan Cathedral of Chihuahua can be found here


Palacio de Gobierno features beautiful artworks and the Grutas Nombre de Dios is a popular attraction
Santo Nino Airport

Camargo Municipality

Volcanic landscape at San Juan de las Maravillas

Jiménez Municipality

My night light is already out Ocampo Municipality

It will be dark soon, I'm heading east as well, accelerating the sunset

Cuatro Ciénegas Municipality, radiation fog appearing

Last glimpse of the sun, moving behind the mountain in a minute

Cuatro Cienegas in the northern Mexican state of Coahuila

Still bright enough to keep going

Flying out of Monclova next

San Manolo Airport

Nuevo Laredo on the banks of the Rio Grande, across from the American city of the same name

Final stop today, Quetzalcoatl International Airport

Reyes Meza Museum looks great in Nuevo Laredo and it's free admission as well

Next leg, exploring the border area here, then south along the Gulf of Mexico
Leg 248, Nuevo Laredo, Tamaulipas, México via Texas, USA to Isla Socorro, México


DAY04_26.PLN (13.7 KB)
A couple more PG areas this leg in the border area in southern Texas, then a flight through central Mexico through the mountains and a couple mega cities.
04-26 Quetzalcoatl Intl MMNL 8:53 AM Laredo PG Area
04-26 Laredo Intl KLRD 9:14 AM
04-26 Santa Maria Ranch 0TE5 9:23 AM
04-26 Van Es Ranch 13TS 9:30 AM
04-26 Barronena Ranch 03TE 9:35 AM
04-26 Alice Intl KALI 9:50 AM
04-26 Old Hoppe Place 67T 9:55 AM
04-26 High Man Tower Airstrip TE62 10:00 AM
04-26 Corpus Christi Intl KCRP 10:05 AM Corpus Cristi PG Area
04-26 Corpus Christi Nas/Truax Field KNGP 10:23 AM
04-26 La Parra Ranch KSAL 10:34 AM
04-26 Armstrong Ranch 47TX 10:42 AM
04-26 Johnson T05 10:53 AM
04-26 Rancho Buena Vista TS94 11:02 AM
04-26 Port Isabel-Cameron Co KPIL 11:05 AM
04-26 Brownsville/South Padre Island KBRO 11:21 AM PG Area
04-26 Gen Servando Canales Intl MMMA 11:29 AM
04-26 Los Fresnos MM95 11:37 AM
2:44
04-26 Los Fresnos MM95 5:01 PM
04-26 Mc Allen Miller Intl KMFE 5:09 PM PG Area
04-26 Venecia MMHF 5:27 PM Narrow runway 32 knot winds
04-26 Potrerillos Airstrip MMGN 5:41 PM
04-26 Gen Mariano Escobedo Intl MMMY 6:00 PM
04-26 Plan De Guadalupe Intl MMIO 6:25 PM
04-26 Terminal MMDC 6:47 PM
04-26 Santa Ana de Vanegas MMMP 7:04 PM
04-26 Matehuala MM67 7:18 PM
04-26 Ponciano Arriaga Intl MMSP 7:49 PM
04-26 San Luis Potosi MXTE 7:54 PM
04-26 ■■■■■ Teran Intl MMAS 8:23 PM
04-26 Guayaberos MMJP 8:37 PM
04-26 Ramon Lopez Velarde MMTZ 8:44 PM
04-26 Chimaltitan Airstrip MMGK 8:57 PM
04-26 Tuxpan de Bolanos Airstrip MMGO 9:07 PM
04-26 Zoquipan Airstrip MMXB 9:22 PM
04-26 Jazmines de Coyultita Airstrip MMLJ 9:28 PM Short runway
04-26 Pista Aerea de Tuxpan MMUT 9:43 PM Virtual vision landing 73nm next
04-26 Isla Maria Madre MM40 10:11 PM 301nm next no wind data
04-27 Isla Socorro MM81 12:01 AM
Flight time 9:44 37 stops
Laredo Border Crossing / Puente Internacional Numero ll Juarez-Lincoln Nuevo Laredo in Laredo, Texas

Houston Park along Zacate Creek, Nuevo Laredo, Mexico across the Rio Grande

Laredo Medical Center close to the airport

Mall del Norte where the Imaginarium of South Texas is, hands on science museum for kids

Making a stop at Laredo International

Corpus Christi on the Gulf of Mexico

USS Lexington, WWII aircraft carrier & naval museum with airplanes (and trees…)

Downtown with Nueces County Courthouse from 1914 on the right

Corpus Christi Nas / Truax Field just past Ward Island

Over Kennedy County, Laguna Madre in the distance

Laguna Madre near Chubby Island

Arroyo Colorado (river)

Landing at Rancho Buena Vista

Brownsville, Resaca de la Palma National Battlefield below


Preserved site of the 1846 Mexican-American war battle
UTGRV Patron of the Arts next to Jacob Brown Auditorium

Flying over the original Fort Brown site (originally fort Texas)


Established in 1846, it was the first United States Army military outpost of the recently annexed state
Veterans International Bridge Los Tomates to Matamoros, Mexico

Hidalgo, another border town a bit further up the Rio Grande, opposite Reynosa, Mexico

Puente Internacional Reynosa-Hidalgo

Reynosa in the northern part of the state of Tamaulipas

Anzalduas International Bridge, a second border crossing on the west side of Hidalgo

Anzalduas Border Station looking towards Mexico

Heading into Mexico over Gustavo Díaz Ordaz Municipality

Potrerillos Airstrip

Sierra de Papagayos

Odd feature, there are more of the giant caterpillars lying across the landscape

Pueblo Nuevo, Ciudad Apodaca on the edge of Monterrey

Monterrey, capital of the northeastern Mexican state of Nuevo León

Sprawling business and industrial center fringed by mountains, Relaciones laborales KCSM below

Ruta Viajera Park and Peep Lil Park at the major crossing

Santa Catareni connected to Monterrey, Reserva Natural Estatal Sierra Las Mitras below

Heading into the mountains over El Jonuco

Tall mountains in Santa Catarina Municipality

Near San José de Los Nuncios

Beautiful mountain range in Santa Catarina Municipality

Saltillo, the capital and largest city of the northeastern Mexican state of Coahuila

In the other direction, another huge city


Mexico City, Monterrey, and Saltillo are all connected by a major railroad and highway
Home to Museo de la Katrina, now I want to play Grim Fandango again!

Heading further Southwest over Saltillo Municipality

El Águila

Sagrado Corazon De ■■■■■ in Jalisco State

Guayaberos Airport

Landing at Chimaltitan Airstrip

Chimaltitán Municipality

Chimaltitán, Jalisco

Bolaños Municipality

La Yesca Municipality

Tutuyecuamama

Last glimpse of the sun before diving down to Zoquipan Airstrip

Jazmines de Coyultita Airstrip

Grande de Santiago River

Laguna de Agua Brava ahead on the North Pacific Ocean

Landing at Tuxpan

Pista Aerea de Tuxpan

Departing to head out over the Pacific Ocean

The full moon provides plenty light

On the way to Isla Maria Madre

Isla Maria Madre

Beautiful island, 50 km from the mainland

Isla María Magdalena on the horizon

Last stop today at Isla Socorro, much further out into the Pacific


Volcanic island & important seabird breeding ground
Landing at Isla Socorro Airport

Next leg, to the capital, Mexico City. Then on towards Belize and Guatemala
Hi @SvenZ
I looked this one up for you causeI got curious too by your question.
This is what I found.
By the way, if you have the chance, go camping in the Outback!! It is amazing.
Ciao Mark
Leg 249, Isla Socorro to Oaxaca, México


DAY04_27.PLN (5.6 KB)
Exploring the mountainous center of Mexico on the way to Mexico city with a visit to the Monarch Butterfly Reserve.
04-27 Isla Socorro MM81 9:18 AM 340nm next
04-27 Lic Gustavo Diaz Ordaz Intl MMPR 11:15 AM
1:57
04-27 Lic Gustavo Diaz Ordaz Intl MMPR 5:39 PM
04-27 General Gonzalo Curiel Garcia MMMS 5:50 PM
04-27 Pacana MMRU 6:14 PM Unclear runway if any
04-27 Don Miguel Hidalgo Intl MMGL 6:26 PM
04-27 Paco MMDI 6:34 PM
04-27 Hernandez Ranch Airstrip MMTI 7:04 PM narrow, short, trees in the way
04-27 Lic And Gen Ignacio Lopez Rayo MMPN 7:15 PM
04-27 Purepecha MMPX 7:31 PM
04-27 El Pinocho MMPZ 7:56 PM Monarch Butterfly Biosphere Reserve 19°33'49.5"N 100°17'48.0"W
04-27 Lic Benito Juarez Intl MMMX 8:31 PM Mexico City Capital
04-27 Hermanos Serdan Intl MMPB 8:57 PM
04-27 Tehuacan MMHC 9:26 PM
04-27 Xoxocotlan Intl MMOX 10:02 PM
Flight time 6:20 13 stops
Ready for take off on Socorro Island

First trying to get some glimpses of the island before heading back to the mainland

Circling back over the airport, most of the island is hidden in clouds

Into the sun to Puerto Vallarta

Lic Gustavo Diaz Ordaz International Airport in Puerto Vallarta

Puerto Vallarta is a popular resort town on Mexico's Pacific coast
Heading into the mountains after taking off from Puerto Vallarta in the afternoon

San José del Mosco

Lnading at General Gonzalo Curiel Garcia Airport

Santa Rosa, Jalisco State

Mixtlán Municipality

Crossing the Atenguillo River

Guadalajara

Bajos Hornos on Lake Chapala

Massive freshwater lake fed by the Lerma River

Condémbaro

Uruapan International Airport

Uruapan located at the western edge of the Purépecha highlands

Lake Pátzcuaro, Ihuatzio on the opposite shore of the right arm in the lake

Ihuatzio to the right, Cucuchucho ahead, Zona Arqueológica de Ihuatzio far right

Ihuatzio Archeology Zone

Tzitzio Municipality

San Pedro between the hills

Monarch Butterfly Biosphere Reserve near Cuartel la Mesa

From October to March, this forested mountain area is home to a huge number of monarch butterflies

San Pedro Arriba

Mexico city aka Ciudad de México or CDMX, the capital of Mexico

Massive city, Hipódromo de Las Américas under my left wing

Landing at Lic Benito Juarez Intl to check out the city

Templo Mayor Museum showcasing archaeological finds & exhibits related to the Aztec civilization


Mexico City Metropolitan Cathedral, Latin America's oldest & largest, on the right
Basilica of Our Lady of Guadalupe, revered Catholic church & pilgrimage site

Palacio de Bellas Artes, featuring murals by Diego Rivera & other notable artists

The angel of independance, El Ángel de la Independencia


Commemorating Mexico's independence from Spain since 1821, after declaring independence in 1810
A peek in Museo Nacional de Antropología


Popular anthropology museum showcasing artifacts from as far back as the ancient Maya civilization
Flying on, San Jose las Palmas on the edge of Mexico City

Iztaccihuatl (17,159ft) dormant volcano

Parque Nacional Iztaccíhuatl - Popocatépetl

Popocatépetl (17,802ft) active stratovolcano left of Iztaccihuatl

Puebla in east-central Mexico, southeast of Mexico City

Matlalcueitl (14,636ft) another active volcano to the north of Pueblo

Santa Ana Caopan with Pico de Orizaba (18.491ft) still lit up in the distance

Also known as "Citlaltépetl, an inactive stratovolcano and highest mountain in Mexico

Tehuacán in Puebla State

Tehuacan Airport

Full moon coming up over Oaxaca

At regular exposure, Oaxaca downtown

Last stop today at Xoxocotlan Intl / Oaxaca International Airport

I'll be making further progress to Belize tomorrow. Flying time will get more tricky as I'm progressing into my own timezone, fewer daylight hours while flying at night.
Leg 250, Oaxaca to Chichén-Itzá, Yucatan, México


DAY04_28.PLN (6.4 KB)
Through southern Mexico to Chichén-Itzá to enjoy a spectacular night show at the ancient Mayan ruins.
04-28 Xoxocotlan Intl MMOX 5:04 PM
04-28 NAS Salina Cruz MM57 5:39 PM
04-28 Ixtepec MMIT 5:45 PM
04-28 CPA Leonardo Lopez Hernandez MMUZ 5:59 PM Unclear runway Bad stuttering
04-28 Llano Grande MMJX 6:08 PM
04-28 San Luqueno MXTH 6:21 PM
04-28 Comitan (Copalar) MMCO 6:56 PM
04-28 Yalcok MXMG 7:01 PM
04-28 Tenosique MM46 7:25 PM
04-28 Los Bravos de Bonfil MMBL 7:39 PM
04-28 Ciudad Del Carmen Intl Arpt MMCE 7:53 PM 32 knot head/cross wind
04-28 San Jorge MMOK 8:27 PM 30 knot tail/cross wind
04-28 Alberto Acuna Ongay MMCP 8:39 PM
04-28 Santa Rosa de Lima MMMN 9:04 PM Drone cam landing
04-28 Lic Manuel Crescencio Rejon In MMMD 9:19 PM 22 knot headwind
04-28 Old Chichen Itza MM74 9:48 PM Virtual vision landing
Flight time 4:44 15 stops
Departure from Oaxaca, heading for the mountains

Cerro Yatin (11,024ft)

Cerro Sacamecate (4.734ft)

Salina Cruz, a major seaport on the Pacific coast of the Mexican state of Oaxaca

Flying out of NAS Salina Cruz Airport

Near Ixtepec

Juchitán de Zaragoza on the Rio Los Perros

Windmills in the rain at Unión Hidalgo

Crossing an unnamed river at Santo Domingo Zanatepec

Santo Domingo Zanatepec Municipality

Llano Grande Municipality

San Pedro Tapanatepec Municipality, emerging from the rain

Emiliano Zapata in the west-central part of the Mexican state of Morelos

Another unnamed river in Arriaga Municipality

Paredón

San Luqueno Airport

Tonalá Municipality

San Vicente La Mesilla

Barrio de Sta Cecilia

An unnamed town in Altamirano Municipality


Crazy to think we're currently mapping Mars while digital maps of Earth are still very much incomplete
Ocosingo Municipality

Near Damasco, mountain ranges rippling through the landscape

Tenosique Airport

Ciudad del Carmen on Isla del Carmen, between the Gulf of Mexico and Laguna de Términos

Isla del Carmen

La Lagartera

Puente de la Unidad (bridge) with Isla Aguada ahead

Sunset over Champotón Municipality

Near Maya Tecún I

Chapax, Campeche state

Aleberto Acuna Ongay Airport

Serving Campeche, a port city on the Gulf of Mexico

Home to Ex-Templo de San José (left) a former Jesuit church


Malecón de Campeche on the right
Santa Rosa de Lima Airport, challenging landing at night

Mérida, the vibrant capital of the Mexican state of Yucatán

Mérida International Airport

Catedral de Mérida - San Ildefonso at Plaza Grande on the left, from the 16th century


And the Mayan World Museum of Mérida, modern Mayan cultural museum
One more stop to go, Mérida to Chichén Itzá

Last stop today at Old Chichen Itza Airport

Chichén Itzá by night

"El Castillo" Night Show
I'll be checking out Chichén Itzá by daylight tomorrow before heading to Belize
Leg 251, Chichén-Itzá, Yucatan, México to Placencia, Belize


DAY04_29.PLN (10.3 KB)
04-29 Old Chichen Itza MM74 4:08 PM Chichaen Itza 20°40'59"N, 88°34'7"W
04-29 Chichen-Itza MMCT 4:13 PM
04-29 Capul MM72 4:29 PM
04-29 Holbox MMKA 4:48 PM
04-29 Isla Mujeres MMIM 5:03 PM
04-29 Cancun Intl MMUN 5:12 PM
04-29 Cozumel Intl MMCZ 5:26 PM
04-29 Capitan Eduardo A Toledo MMUB 5:30 PM
04-29 Estancion Aeronaval MMTU 5:40 PM
04-29 Punta Pajaros MMUC Under water
04-29 Pulticub MMXH 6:11 PM
04-29 Mahahual MMDG 6:22 PM
04-29 Chetumal Intl MMCM 6:37 PM
04-29 Corozal Municipal MZCO 6:42 PM
04-29 Sartaneja MMCD 6:49 PM
04-29 Xcalak MZSD 6:58 PM
04-29 San Pedro MZ10 7:08 PM
04-29 Caye Caulker MZSP 7:16 PM
04-29 Caye Chapel MZSE 7:20 PM
04-29 Lighthouse Reef Airstrip MZSA 7:32 PM
04-29 Belize City MZBB 7:42 PM
04-29 Belize City Municipal MZBE 7:53 PM
04-29 Philip S W Goldson Intl MZBZ 7:56 PM
04-29 Hector Silva Airstrip MBCV 8:08 PM Belmopan capital
04-29 Belmopan MZBM 8:13 PM ATM Cave Belize- Actun Tunichil Muknal 17°07'02.9"N 88°53'25.7"W
04-29 Melinda MZDN 8:29 PM Drone cam landing
04-29 Dangriga MZDA 8:33 PM Drone cam landing
04-29 Silver Creek MZPE 8:42 PM Virtual vision landing
04-29 Placencia MZPC 8:53 PM Virtual vision landing CTD on end flight
Flight time 4:45 27 stops
Checking out Chichén Itzá by daylight

Well over 1,500 years old, Chichen Itza was a major focal point in the Northern Maya Lowlands

While the southern empire had already dissolved, the northern empire remained viable until the 16th century when the Spanish conquered Central America, including Chichen Itza

Also here Cenote Sagrado de Chichen Itzá, Sacred Cenote

Caracol, El Cuyo in the distance along the beach

Holbox on the Gulf of Mexico

Isla Mujeres

Some of the art on the island


You can swim with dolphins and watch the many sea turtles
Cancún on the Yucatán Peninsula bordering the Caribbean Sea

The colors of Cancún

San Miguel de Cozumel

Coral Reefs Monument in the middle and Pueblo del Maiz (theme park) on the right

Houston, Quintana Roo in the middle of the land bridge

Punta Pajoras Airport, can't land there

Water masks at Puerto Madero

Mosquitero Lake behind me

Mirador Dos Hermanos, referring to an observation platform in the bay reachable by boat

Chetumal on Mexico's Yucatán Peninsula

Xcalek, population 375, on the Caribbean coast of Mexico

Nearing the border with Belize, on the horizon

San Pedro in the south part of Ambergris Caye, in northern Belize

Beautiful place to land

Mauger Cay Light

Part of Turneffe Atoll

The Great Blue Hole in Lighthouse Reef

Famous as a scuba-diving site for its diversity of species

Lighthouse Reef Airstrip

Belize City, divided into north and south sides by Haulover Creek


The manually operated 1920s Swing Bridge, a busy crossing point, links the two
Baron Bliss Lighthouse on the right

A peek in the Museum of Belize

Belmopan, the capital of Belize


The smallest capital city in the continental Americas by population, 16,451 in 2010
Noj Kaax H'Men Elijio Panti Forest Reserve

Cayo District

Peculiar red orb in Hope Creek, close to Belinda Airport

Silver Creek Airport, it gets so dark without the moon (still below the horizon)

Last stop today in Placencia, a beach resort on the Caribbean coast of Belize

Looks like the perfect place to wake up in

Next leg to Guatemala.
Leg 252, Placencia, Belize via Guatemala and El Salvador to Puerto Lempira, Honduras


DAY04_30.PLN (11.5 KB)
I had time for a morning flight, early start, visiting 3 capital cities along the way. Exploring Guatemala, El Salvador and Honduras this leg.
04-30 Placencia MZPC 7:42 AM
04-30 Independence MZPA 7:45 AM
04-30 Benque Viejo del Carmen MZBN 8:00 AM
04-30 Mundo Maya Intl MGMM 8:17 AM
04-30 La Libertad MGLL 8:24 AM
04-30 Rubelsanto MGRB 8:45 AM
04-30 Coban MGCB 9:01 AM
04-30 La Aurora Intl MGGT Guatemala capital 9:26 AM
04-30 Monterrico MGRF 9:47 AM
04-30 Ciudad Arce MSCU 10:14 AM
04-30 Ilopango Intl MSSS San Salvador capital 10:33 AM
04-30 El Salvador Intl MSLP 10:40 AM
04-30 Ceiba Doblada MSCD 10:55 AM
04-30 La Chepona MSCH 11:03 AM
04-30 Tamarindo MS1A 11:18 AM
04-30 San Lorenzo MHSL 11:34 AM
04-30 Toncontin Intl MHTG * 11:56 AM Tegucigalpa capital
4:38
04-30 Toncontin Intl MHTG 5:26 PM
04-30 Flefil MHLF 5:35 PM
04-30 Victoria VTA 5:50 PM
04-30 Finca 12 MHFD 6:04 PM
04-30 La Mesa Intl MHLM 6:10 PM
04-30 Tela MHTE 6:23 PM
Crash, or rather overstressed the aircraft (stress damage should be off) 6:35 PM
End process, restart to make sure live weather works, somehow stress failures were back on
04-30 15°44'32.27"N 86°53'0.38"W 6:42 PM
04-30 Goloson Intl MHLC 6:44 PM
04-30 Utila MHUT 6:53 PM
04-30 Roatan Intl MHRO 7:04 PM
04-30 Fort Cay MHFC 7:15 PM
04-30 Barbareta MHBA 7:22 PM
04-30 Guanaja GJA 7:30 PM
04-30 Palocios MHPC 7:57 PM
04-30 Brus Laguna MHBL 8:08 PM
04-30 Barra Del Patuca MHPA 8:16 PM Drone cam landing
04-30 Puerto Lempira MHPL 8:35 PM Drone cam landing, almost hit a house, marker in the wrong spot
Flight time 7:40 31 stops
Placencia Airport early morning

Departure, heading to the mainland

Toledo district

Crossing the Macal River

Landing at Benque Viejo del Carmen, hidden in the forest

Flores island

Mundo Mayo International Airport in Flores, joined to San Benito, Gautemala

San Benito and Flores island

San Miguel Chicaj

Guatemala City, the capital of Guatemala

Rio las Vacas winding through the city

Guatemala City Historical District

Plaza de la Constitución on the right, created in 1776

Estadio Doroteo Guamuch Flores on the left, built in 1948, to host the Central American and Caribbean Games in 1950, was renamed after long-distance runner Doroteo Guamuch Flores


Landing at La Aurora International Airport ahead
To visit the Palacio Nacional de la Cultura, aka Palacio Verde, former presidential headquarters

Cathedral of Guatemala City and Torre del Reformador, built in 1935 to honor Justo Rufino Barrios

Guatemala Holocaust Museum


features exhibits relating to the Holocaust and to two other tragedies: the genocide carried out against Europe's gypsie population and the genocide against the Yazidi people
Nacional Museum of Archeology and Ethnology

Time to move on, Monterrico on the Pacific coast of Guatemala

Parque Nacional Cerro Verde with Vulcan San Marcelino (4,856ft) and Santa Ana Volcano (7,812ft)

Lago de Coatepeque with Isla Teopán

Volcan de San Salvador (6,211ft) also known as Quezaltepeque and El Boquerón

Alvarez at the foot of Volcan de San Salvador

San Salvador, the capital of El Salvador

Lake Ilopango to the east of the city, San Vicente volcano (7,159ft) on the horizon

The National Palace, Parque Libertad and Monument to the divine savior of the world

The Museum of Art of El Salvador

Dr. David J. Guzmán National Museum

Departing San Salvador from Ilopango International Airport

Ceiba Doblada

Balneario El Espino

El Cuco

Tamarindo Airport on the Gulf of Fonseca

Bosque Cochagua National Park

Conchagüita volcanic island

El Ajustillo, Honduras

Heading for Aeropuerto La Pista in San Lorenzo

El Guayabo

Lago Jose Cecilio del Valle

Parque Eólico Santa Ana

Tegucigalpa, the capital of Honduras

Toncontin international airport

Star Airport with some nice details

Iglesia Santa María de los Dolores and Museo Para La Identidad Nacional

Parque La Concordia and Eco Park Juana Lainez

A peek inside Museo Para La Identidad Nacional

Departing from Toncontin Intl in the afternoon

Estadio Tiburcio Carias Andino, home of FC Olimpia, CD Motogua and Lobos UPNFM

Cristo del Picacho, 65ft concrete statue of ■■■■■ ■■■■■■ situated on the left side overlooking the city

Crossing the Rio Grande o Choluteca

Victoria located near the Rio Sulaco

Embalse Francisco Morazan

Tela on the Caribbean coast of Honduras

Utila, island in the Caribbean sea

Flying out of Aeropuerto Utila

Roatán, water masks are back

Fort Morgan Cay, Private Island Experience

Barely big enough for a landing strip

Flying on to Isla Barbareta

Guanaja island

Not sure why everyone wants to live on the little island (Bonacca island)

Sunset time, earlier every day

Palacios Airport

Brus Laguna

Barra Del Patuca

Final stop today at Puerto Lempira


No moon, pitch black out, I almost crashed on landing at max exposure. I had the approach and direction right (from google maps, not in the G1000) but stupidly trusted the marker to be on the airstrip. Not this time, it was about 500 meters off. I narrowly avoided a house and landed on a street between the houses. Still looking for those rally car lights upgrade, or helicopter search lights will do.
Next leg on to Nicaragua
Leg 253, Puerto Lempira, Honduras via Nicaragua to Buenos Aires, Costa Rica


DAY05_01.PLN (11.5 KB)
Great flight starting with a beautiful Caribbean island and ending with an amazing sunset over Costa Rica.
05-01 Puerto Lempira MHPL 8:30 AM
05-01 La KataBila MHTB 8:34 AM Short runway 10 knot headwind
05-01 El Embrujo SKPV 9:40 AM
05-01 Gustavo Rojas Pinilla International SKSP 9:59 AM
05-01 Corn Island MNCI 10:30 AM
05-01 El Bluff MNFF 10:47 AM
2:17
05-01 El Bluff MNFF 3:28 PM
05-01 Bluefields MNBL 3:32 PM
05-01 Hato Grande MNHG 4:05 PM
05-01 San Lorenzo MNAM 4:13 PM
05-01 Managua Intl MNMG 4:24 PM Capital
05-01 Montelima MNMR 4:50 PM
05-01 Omtepe MNLP 5:11 PM
05-01 Murcielago MRMC 5:30 PM Trees at end of runway
05-01 Daniel Oduber Quiros Intl MRLB 5:39 PM
05-01 Cabo Velas MRCV 5:50 PM
05-01 Tamarindo De Santa Cruz MRTM 5:52 PM
05-01 Nosara MRNS 6:02 PM Building at end of runway
05-01 Samara MRMR 6:06 PM
05-01 Carrillo MRCR 6:09 PM
05-01 Islita MRIA 6:13 PM
05-01 La Javilla MLLJ 6:18 PM Unclear runway
05-01 Palo Arco MRPA 6:23 PM
05-01 Nandayure MRNA 6:31 PM
05-01 San Agustin MRST 6:38 PM
05-01 Aranjuez MRAJ 6:41 PM
05-01 Juan Santamaria Intl MROC 6:58 PM San Jose capital
05-01 Tobias Bolanos Intl MRPV 7:04 PM
05-01 Guapiles MRGP 7:18 PM
05-01 San Alberto MRSA 7:27 PM
05-01 Limon Intl MRLM 7:42 PM
05-01 Pandora MRPD 7:50 PM
05-01 Buenos Aires De Osa MRBA 8:09 PM
Flight time 6:58 31 stops
Out onto the Caribbean Sea in the morning, leaving the North Caribbean Autonomous Region behind

Isla de Providencia, belonging to Colombia

Santa Catalina Island, the smaller sister island

Estadio de Beisbol at Franshua

Providencia where Puente de los Enamorados connects the two islands

From up high with El Brujo Airport, stunning island

On to the next island

Isla de San Andrés, sadly no water masks here

Plenty coral reefs and Morgan's cave, underground cave with a pirate theme, including a replica ship

Big Corn Island, south of Little Corn Island, part of South Caribbean Coast Autonomous Region

Corn Island Airport

Reefs here as well, yet water masks remain rare

El Bluff, port city on the Caribbean coast of Nicaragua within the bay of Bluefields

Bluefields, capital of the South Caribbean Coast Autonomous Region, Nicaragua


The city was named after Abraham Blauvelt, a Dutch-Jewish pirate, privateer, and explorer of Central America and the western Caribbean
Acoyapa

Cana de Castilla on Lake Nicaragua aka Lago Cocibolca

Managua International Airport

Managua, capital of Nicaragua on Lake Managua aka Lago Xolotlán

Laguna de Tiscapa, Estadio Nacional Stanley Cayasso (left) and Olympic Stadium IND (right)

Santiago of Managua Cathedral, Palacio Nacional and Seawall Managua

A look inside Palacio Nacional

Xiloa Lagoon

Chiltepe Peninsula Natural Reserve with Laguna de Apoyeque and Momotombo (4,255ft) on the horizon

Rivas municipality in southwestern Nicaragua

Concepción (5,280ft) active stratovolcano, and Maderas (4,573ft) on the island of Ometepe

Ometepe Airport

Concepción, last erupted May to July 2015 (ongoing)

Murcielago Airport on the Gulf of Santa Elena

Hacienda Murciélago, Costa Rica

Brasilito on the North Pacific Ocean

Nicoya Peninsula

Nosara district

Carillo

La Javilla

Heading inland via Chira Island in the Colorado Gulf

Nice rainbow while flying out of Nandayure

San José, CR

Juan Santamaría International Airport


I've been here once for a couple hours when I ended up on the wrong flight (instead of San Jose, CA)
La Carpio wedged between Rio Virivilla and Rio Torres

Tobias Bolanos International Airport

Down town San José

Costa Rica's National Stadium


Can't help but see a giant toilet seat in the autogen version
Plaza de la Cultura and Parque La Sabana

Lot of great museums in San José, starting with the National Museum of Costa Rica

Museum of Costa Rican Art

Pre-Columbian Gold Museum

And Museo del Jade

Time to move on, would love to actually visit for real


(was not allowed through customs on taking the wrong flight, same plane back)
Flying out of Guapiles Airport, sun getting low

Limón Province

Batán

Nearing Moín with Limon further ahead

Sunset in between local showers

Limon commonly known as Puerto Limón

Limon Intl Airport

Beverly, trouble ahead

Crossing the Banano River

Pandora

After a practically blind crossing over the mountains inside a thunderstorm, Buenos Aires

Last stop today, Buenos Aires De Osa Airport, Puntarenas Province


Obviously not the capital of Argentina, it will still be a while until I get there
Tomorrow on to Panama.
Wow, that sounds like quite an adventure flying to the wrong San Jose! Just like that guy in 1985 who got on a plane for Auckland instead of Oakland!
It was cool to see the airport and the jungle and city on approach. I was a bit disappointed I didn't get to stay haha. If it was an afternoon flight I would have been 'stuck' there for the night. I left early morning during rush hour, which added to taking the wrong flight, rush rush.
It was a bit of a roller coaster on the way there. I wasn't paying much attention to outside as I was reviewing stuff for the meeting I was supposed to go to. (Was working for a gps navigation company, headed to a meeting with our map providers, the irony) Then they started handing out custom forms for Chile. Confused I asked why forms for Chile and they came back, sorry mistake, here are the right forms. For Costa Rica…
One little letter mistake by the person who booked the flight started it all. The airline I took doesn't fly to San Jose, California so at the airport they never even thought of checking whether I was in the right place or not. I did go to the US flights terminal first, yet there they said I had to go to the international terminal due to construction. Or maybe they simply said that it was under construction and I understood wrong.
I was already a bit late due to rush hour so no time to check departure boards etc, hop on the train to the other terminal where they were waiting for me. Run along with us, through the priority lane through customs and catch a bus to the cargo area departure (due to construction) Thus again no time to look at any boards.
And of course with the time difference, no one was at the head office. My wife managed to contact someone from my office after I called her from Costa Rica, but at first they thought it was a prank. Anyway since the airline is responsible for you, I didn't get the choice to book another flight from Costa Rica, back on the same plane, back to Toronto, back at 11pm at night to explain to customs why I was back already. They thought it was a good one, no problem. I was kinda worried for a bit I would get suspected for drug running!
After my 2nd (virtual) visit, I only want to go there more. Looks awesome.
Leg 254, Buenos Aires, Costa Rica via Panama to Manizales, Colombia


DAY05_02.PLN (20.7 KB)
Amazing flight today with a spectacular weather finale. More of Costa Rica then on to Panama, along the Panama canal to Panama City. Island hopping follows before climbing into the mountains to follow the Caribbean coast into Colombia. There a spectacular weather finale awaits at the rock of Guatapé.
05-02 Buenos Aires De Osa MRBA 7:37 AM
05-02 Palmar Sur MRPM 7:44 AM
05-02 Drake MRDK 7:50 AM
05-02 Sirena Station MRSN * 8:05 AM
05-02 Carate MRCE 8:11 AM
05-02 Puerto Jimenez MRPJ 8:17 AM
05-02 Golfito MRGF 8:24 AM
05-02 Finca 63 MRFS 8:29 AM Trees at end of runway
05-02 Coto 47 MRCC 8:32 AM Bad stuttering, memory use increasing
05-02 Alvaro Berrroa PX02 8:41 AM
05-02 Chiriqui Grande MPCI 8:58 AM Bad stuttering, memory use increasing
05-02 San Felix MPSF 9:20 AM
05-02 Sona MPSB Under water
05-02 Coiba MPSO 9:35 AM Tall trees at end of runway
05-02 La Plantacion MPLA 9:53 AM
05-02 Arena MPLL 10:01 AM Bad stuttering, memory use increasing
05-02 Tonosi MPTN 10:11 AM
05-02 Cap. Justiniano Montanegro MPPD 10:21 AM
05-02 Los Asientos MP00 10:23 AM Trees at end of runway
05-02 Candelaria MPBE 10:28 AM
05-02 Augusto Vergara MPGU 10:33 AM
05-02 Chitre MPCE 10:40 AM
05-02 Ingenio Santa Rosa MP22 10:49 AM Tree at end of runway
05-02 Aguadulce MPAU 10:55 AM
05-02 El Coco MPAG 11:01 AM Bad stuttering, memory use increasing
05-02 Cap Scarlett R Martinez L Intl MPSM 11:07 AM
05-02 Chame MPCM 11:14 AM
05-02 Sherman MPFS 11:42 AM
05-02 Enrique Adolfo Jimenez MPEJ 11:45 AM Panama canal
05-02 Howard AFB MPPA 12:18 PM
05-02 Marcos A Gelabert Intl MPMG 12:23 PM Panama city capital landmarks 8°58'37"N 79°31'5"W
05-02 Tocumen Intl 9°04'00.1"N 79°23'14.1"W 12:44 PM Some parts of the airport are there
05-02 La Joya MPPS 12:52 PM
05-02 Coronel Raul Aria Espinoza MPRA 1:07 PM Fuel truck across end of runway
05-02 Contadora MPCS 1:12 PM Short runway
05-02 Viveros Island IVI 1:15 PM
05-02 Fernando Eleta MPFE 1:19 PM Trees at end of runway
05-02 San Jose Island SIC 1:24 PM
05-02 Punta Cocos MP26 1:29 PM Bad Stuttering over land, memory use increasing
05-02 Playon Chico MPPL 1:55 PM
05-02 Alligandi MPAI 2:01 PM
05-02 Wakitupu MPAC 2:04 PM
05-02 Mamitupo MPI 2:06 PM
05-02 Ogubsucum OGM 2:09 PM
05-02 Mulatupo MPMN 2:15 PM
05-02 Mulatupo MPMU 2:22 PM
05-02 Mulatupo MPMA 2:25 PM
05-02 Puerto Obaldia MPOA 2:34 PM
6:57
05-02 Puerto Obaldia MPOA 4:51 PM
05-02 Capurgana SKCA 4:55 PM
05-02 Acandi SKAD 4:59 PM
05-02 Unguia SKUQ 5:12 PM
05-02 Antonio Roldan Betancourt SKLC 5:21 PM
05-02 Chigorodo SKIG 5:25 PM
05-02 Chigorodo SKJV 5:28 PM No runway, landed in field, bad textures
05-02 El Plateado SKFO 5:52 PM Trees at end of runway
05-02 Rancho Ae SKAT 6:06 PM Bad Stuttering, memory use increasing
05-02 Olaya Herrara SKMD 6:21 PM Virtual vision landing
05-02 Jose Maria Cordova SKRG 6:33 PM Medellín Pablo Escobar, The rock of Guatape 6°13'13"N 75°10'46"W
05-02 Puerto Nare SKPN 6:56 PM
05-02 Puerto Perales SKPY 7:03 PM No runway, landed in field
05-02 La Nubia SKMZ 7:40 PM
Flight time 9:46 59 stops
Departure from Buenos Aires De Osa Airport

Luckily it was just a local cloud, out in the sunshine

Landing at Sirena Aerodrome in Parque Nacional Corcovado

Rolled up to the ranger station to check it out in detail

Lot of luggage, no one around, a mystery

Checking out the park

More suitcases, where is the party

The real thing, one building is for overnight stays

Time to head out, bye bye mr wind sock

Carate Airport, following the coast along the peninsula

Golfito back on the mainland on Golfito Bay

Quebrada de Vuelta, just over the border into Panama

Volcán Barú (11,398ft) active stratovolcano and highest mountain in Panama

Located in Parque Nacional Volcán Barú

Volcán Barú

Chiriqui Grande

Archipielago de Islas Secas in the North Pacific Ocean

Islas Secas

Sona Airport, not today

Coiba Airport

Located at Parque Nacional de Isla Coiba

Isla Gobernadora

Isla Cébaco

Las Narices in the middle of Isla Cébaco

Lot of rainbows today

Malena, back to mainland Panama

Rio Pavo flowing through Reserva forestal La Tronosa

Chitre on La Villa River

La Estrella in El Roble corregimiento, Aguadulce District, Coclé Province, Panama

Ingenio Santa Rosa in the other direction and name of the airport

Gatun Lake

Massive artificial lake, part of the ship route through the Panama Canal

Gatun Locks between the lake and the Caribbean Sea

Agua Clara Locks (left) part of the Panama Canal expansion project, opened 2016

Puente Atlántico between Limon Bay and the locks

Turned around to Panama city, Chagres River connecting the Panama Canal with Gatun Lake

The Panama Canal, build by the US between 1904 and 1914


The Panama Canal remained under US control until 1999, then handed over to Panama
Puente Centenario, Pedro Miguel Locks in the distance

Carrying 6 lanes of traffic across the canal

Miraflores Locks (left) and Cocolí Locks (Panama Canal expansion)


The width of the old locks (106ft) have always been a design constraint for cargo ships
In 2019 the Panama Canal registered 13,785 transits, either oceangoing or small vessels, transporting 252 million long tons of goods in total

Puente de Las Américas, looking out onto the North Pacific Ocean

Awesome bridge and safe to fly under in the middle

Flying along the road deck works…


But there are invisible walls a bit further to the middle, splat
Landing at Marcos A. Gelabert Intl aka Albrook Gelabert Airport

Panama City, capital of Panama

JW Marriott Panama

F&F Tower

Peace Garden Cemetary and Panamá Viejo (historical site) on the left on the coast

Panama Metropolitan Cathedral (completed 1796) and Casco Antiguo

A look inside the Panama Canal Museum

Museo de La Historia de Panamá

Some more island hopping in the gulf of Panama, Pacheca Island

Coronel Raul Aria Espinoza Airport

Mogo Mogo Island

Contadora Airport

Punta Cocos in Concholón, south end of Isla del Rey

Chimán District, back on the mainland, crossing the mountains to the Caribbean side

Boca de Chucantí

Torti

Ogubsucum Airport on Guna Yala Comarca island right on the Caribbean Sea coast

Mulatupo Airport in Mansukum

Mulatupo o Sasardi

Puerto Obaldia close to the border with Colombia

Continuing after a couple hours break, the weather has changed

Capurgana Airport, Colombia

Another rainbow on the way out

Acandi

Passing the Rio Tolo

Crossing the Atrato River

Brazo Leon

Rio Sucio

El Plateado along the Rio San Joaquin

Natural Las Orquídeas National Park

Cauca River

Flying out of Rancho Ae Airport

Into Medellin Municipality

Vda Las Flores

Medellín, (in)famous for the Medellin cartel and Pablo Escobar (1949-1993)

Nicknamed the "City of Eternal Spring" for its temperate weather

Jose Maria Cordova International Airport (Aeropuerto Internacional José María Córdova)

Embalse del Penol

Where the Rock of Guatapa (El Peñón de Guatapé) is located

Outcrop of the Antioquia Batholith, towers 656ft above its base

A 649 steps staircase leads visitors to the top

I really lucked out with the weather, amazing to fly around in here

One more circle before heading on

San Rafael, Antioquia

Sunset on approach to Puerto Nare

Puerto Nare Airport

Magdalena River

Puerto Boyacá and Puerto Perales Nuevo

Club de Recraeción Cultura y Deporte Puerto Boyacá in Puerto Boyacá

Over Marulanda

Final stop today in Manizales

A city in the mountainous coffee-growing region of western Colombia

Heading for La Nubia airport, a dark strip along the road ahead

La Nubia Airport

I'll be visiting the capital of Cololbia tomorrow, then further into South America.