Leg 289, Tocomita, Sección Capital Angostura, Venezuela via Trinidad and Tobago, Grenada, St Vincent and the Grenadines and Barbados to Castries, St Lucia


DAY06_06.PLN (8.2 KB)
On to the Caribbean. There is a lot to see, lots of island nations close together. I count 22 in total, 5 of them in this leg. Island hopping is always fun, even better with good water masks and there are some beautiful areas around here.
06-06 Tocomita SV76 5:58 AM
06-06 Ciudad Bolivar SVCB 6:12 AM
06-06 Manuel Carlos Piar SVPR 6:32 AM
06-06 Macagua SVDN 6:36 AM
06-06 Uracoa SV13 6:54 AM
06-06 Pedernales SVPE 7:21 AM Plane animation broken, autogen terrain
06-06 Almirante Cristobal Colon SVGI 7:35 AM
Macuro 10°39'24.7"N 61°56'35.0"W
Port of Spain 10°39'55.7"N 61°30'50.1"W capital
06-06 Camden Airfield TTCO 8:10 AM Poor terrain data
06-06 Piarco Intl TTPP 8:16 AM
06-06 Crown Point TTCP 8:35 AM
06-06 Point Salines Intl TGPY 9:17 AM
06-06 Grenville TPGP 9:25 AM
06-06 Lauriston TGPZ 9:38 AM
06-06 Union I Intl TVSU 9:44 AM
06-06 Canouan TVSC 9:53 AM
06-06 Mustique Is TVSM 10:02 AM
06-06 JF Mitchell TVSB 10:11 AM
06-06 ET Joshua TVSV 10:19 AM
06-06 Argyle Intl TVSA 10:23 AM
06-06 Grantley Adams Intl TBPB 11:09 AM Bad terrain quality
06-06 Hewanorra Intl TLPL 11:46 AM
06-06 George F Charles TLPC 12:03 PM
Flight time 6:05 21 stops
First a bit more of Venezuala, departing from Tocomita Airport

Sunrise over Sección Capital Angostura

Marhuanta, as always lightning around here, but no rain yet

Puente Angostura across the Orinoco River

Close to Ciudad Bolívar, landing at Aeropuerto General Tomás de Heres first before checking out the city

Ciudad Bolívar, formerly known as Angostura and St. Thomas de Guyana

The capital of Venezuela's southeastern Bolívar State, views from Mirador Angostura

Aeropuerto de Macagua on the Rio Caroni


This one really sticks out like that into the river
Guayana City, a port city on the Orinoco and Caroní rivers

Parque La Navidad and view from Loefling Park, the Llovizna Falls, on the right

Barrancas, Monagas along the Orinoco River

Cano Pedernales (river) in Pedernales

The plane animations missing bug hit again at Pedernales Airport in Capure


Landing on invisible wheels, or maglev plane
Gulf of Paria, getting close to the Caribbean Sea

Aeropuerto General Juan Manuel Valdez aka Cristobal Colon Airport

Guiria on the Gulf of Paria, south side of Península de Paria

Península de Paria National Park, Caribbean sea to the left, Gulf on Paria on the right

Arriving at Tinidad island

Port of Spain ahead, west side of Trinidad, still on the Gulf of Paria

Port of Spain, the capital of Trinidad and Tobago. Fort George sitting on the top of the hill


Trinidad and Tobago gained independence from Great Britain in 1962. Since the arrival of Columbus in 1492, the two islands have been in the hands of the Spanish, British, Dutch, French and Courlander colonists (Dutchy of Courland, now Latvia) Originally inhabited by native Amerindian peoples.
Fort George, built in 1804, by Sir Thomas Hislop for protection against the Napoleonic fleet

Hasely Crawford Stadium, the first person from Trinidad and Tobago to win an Olympic gold medal

Carnival in Port of Spain an the National Academy for the Performing Artson the right

Stollmeyer's Castle, early 20th-century Scottish Baronial–style home

A look inside the National Museum & Art Gallery

Longdenville, one of many towns all grown together, southeast of Port of Spain

Blanchisseuse, about midway along the north coast of Trinidad

Matelot, in the Sangre Grande region, traditionally one of the most remote places on the island

Paria Bay and Avocat Waterfall

Landing at ANR Robinson International Airport in Crown Point on Tobago island

Tobago Main Ridge Forest Reserve

Anse Fourmi Beach

Iguana bay at the north end of Tobago

Maurice Bishop International Airport on Grenada, 22 knot tailwind, taking the correct approach

St George's, the capital of Grenada. Grenada National Cricket Stadium on the left

Fort George (popular name) this one build by the French in the 18th century and ■■■■■■ of the Deep


Grenada was originally inhabited by the indigenous Arawaks and later by the Island Caribs, then became a French colony from 1649 to 1763 when Grenada fell into British hands. Grenada finally got its independence back in 1974. However in 1983 they were occupied again, this time by the USA out of fear that a 3,000 meter airstrip that was being build, could be used as a military refueling stop for Soviet and Cuban planes. US troops withdrew at the end of the year after receiving heavy criticism by the United Nations General Assembly.
Tri-Island Chocolate Factory Cafe and Grenada National Cricket Stadium

A peek inside Grenada National Museum

Carriacou island, part of Grenada

Lauriston Airport on Carriacou island

Petit Carenage Beach

Ashton on Union Island, part of St Vincent and the Grenadines

Taking off from Union island Airport

Mayreau, 1.5-sq-mile inhabited island in the Grenadines

Canouan in the Grenadines archipelago

Mustique, petite private island known for its upscale resort, white-sand beaches & lush terrain

Isle A Quatre in front of Bequia

Landing at JF Mitchell Airport in La Pompe

Sain Vincent island

Landing at E.T Joshua Airport in Kingstown

Kingstown is the capital of St Vincent and the Grenadines


Saint Vincent has a British colonial history and gained independence in 1979. Originally the islands were inhabited by the indigenous Garifuna people, who became known as the "Black Caribs", successfully resisting colonisation by the Europeans. However in 1719 the French succeeded to collonise Saint Vincent. Then the British captured the island in 1763. Several wars with the Carib people followed, in between the Carib wars France captured the island again in 1779, Britain got it back in 1783.
Cathedral of the assumption in the middle

Fort Charlotte, build by the British, completed 1806


With paintings depicting the Carib wars
National Trust (museum) with displays made from trash that washes up on the islands

Argyle International Airport

North Union, hidden in the clouds ahead, La Soufriere Volcano

La Soufriere erupted less than 2 months ago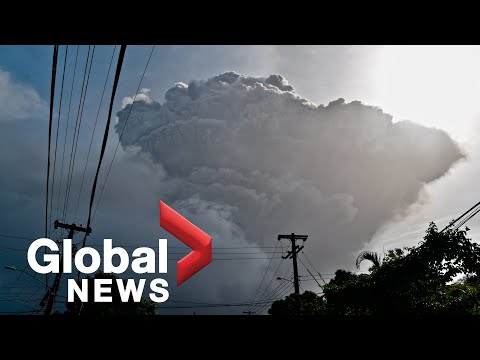 On to Barbedos, Bridgetown below

Bridgetown is the capital of Barbedos, a port city on the island's southwest coast


Barbados may have been inhabited as early as 1600 BC. From the 4th to 7th century the island was inhabited by the Saladoid-Barrancoid, followed by the Arawaks from South America between 800-1200 AD, then by the more war like Kalinago (Island Caribs) from the 12th century onwards. The British colonised the island in 1627 and started bringing over indentured servants and involuntarily transported people from Ireland to work on plantations. During the sugar revolution, the Dutch transported enslaved Africans to the island to work on sugar plantations. Several slave rebellions followed, same as in Guyana, the largest one led by Bussa in 1816.
Independence Arch (Barbades gained independence from the UK in 1966) and National Heroes Square

Barbados Museum & Historical Society, Garrison Savannah (historic horse racing venue) with the National Cannon Collection on display and The Cricket Legends of Barbados (museum)

Atlantis Submarines Barbados, if you fancy a look under water without getting wet

Port St Charles

Bromefield at the northwest end of Barbedos

Hewanorra International Airport on St Lucia

Vieux Fort

Castries, the capital of St Lucia

Making a turn over La Toc Beach

For my final touchdown of this leg at George FL Charles Airport SLU

Castries is located on the northwest side of the island


St Lucia was previously called Lyonola, named by the native Arawaks and later Hewanorra, the name given by the native Caribs. France first settled the island in 1660, then fought over the island with the British in 14 successive wars, the island changing hands 14 times until the British took definitive control in 1814. Because the island switched hands so often it was also known as the "Helen of the West Indies". St Lucia became independent in 1979.
La Toc Battery, The Minor Basilica of the Immaculate Conception and Castries Harbour

St. Lucia National Trust Museum (in Vieux Fort) has no pictures posted, instead a couple scenes from I assume carnival in Castries Harbour

More of the Caribbean tomorrow, Martinique, Dominica, Guadeloupe. A bit slower pace perhaps, there is a lot of information to digest in a small geographical area. Very interesting and very beautiful area.