Leg 72, Lagos, Nigeria via Bioko island to Bali, Cameroon


DAY11_2.PLN (6.1 KB)
11-02 Murtala Muhammed DNMM 4:13 AM
11-02 New Ibadan DNIB 4:43 AM
11-02 Akure DNAK 5:16 AM
11-02 Benin DNBE 5:41 AM
11-02 Osubi DNSU 6:00 AM
11-02 Enugu DNEN 6:58 AM
11-02 Owerri Imo DNIM 7:25 AM
CTD right after coming to a stop (switching view to nav panel)
11-02 Owerri Imo DNIM 7:33 AM
11-02 Port Harcourt DNPO 7:47 AM
11-02 Port Harcourt City DNPR 7:54 AM
11-02 Eket DNEK 8:21 AM
11-02 Calabar DNCA 8:40 AM
11-02 Malabo FGSL 9:12 AM Mount Cameroon on the left
11-02 Tiko FKKC 10:33 AM
11-02 Douala FKKD 10:46 AM Mount Manengouba otw
11-02 Mamfe FKKF 11:34 AM
11-02 Bali FKKG 11:58 AM Drone cam landing
Flight time 7:37 15 stops
Bing coverage is a bit of a modern art piece in these regions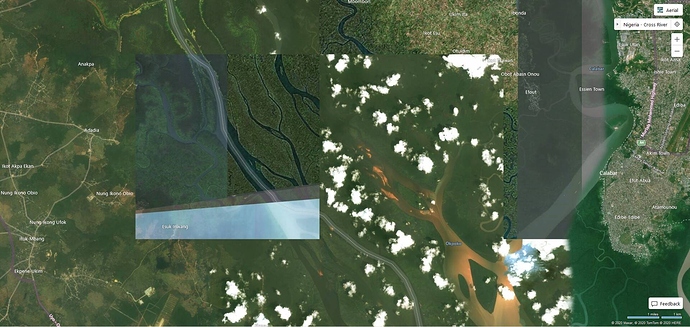 Luckily the weather provided the views instead
First up, Ibadan, the largest city by geographical area in Nigeria, 6 million people

Bowers tower is one of the landmarks in Ibadan, good spot to view the city


A historic monument put up to honor Captain Robert Lister Bower
A first, a late first, after 1200 approaches, dead on without ever changing direction after taking off

Akure

Just North of Ogbunike where Ogbunike Cave is in the forest behind the yellow fields

Ogbunike cave and peculiar instructions


When you look it up online it incorrectly shows pictures of Hang Sơn Đoòng in Vietnam, which I will certainly visit, but this cave is about a hundredth of the size. The largest chamber in this cave is still pretty big, 10 by 30 meters by 5 meters high.
Enugu, derived from two Igbo words Énú Ụ́gwụ́ meaning "hill top"

Port Harcourt, connected by a large estuary to the Bight of Bonny aka Bight of Biafra

Crossing the Imo river

To Eket, yep lots of lightning and thunder

Rey estuary

Malabo on Bioko island, Equatorial Guinea. Island not far off the coast

Saint-Isabel of Malabo

Climbing up Pico Basilé

Volcanic mountain peak, 9,878 ft high

It feels like the weather doesn't want me here, the clouds are chasing me

Reserva Científica de la Caldera de Luba formerly San Carlos


The Gran Caldera de Luba Scientific Reserve is a protected area of 51,000 hectares
A bit better view closer up

View from down below

Back to the mainland, Mt Cameroon, aka Mongo ma Ndemi ("Mountain of Greatness")

13,250 ft high, part of the Cameroon volcanic line, same as Pico Basilé earlier

Diving down to Tiko, Mt Cameroon remains hidden

Got to escape the catcher!

Flying by Tiko, small town on the edge of another large estuary

Douala in the between the Wouri and Dibamba rivers

La Pagode aka Palace of the Kings Bell from the German colonial period on the left


La Nouvelle Liberté produced by Joseph-Francis Sumégné in 1996, now a symbol of the city
Mount Manengouba in the never ending lightning

Featured in the documentary The Mists of Mwanenguba

Flying onwards to Mamfe

The sun is getting low

Mamfe on the Manyu River

Checkpoint in Mamfe

Racing to my last stop, it's getting dark fast

No runway lights, no G1000 data, prepare the drone, max exposure

Made it, barely, Bali formerly the center of a kingdom