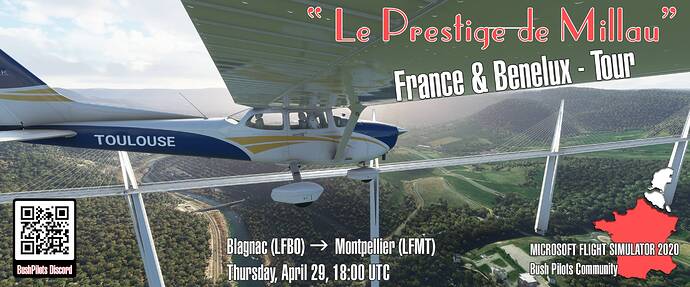 Departure: Blagnac (LFBO) Toulouse
Arrival: Montpellier/Mediterranee (LFMT) Montpellier
Flight Length: 169 nm; approx 2 hours
Altitude: 4500ft max
Aircraft Type: Any GA aircraft.
Cruising Speed: Around 120 KIAS
Time & Weather Setting: 6:30PM; Scattered Clouds recommended, but optional
Server: SOUTH-EAST ASIA
Multiplayer Settings: All Players
Date: Thursday, April 29nd
Start Time: 18:00 UTC (Zulu)
Voice Chat: "Event Flight" voice channel on the MSFS Bush Pilots Discord Server - https://discord.gg/BxpzJRfkaW
Description
Welcome to the third leg of the France & Benelux Tour.
We're at Blagnac, west of Toulouse, home of the final assembly line for Airbus. We take to the skies and circle around to see the massive assembly lines south-west of the airport.
Make sure you have the custom scenery installed. After drooling over Airbus we head East again as we follow the river Tarn over the rural area's between Toulouse, Gaillac and Albi.
Along the way we will practice our landing skills on various grass strips/runways.
We will see the 'Massif Central' again as we enter the 'Grands Causses'. Keep following the river Tarn which starts bending and twisting so stay low if you want to practice your aerobatic skills.
After about 20-25nm you should start seeing the 'Viaduc de Millau' as we will be flying head-on!
Our brake will be an off-field landing overlooking the valley of Millau and the bridge.
The second part of the trip will consist of enjoying beautiful mountainous terrain as we fly through the 'Causse du Larzac' and the 'Cévennes'.
After clearing the 'Massif Central' we will arrive and conclude this leg in Montpellier.
In-Flight Entertainment
There will be various landings along the way. We recommend turning crash damage OFF.
Recommended Addons
See the #addons channel on MSFS Bush Pilots Discord server for recommended planes, mods, liveries and UI tweaks. Even if you don't use all of them, it's practical to have these to see others properly.
Additional Addons
Please get the most important scenery add-on for this leg: The Millau Viaduct.
See the #france-benelux-tour channel on MSFS Bush Pilots Discord server for additional addons such as POI Markers and scenery specific for this tour.
ABOUT LOADING FLIGHT PLANS
We recommend NOT changing the spawn location before loading in, as it can possibly overwrite the flight plan, turning it into a straight DIRECT GPS flight, or the autopilot will not follow it. Leave the flight plan as is, spawn on the runway and park somewhere nearby until take-off.
FLIGHT PLAN
France - Leg 3 - Le prestige de Millau.pln (7.9 KB)
France - Leg 3 HALFWAY - Le prestige de Millau.pln (4.5 KB)