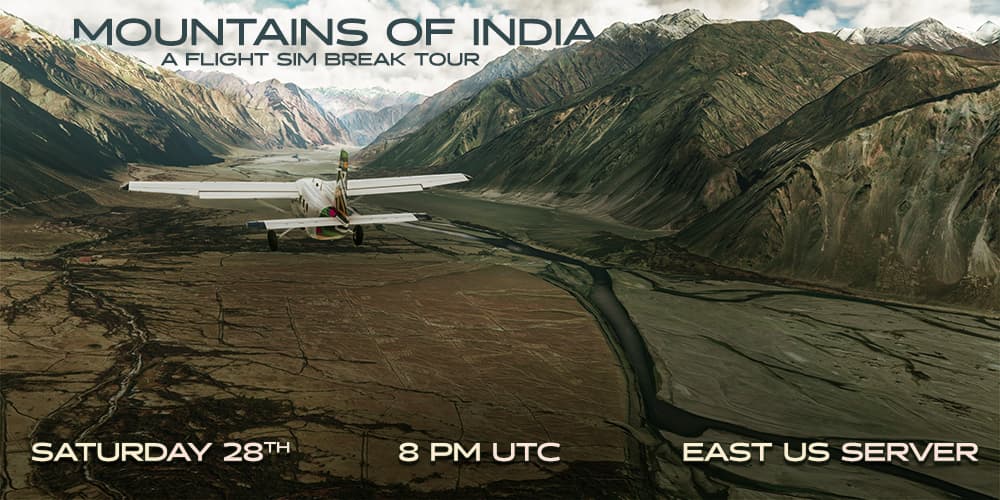 Multiplayer Event - Mountains of India

Date / Time: January 28th, 2023 - 02:00 PM CDT /// 2000Z /// 20:00 GMT
Sim: Microsoft Flight Simulator
Server: EAST USA
Departure ICAO: OPSD
Arrival ICAO: VISR
Aircraft: C208, Kodiak, Baron, DA-62
Target Speed: 170 KTS
Route: OPSD,VITE,VILH,VIKL,VISR
Flight Conditions

MULTIPLAYER: ALL PLAYERS
AIR TRAFFIC: Players Choice
WEATHER & TIME: Daytime, Live Weather or preset of your choice
Important Event Links

Optional but recommended addons:
This is an Xbox friendly flight, so no scenery files to download.
Flight Plan Information

Welcome to a scenic mountain trip in India and Pakistan.
Enjoy the scenery on the way towards VITE, VILH,
and the other destinations on the route and flight plan.
The flight will last about two hours + a mid flight
10 minute pause. We will land at all of the airports.
Make sure your plane handles 18.000 feet without problems.
We will follow rivers and valleys for easy navigation and fun!
Other Information

"Join when you can, leave if you must" is the philosphy when it comes to attending
the FSB group flights.
Please post event screenshots in the #group-flight-info channel. Under the current event!
Voice channel is highly recommended even if you can't speak. We tend to have a lot of fun in voice

. We also announce breaks and additional info in voice chat.
Discord

Use Push to Talk! Make sure you have the Desktop App running before clicking the LINK!
Flight Plan

Mountains_of_India.pln (2.4 KB)