This week's mid-week flight takes us on a canyon run to Sin City! We'll be starting at Bryce Canyon Airport in Utah, fly through Arizona and the Grand Canyon, to going over Hoover Dam and The Strip for a landing in Las Vegas. There are 2 optional DLC airports (1 free & 1 payware).
Grand Canyon Run To Sin City
When: Wednesday, October 14th @ 7PM ET/11PM Zulu
Where: YouTube -> http://bit.ly/KBCERun (Discord: https://discord.gg/r5tmFRs )
Plane: Daher TBM 930
Duration: About 90-120 minutes
There will also be a Discord event channel open for those who want to voice chat. -> https://discord.gg/r5tmFRs
FLIGHT DETAILS
SizzlingPopcorn will be hosting the event. We will start at KBCE - Bryce Canyon, Utah on route to KLAS - Las Vegas, Nevada . On our journey, we will land at several short runways with varying levels of difficulty. Each airstrip on the flight plan will be a landing spot.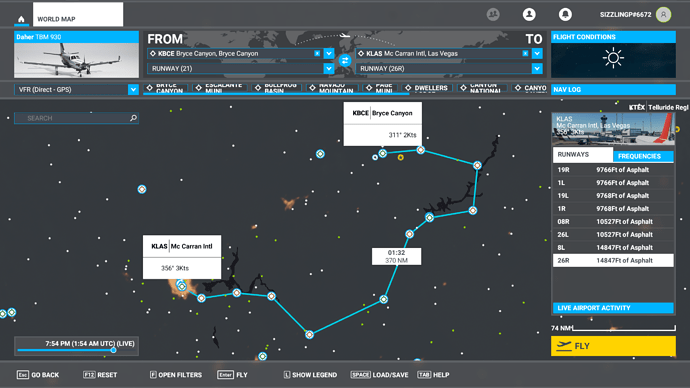 OPTIONAL DLC
Bryce Canyon Airport by ORBX (about $13 USD) -> https://orbxdirect.com/product/kbce-msfs
**You can check out my review here -> https://bit.ly/ORBXKBCE
Grand Canyon National Park Airport by JustOkayPilot (FREE) -> https://flightsim.to/file/759/grand-canyon-national-park-airport-kgcn
FLIGHT PLAN
KBCE-KLAS TBM930.PLN (5.1 KB)
To use the flight plan, follow these steps:
-Download the flight plan to an easy-to-remember location
-Open MSFS
-Go to the globe
-Click "Load/Save" on the bottom of your screen
-Click "Load"
-Navigate to the downloaded flight plan
-Click load.
WEATHER
We will use custom weather.
MULTIPLAYER SETTINGS
Please adhere to the following settings so you can see everyone / be seen by everyone.
Variable - Setting
Server SOUTH-EAST ASIA
Multiplayer All
Live traffic As desired
Weather Few Clouds
COMMUNICATION
To communicate with others, a voice channel on the "Sizzling Nation Discord" at https://discord.gg/r5tmFRs will be available to join. You can also follow along, with a slight delay, through the YouTube stream: http://bit.ly/KBCERun .
It is advised in this flight to turn off both aircraft collisions and terrain collisions. If you do crash, you can use the "slew" mode to join the pack.
This is event is open to everyone of all skill levels and is meant to be a fun event to meet other sim pilots.