I have this same setup exactly and it works perfectly for me.
I usually sit my pedals on a rubber front door mat I got from the hardware store. They do still slide but not near as far or as often.
Place a piece of wood, between the pedals and the wall, that way they can't slide, it sits up against the pedals as a stop.
… corner desk .
But a triangular piece of wood might work, good suggestion thanks.
Like others have said I used a piece of wood between wall and pedals. For my office chair I bought some "officer chair feet" that replace the wheels, so the chair doesn't move.
Did you check all the contents of the box when you unpacked it. These rudders come with 2x velcro strips provided for just this. Carpet. mine have not moved since brand new. 2 years ago!
Often the problem is not the rudder pedals moving but the chair.
Me too with TM TFRP pedals. Velcro on plastic chair protector mat. Works great.
That sounds pretty cool. Could you say more about the strap and where/how to get one? Thanks so much.
I had the same problem with my old pair of CH Pedal on a tile floor. Solved with a rubber mat, one of those 5-10 EUR mats for showers you can find in home improvement stores. Size is about right, they're available in a number of colors. Rough, but functional
I put some weights behind them, and the weighs have enough grip on the carpet.
I had the same issue but the desk was against the walk. so what i did was put a bit of plywood between the back of the pedals and the wall. now the pedals when i push them dont move.
But this depends on the location of course.
I used a web strap. The bracket on my rudder pedals has a slot that it fit in, but I could have attached it to the wood too. I put a cable tie on my chair bottom to help hold the strap up so it wouldn't slide off if I moved forward an inch or so. See if these pics are clear.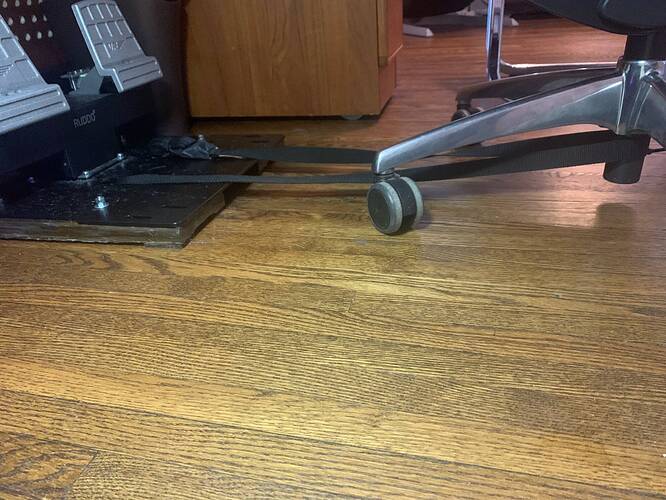 I use one of the ikea thin transparent mats ment to protect wooden floor against hard office chair wheels and have bolted my pedals to the mat …and taken the wheels of my gaming chair. Now my pedals go nowhere and the same with my chair. Works perfectly.
I just ran a couple of clean Drywall Screws into the carpet.
The fiber backing inside the carpet between the carpet and pad holds things just fine, and I've removed and repositioned them a couple times when I moved my desk and it never left any marks in the carpet.
There's never any serious pressure on both pedals, so I'm not worried about tears/rips.
Then again… it is in my converted garage, so no big deal.
Just my $.02.
Jim-Sim
Those pics are perfect. Thanks. May I ask where you got the straps?
Hi, it may have come with the Ruddo or some other thing I had, but it is basically this item on Amazon:
IronBuddy 6.5' x 1" Tie Down Straps Lashing Straps Black Nylon Heavy Dust Cargo Tie Down Straps with Zinc Alloy Lock Buckle Up to 600lbs, Pack of 4 (6.5ft)
Thanks. Looks awesome. I can get the velcro at the hardware store around the corner from me and the straps from Amazon. Looks like no chair modifications will be necessary. Sincerely, Happy Camper.
I use a roll of nonslip draw/shelf mat. Easily roll it up when finished and keeps them stuck to the carpet. £4
https://www.wilko.com/en-uk/wilko-non-slip-cushion-mat-45-x-125cm/p/0507531