So I have been thinking about building a custom flight panel for my desk. I finally sat down and sketched it out.
The roughly 9" x 1.8" rectangles would be individual panels. I have two basic designs. One with two 15" touchscreens with up to four panels on top and four on the bottom. You could also create a larger panel and use up 2-4 of the slots. Plus three vertical panels beside the screens.
The second design idea replaces the right 15" screen with a sub panel consisting of a portrait mounted 7" touch screen and four additional panels.
The cutouts at the bottom are for the Honeycomb Alpha and Bravo.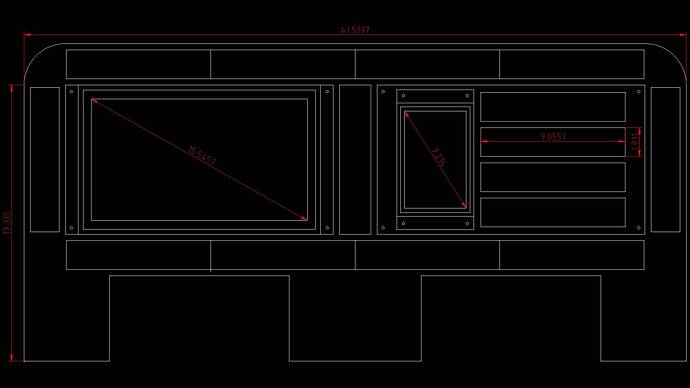 This is just a rough first draft and I'm definitely thinking of changing the small panel size if possible to potentially shorten the overall height and/or allow two columns of small panels in the space of the right 15" touchscreen. But I have to sketch up some individual panels first to get an idea of how much room I need per panel.
My plan is to run Air Manager for both the screens and panel hardware control.
That is assuming I get past just this initial sketch.
Here are the touchscreens I used in this design.