I am even more amazed by the quality of what you do…
coming soon

erim(0003) by JanKees Blom, on Flickr
nice pics!
thank you for posting!
more work in progress

Screenshot (1329) by JanKees Blom, on Flickr
Awesome, thanks for doing this one!
Seeing your wonderful work and the fact that you accept requests: when I started my flying training in Cape Town in South Africa in the early 70's the club I was with (Cape Aero Club) was next to the Air Cape hangar. At that time, Air Cape still operated a number of DC-3's on short regional routes, later switching to HS-748's. This following livery will always be special for me: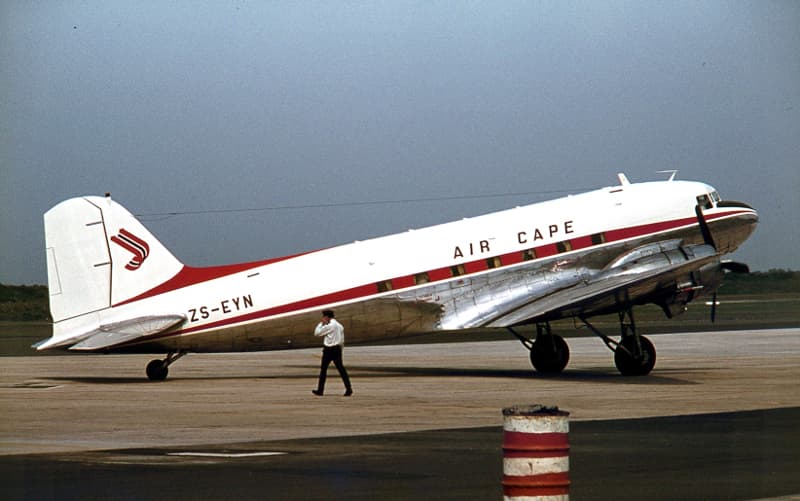 Would be wonderful if you could recreate.
Cheers
Alwyn
it's a nice scheme, but at the moment I have no plans to do any DC-3 paints, sorry.
I did finish a few others though:
Thanks kindly for the response: fully understand. And you certainly are incredible in terms of the quantity and quality of liveries you produce: well done!
Hello I state that I paint only in 2D and I understand that it is a limitation I have a problem with the "paint kit" of the Bear mig15 when I put a color for camouflage the brown comes out bright it looks like gold the kit files are png they contain 4 red alpha channels green blue how can I make the colors dull thanks I attach a screen

You'll have to look at the comp files. They seem to be a bit too much metallic (= blue channel).
I haven't bought the MiG (yet), so I'm not sure what the comp files are like, but that's where your problem lies.
Love the Ercoupe liveries! The plane was a little under appreciated on release and the default liveries tend to look a little…anodized.
I'd love to fly one of these things and they supposedly quite affordable.
Thanks JK!
SK Blaich (0010) by JanKees Blom, on Flickr
flo (0002) by JanKees Blom, on Flickr
coming soon:

NZ3238(0008) by JanKees Blom, on Flickr
Unfortunately there are only 4 png files, the comp file doesn't exist, you have to create it, and I don't understand anything, I also spoke to the developer who suggested eliminating the alpha channel, nothing, the result is always the same, we will wait for the next update, thanks
I saw on sim-outhouse that some people are working on correcting the paints, maybe chack with them?
Ah good ol SOH, I'll have to keep an eye on that thread, as the metallic paints are my biggest gripe at the moment.
One kiwi Curtiss P-40N:

NZ3238(0004) by JanKees Blom, on Flickr
and, by request, two new registrations for the Alaska Airlines DC-3
6
Screenshot (1390) by JanKees Blom, on Flickr
Screenshot (1374) by JanKees Blom, on Flickr
Really love the Intermountain Air Services Caribou livery. I was looking for a non military cargo livery to fly around in the mountains. This fits perfect.
Thanks!