It's all server issues! Causes the weather problems, stutters and CTDs…
Did a Denver - San Diego flight and just around the TOD part the stutters began. Got a popup message to turn of programmatry? Never had that one before…?? I more or less crashlanded, never had such a bad framerate, but no ctd. crawled to the gate, almost unplayable.
Live weather is down so I just set mine more or less to how the metar reads … and performance has never been better (I'm in the beta btw).
No framerate issues here. I only have aircraft add-ons and world updates(xbox). I often need to restart the sim to get live weather working. The system could use some work, so I usually make my own weather.
My simulator just crashed and I never had any crash before. I was flying from LEMD-EDDH and was approximately 1,5h into the flight, close to Paris when everything became laggy and I got extreme frame drops and then everything crashed.
I was extremely angry as I didn't had any ctd since the release of the sim.
Yes confirm, I noticed more stutter in the last two days, compared to a week earlier.There is a clear difference with the week before Christmas. Maybe it's holiday server load ? A billion gamers in their free time, guess… btw MSFS is not the only app, there's more games around that take server load.
Yes same here, solid for months, even with the Nvidia driver issues, turned off HAGS and sorted, but now I feel it has become very unstable, maybe server issues and other online glitches causing it, as I know my system has not changed and other software is fine.
It seems to coincide with New Year's, which out of pure interest and conjecture, makes me wonder if it's Y2K22 related (as is affecting MS Exchange globally)
My PC is not very recent but I consider it well balanced in its components and it allows me to fly with MSFS between 35 and 40 fps, the Internet connection is around 40 / 42MBPS and all this allows me to use MSFS in a pleasant way.
Unfortunately this morning during a flight between LPFR and LPPR, suddenly the framerate started to drop and around 11,000 feet it even reached 7FPS.
The strange thing is that the GPU that usually runs at 90% also dropped to 37% while the CPU remained at around 54%.
During the approach phase the framerate dropped to 2 or 3 FPS and as soon as I touched the RWY I had a CTD.
Using MSFS has become increasingly frustrating, now that the A320FBW is flying really well and pleasantly, MICROSOFT's servers get in the way.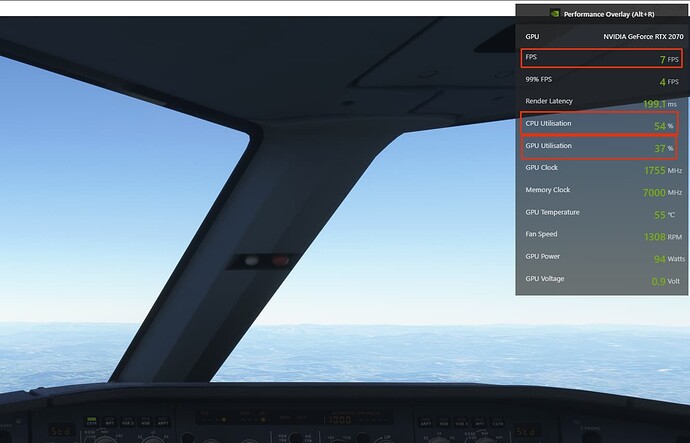 Hi, I experienced the same scenario on LEMD-EBBR flight, on the ground and for first 30 minutes inflight FPS around 40 and GPU usage around 90%. Then stuttering came in and FPS dropped to 30s and a few minutes later FPS below 10 and GPU usage around 20%.
I (want to) believe it's servers related issue.
after 2 h flight, stuttering begins and FPS loss, i fly the A32NX from FBW, after a new msfs start , i bcame CTD in Loading Screens, i have deinstalled and installed the FBW Mod, and then it works for me.
Disable Live Weather while Microsoft is investigating.
Based on my experience, if you enable Live Weather now, you will gradually experience severe FPS degradation until the game crashes. Without Live Weather, FPS are good and no more CTD.
When the Live Weather feature will be working again, we'll be able to use Live Weather again.
I'm currently cruising over the Pacific Ocean in a 787 and its laggy af. guess I'll turn off live weather and see how things go…
This is what i'm experiencing too. My computer feels warm at the start of the flight and then it turned cool after a hour or so, guess the GPS usage is low as suggested by you
I think my GPU usage also decreases the longer the flight is. Its really annoying coz I don't feel safe flying a long flight as all the effort and time would go into waste if the FPS drops to an extent that its unplayablel anymore… hope there'll be a fix
Yeah, and restart the flight (or the whole sim just to be sure) because disabling Live Weather during the flight will not help, ideally Live Weather must be disabled before starting the flight.
I just completed nearly 3hrs long flight without any issues. I am now pretty sure that the trick is to disable live weather before you load into your departure airport in the world map menu.
Looks like they provided more information here:
This topic was automatically closed 30 days after the last reply. New replies are no longer allowed.