Thank you for using the Bug section, using templates provided will greatly help the team reproducing the issue and ease the process of fixing it.
2 tags are required: One for platform, and one for aircraft.
Are you using Developer Mode or made changes in it?
No
Have you disabled/removed all your mods and addons? If the issue still occurs with no mods and add-ons, please continue to report your issue. If not, please move this post to the Community Support section.
All Mods have been disabled, Community folder is empty.
Which aircraft are you reporting an issue about? (Please also add the proper tag for it)
Cessna 208B Caravan
Brief description of the issue:
When flying LUKLA landing challenge, the plane starts with no throttle response. I have been able to get it started, but usually it's too late and I crash. When in cockpit mode, there is no visual of a throttle control shown. The other landing challenges using this plane exhibit same no throttle response. If I start a flight with this plane, I have throttle response, but still no visual in cockpit of an actual throttle. I have uninstalled and reinstalled the package for this plane with no change. I also uninstalled the LUKLA challenge and reinstalled it.
Provide Screenshot(s)/video(s) of the issue encountered:
Picture of where throttle should be:

Picture showing no throttle response with joystick set to 3/4.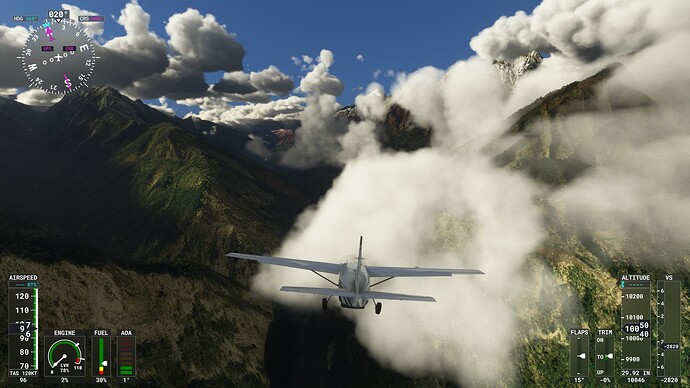 Detailed steps to reproduce the issue encountered:
Fly Lukla landing challenge.
PC specs and/or peripheral set up if relevant:
AMD Ryzen 5 3600 Nvidia 3080Ti Logitech Extreme 3D Pro
Build Version # when you first started experiencing this issue:
Don't know, but I had flown LUKLA challenge previously without issues.
---
For anyone who wants to contribute on this issue, Click on the button below to use this template:
Do you have the same issue if you follow the OP's steps to reproduce it?
Provide extra information to complete the original description of the issue:
If relevant, provide additional screenshots/video: