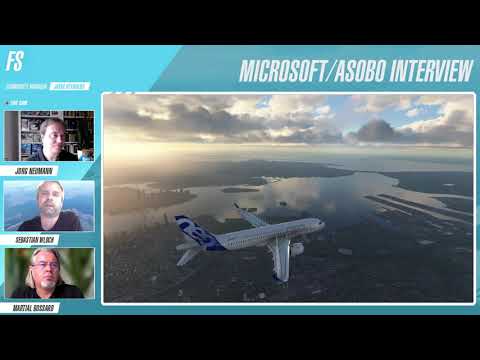 Jorg hope everyone having fun with the first local legend JU52. It's the first Q&A for Xbox players also. Jorg gives a big thank you to all the community for the feedback we get. We also appreciate how welcome the community was regarding new Xbox simmers.
Jorg reminds chat that this Q&A will focus on what the community is expected the most, core simmer features.
Seb 12 videos for the Q&A / 100+ of improvements planned
Timestamp – Changes and improvements of the tree system with Sim Update 6
Timestamp – Flight model improvements videos
Timestamp – Improvements thanks to RENO races
Timestamp – Night lights improvements
Seb mentions that for Sim update 6, LOD will be pushed to 400 instead of 200.
Chat question : Will wake turbulences work on multiplayer, can we turn it on and off?
Martial: For the moment no, but this feature can be added!
Timestamp - Matt (Working Title): We know that the community is been asking about G1000, G3000 and AP. We've been working on several aspect of IFR with the NXi! We know it's important for practice.
In the NXi we did a ton of work in the flight planning system. The flight planning system in the NXi is a predecessor to what we would like to deliver.
There's a lot of questions on what is doing Working Title for the future. The very next thing you will see is bringing the NXi work into the CJ4, G3000, GNS 435/530 and G3X. We planned on redo the flight plan system. That will be coming some time next year. We planned on working some on the premium planes thanks to feedback given. 787 and 747 are not in the state that we want them to be. Lastly, we do plan to work on ATC.
Top Wishes:
Jorg: I spent some time in the forum this week. The feedback snapshot changed a lot since we started it. Fixed items are removed to be replaced by new community concerns and wishes.
Seb: "Implement Weather and Terrain APIs": There are licensing issues but also technical issues. We are completely open to discussing an API. We don't have the entire weather data for the planet in memory, we pull the data from the servers from time to time and only for small regions.
Jorg: Chinese localization - It's happening
Seb: Helicopters – The idea is not to work on Helicopter and leave planes behind. I would love to have one benefiting the other.
Martial: Multiscreen functionality – No ETA yet but It's in the pipe!
Jorg: Replay functionality – Some of the team member think it's not good enough, but the video team is already using It for impressive videos. Maybe we should just publish it in its state.
Seb: DirectX12 - The dev is finished for PC. It's in test on different machine. We'll try to make it optional.
Jorg: Scenery gateway system – We know how to do it, the prototype is good including the right features, but the dev has been delayed and its on hold for now. We are looking for someone external or at Asobo to do it.
Seb: Open up the Weather System – We are not against opening up the weather system, but we need to make sure to also improve the weather on our side. It's a very complex system that needs to work properly. We need to discuss it to make it available the best way possible.
Jorg : Gliders, Sailplane – We identified a partner and we'll soon talk about it!
Korean Subtitles – Started
Martial – Remove ground vehicles from active taxiways – Started, we are doing to rework on AI airports.
Jorg – Disappointing Mountain Terrain – It's a 2 steps thing, World Updates are not always consistent as data isn't the same everywhere. Regarding DACH Update, we did great in getting DEM (Digital Elevation Model) data. Seb – There's a few terrain bugs, coasts for instance: in some area in the planet we have low quality data, so what we do is flattening water along coastline, but sometimes the terrain doesn't match. The issue in fixing this is we keep improving data and at some point, in future, the quality will be better. As soon the data will be good enough, this will improve terrain and do the job.
The chat precises that terrain morphing is also concerning – Jorg: It will be less visible as we are pushing it further.
Martial – Improve AI Traffic at Airports and In the Air – We already improved part of this. It's still a work in progress and includes the ground vehicles issue mentioned earlier.
Jorg – Unlock FSArchive Files for Premium/Deluxe aircraft – I'm totally open to it, if they are not unlocked yet is because we don't want Premium/Deluxe aircraft to be shared freely (It's licensed, and partners want to be paid). If it's just the flight model, I think we can do that.
Top Bugs:
Jorg – We are paying attention to crashes; we have a zero-crash policy. We have telemetry on how much crashes we get. We know that it's super annoying when it happens and we have the best devs on it.
Seb – We are getting a lot of Data on crashes, the stats show that it's better. Even if we have users not getting crashes we still have a few that have a bad experience. We are going the low frequency crashes (which is still a lot of users). Some of the crashes are not in our control and we are waiting on solutions.
Martial – We already introduced the safe mode and we are improving the feedback on how we collect crashes data.
Martial – Weather - We are working with Meteoblue to improve the system. The main issue is that the current weather and METAR doesn't blend very well. The real time weather is not fully real time because of the process of getting data and put it into the sim. We are working with Meteoblue to increase the frequency of these updates.
With the Sim Update 7, we intent on adding this new Weather Model from Meteoblue. Seb – Since released, we fixed some bugs and we seamlessly merge METAR with Meteoblue data on the sim side. If you're close to an airport, you will get METAR data and as soon as you go far away from the airport, you will get Meteoblue data but it's not always the same data timeframe. Meteoblue is going to inject the METAR data into their model.
Seb reminds chat that Feedback is very important and that the community needs to be very precise and bring as much information on a specific bug, this way it will be quicker to target an issue and get it fixed.
Question: What can say about successes and failures of the Sim Update 5?
Jorg – SU5 was an awesome accomplishment in way one, the performance improvement was awesome. I think we made some mistakes, we underestimated that some of the improvements broke some 3rd party planes. On top of that, we introduce a new LOD system. It should have been tested more maybe. We could have waited a bit longer but we still are happy on how the sim has improved.
Seb – One lesson we got from this is how we are going to release DX12. DX12 could break things, so it's going to be optional. If you want to use, you'll have the ability to revert it DX11. In that case, this will be a gradual release.
Jorg – We plan on doing a longer BETA phase as the next World Update won't have any code in it.
Question: Some bugs are getting fixed quicker than others knowing that some were reported long time ago, any word on this?
Jorg – Just as Sea of Thieves did, we might dedicate an update to only bug fix and go through longtime bugs.
Question: When will the Marketplace transaction system be more stable to prevent double charges, fail purchases, products not showing up.
Jorg – There's a backlog right now regarding 3rd party content. We are going to hire more people for that because we aren't yet satisfied. We want to people to bring their creations as soon as they can.
Regarding stability, there's very few bugs on our side.
Chat Question: Is it possible to let trusted 3rd to publish their content themselves?
Jorg – I don't think it will happen as there are many assets needed to publish content into the Marketplace that we need to implement. We have direct channel to communicate with 3rd party creators for us to send us their software.
Question: Can we have any word from devs that MSFS isn't just a pretty game?
Jorg – It's a SIM for simmers, we haven't changed our mind. There are other people who want to be simmers but are not yet. We still want to bring more people in, even if they are not simmers.
Question: Now that we have landed on Xbox, will Asobo make the Sim on all PC Power?
Seb: We are going step by step as it needs to be tested on all machines.
VR Plan:
Martial – With SU6, we spend a lot of time to read Community Feedback.
List of fixes planned:
Anti-Aliasing on the menus is fixed.
Fixed broken reflections
Shader code has been changed
Annoying "dot" cursor fixed
SU7 will bring some improvement to VR:

Chat question: Wind gusts used to be there and seemed to be gone, any update on that?
Seb – Should be fixed for SU6. You can add wind gust in the preset weather settings.
Seb reminds chat that temperature has an impact on turbulences.
Please report any remaining issues on this.
Question: Are we working on an opt-in BETA branch like other sim have?
Jorg – This is something we want. It's a question of when.
Question: Will Xbox players be able to DL/import flight plans from the internet?
Jorg – There are some ways to do it, but we need to be careful this would need to be approved by the platform before doing anything.
Question: Will there be DLSS 2.1 support released in the near future? 80% of performance impact is resolution especially in VR mode. We can't use VR headset with high resolution at 100 scale (HP reverb G2)
Seb – That's why we have TAA render scale already. We looked at DLSS and there a lot of DLSS demos. What we found is that for a terrain seen from a plane DLSS is maybe not the best way to operate.
Question: Any update on Chart+?
Martial: It has been unprioritized for now.
Chat question: Would you have an update on aircraft disappearing in multiplayer mode?
Martial: If we are talking about anti-collision, this has been improved thanks to Reno races.
Jayne precise that there is a second issue where plane randomly disappear no matter the distance between planes.
Question: VFR flying seems to be the main point of focus right now, will IFR get more focus in the future?
Jorg – That's what Matt (WorkingTitle) was talking earlier. I clearly on our roadmap.
Seb mentioned that some improvement of the IFR environment has been made for a better experience.
Question: Will flight model and other improvement made for Reno be available to all player or just those who have the bundle.
Jorg – All players.
Martial – Everyone will benefit from Reno improvements, but the game mode and planes will be only delivered for those who got the Reno pack.
Question: Do you plan on adding more add-ons on Xbox?
Jorg – Developers are welcome to provide their creations if ready, then we will process it and make sure it happens. Xbox will catch up for sure.
Question: In multiplayer mode, you can see 50 planes or so, will there ever be a way to increase that and prioritize people on your friends' list?
Martial – We are thinking about it but for we have some constraint.
Question: Jorg, long term, what's your vision for Microsoft Flight Simulator for 2022 and beyond, do you see new content like Top Gun and continue support the sim for years?
Jorg – Flying is fun! We should have fun with things that airplanes do. We are not after 'game modes' but aviator's life. Core simming needs attention but it doesn't prevent us from embracing the life of an aviator.
Question: The team working on Xbox, has it been moved to other aspect of the sim?
Martial – The size of the team increased. There are new features coming and the same team has been gathered to work on it.