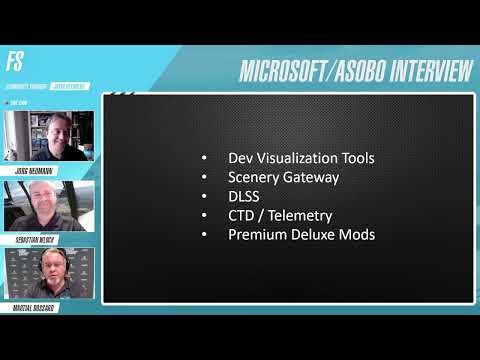 Follow up items from previous Q&A
Jorg – Xcloud: it was an amazing success for flight simulation, we were the #1 most played game on Microsoft cloud streaming. Plenty of people join the community of Flight simmers. Last week, launch in south-east Asia. Welcome to these new people, be friendly and helpful.
Jayne - Last time, Seb showed cool simulation tools, visualization and modelling, there was some confusion if they were already implemented or not.
Seb – Every video I showed last time, except one was all in SU9. The only thing I showed, which is not implemented yet is the atmospheric flow visualization (planned for an upcoming update).
Clarification on Scenery Getway system:
Martial – We call MSFS Scenery Hub. This tool is web based, everybody can register and contribute by going to the website and download a Dev mode project. In the dev mode, you can enter the edition mode. What we did so far is mostly dedicated to data. For the moment, we are not talking about putting custom meshes there, but it will help us to improve all data there (Better placement for all buildings and improvement airports for instance). You can then upload your edition to the Scenery Hub to be validated and implemented within an update.
Jorg – This was a requested item last year and we receive plenty of good feedback, we hired someone who's working on this system. We are currently dry running this with Orbx before pushing this feature to the public.
Question – Knowing DLSS is going to the sim now, was there any re-evaluation of FSR (FidelityFX Super Resolution) now that the 2.0 is out and improved?
Martial – The good news is that the team is working with both manufacturers (Nvidia / AMD) to help us improving our implementation of their system. We started to work on FSR 2.0 and it will be included in a future Sim Update (most likely Sim Update 10).
In a previous Q&A, we talked about improving the telemetry for CTD reports, is there an update on this?
Martial – We are still working on that. We know that we have 2 major issues. For Xbox, it's an "out of memory" issue and on PC we have an issue related to device removal. We are trying to improve our tools to tackle these issues.
Our main tool is the Crash Dumps we are getting. We are trying to get as much information from these crash dumps. We plan on doing extra tools. We are also talking on having some dedicated BETA.
Adding extra debug information in the sim would have an impact and slow down the Sim but a dedicated group of people may help.
Do we have an update on Premium Deluxe plane mods? Are manufacturers ready now? What is the next step?
Jorg – Thank you all for specifying what you wanted/needed to do mods. I had a call with them and they said it's fine so we'll make these planes moddable. We don't have any date yet but we can now make it happen.
ROAD MAP – Timestamp
Last time we talked about the Italy update coming in may (May 17th) and the Gee Bee.
Timestamp - Famous Flyers II: GeeBee "Granville Brothers"
Timestamp - World Update IX: Italy
New DME & Aerials
4 Bespoke Airports
105 POIs
13 Photogramettry Cities
3 Landing Challenges
3 Bush Trips
3 Discovery Flights

Timestamp – Q&A session 1
Currently, there are several threads open in the forums related to performance and stuttering issues on the ground, some have found that the only solution is to reinstall windows others might think that it's related to update DLC, others on steam have loading circle and stuttering
Are you currently working of these ground performances issues and do you have any comment?
Martial – We are looking at every single one of these issues. It's not easy to reproduce these issues.
Regarding the Steam stuttering, it seems that it depends on the kind of hardware you have especially for the hard drive. We are trying to reproduce this internally with different hardware and found the exact combination of hardware that could trigger the stuttering.
We have a team dedicated to that, reading the forums, and doing reports to monitor the evolution of the framerate. We are improving what's related to optimizations. We are also doing flightings, but it's quite hard to cover al user cases.
Chat question – Are we still on track for SU10 WASM Fix?
Martial – As I'm speaking, we are on track.
Jorg – There are some testing going on!
Forum question – There are complaints about clouds looking too dark at high altitude, can you adjust the clouds shading to reduce the volcanic ash look?
Martial – The difficulty here is that the cloud system is a system, by that I mean that it's physic-based rendering and doesn't take in account specific situation. Basically, a system is rendering all the data we're collecting and it's quite hard to do the right balance between situations. We know that we still have some improvement to do and new parameters to introduce. Deep rework would be needed
Seb – I can confirm, it's been brought up a lot. In a lot of occasion, clouds look great and sometimes it's looks like you're flying over a volcano. I spent about 2 weeks on it, I try to change the brightness and the problem is that with dynamic lighting whenever you make something twice as bright in the sim it doesn't twice as bright at all. In order to have the ash effect go away, I turned the clouds ten times brighter and then in so many occasions there were over exposed.
With real clouds, light goes in and it scatters around and get reflected and comes back out. There's more energy conversed in cloud than in ash. There's a little more occlusion and energy taken away because it's darker. To get the formula right with our cloud system (which is fully 3D), we need to have perfect shadow casting internally of clouds but that would cost a lot of computational power. For the amount of performance, we dedicate to clouds right we get the quality we have right now and it works well in many occasion but when the system is a bit complex it just gets the lighting wrong.
As Martial said, it's a system, if we do an overhaul of the system at some point and invest more performance into clouds, we can probably get this better but it's more complicated than just adjusting the brightness.
Chat question – SU9 is great so far, however it introduced a bug where glass reflection are flickering very fast (Xbox users can see it, everyone on PC can see with a render scaler less than 100.), can Asobo confirm they are aware and if this will be adjusted?
Jayne – I can confirm that devs are aware and been able to repro the issue. They are looking into the issue.
Forum question – At present the sim uses a lot of system ressources in the menu screens, has the team considered lessening the burden on the PGU while not in flight?
Seb – The menu, the hangar with the plane is very close to what's happening in the sim in the background. It's running a plane/cockpit but also an environment. The GPU works in a way when you're not locked to a specific framerate it renders a frames and when it's done it renders next frame, it's always working, that's why it uses a lot of resources. When you're in the sim, there's no difference.
You can reduce the burden by turning on V-sync, by reducing the graphics settings in the menu. Currently, we don't have setting where you can turn on v-sync only in the menu. Basically, the way to go is to reduce the render scale which as a significant impact on the GPU.
Forum question – We know multiple screen support have been in the works for a while and that this feature is tough to implement, can you gave us a detailed update and clarify if adding multiple screen support will fix the single widescreen monitor stretching.
Martial – It's a long conversation we had internally as we have the multiple screens working but it's for the moment quite basic. You can have the windshield and the 2 side windows.
This is working and compliant with the rendering pipeline we've got but if we want to extend that, it means more work.
I expect to give you more information during the next Q&A.
DEV TOPICS – Timestamp
VR:
Martial – By the past, we had a chance to have a dedicated team on VR because we went from 0 to full feature implementation. Right now, this team has been merged into the core team and VR is now considered as a platform (such as PC or Console).
We are going to introduce the world scale, as there's a feeling of having a small cockpit in VR
Legacy Bugs/ Wishlist Items:
Jorg – We are trying to be as transparent on the development that is going on. Helicopters and Gliders are planned for later this year.
We've been focusing on lifetime bugs and wishlist but is it was hard to understand what was currently popping. So here you can see that we fixed most of the top issues reported over the last 3 month.
We are now looking at both lifetime and most recent reported issues.
Chat question – Is Chinese localization still on track?
Jorg – It is, we are wondering if we are doing it for World Update 10 or SU 10 but it's done.

Timestamp – Q&A session 2
Question – What is the status of Seasons?
Jorg – Seasons is complicated. We had a long discussion about it today. The simplest we can do is changing the shaders on trees. But for us the difficulty is we would need to get aerials at the right moment of the season.
We want to do longer term things than just changing trees.
Seb – What is season for a pilot? It's the weather, temperatures differences for instance.
Sim Update 9 includes a big fix regarding the turbulence – difference of temperature between ground and the air was not correctly implemented. What was happening is that you always had a lot of turbulences in the summer and no turbulence during winter. This has been fixed din SU9.
Depending on the trees eco system, just changing the color during a specific season wouldn't work everywhere. For instance, in Aquitaine, (Bordeaux aera, France), we have pine tree that keep the same color. In Canada for instance, trees turn red.
Winter season implies getting de-icing vehicles on airports for instance but also many others things going on that are much longer to implement.
Jorg – We are going to look into biomes with much deeper details than FSX used to. But it's going to take time. There's tree color change and the vision of season that we have that will take longer to implement.
Chat question – Is there any plans to open the camera api for 3rd party devs or improve it? A large part of the Community has been wanting a more advanced camera system.
Jorg – We are going to make improvements. We want to have the best system in the base sim. We still need to discuss about this.
Chat question – We were flying with 5 airplanes with no CFD information and noticed an intense wind gust turbulences feeling, setting the wind to 0 didn't fix.
Seb – This might be related to the turbulence fix I just explained.
Question - There was a number of AI and Live Traffic issue posted in the forums – slow runways vacation and so…can you comment these issues
Martial – We tried to patch the system we had, which was an inheritance from FSX and it's not enough. We decided to reboot the system. This will take some time.
Local Legend #4 – Timestamp
With every World Update comes a plane. This is the Italy and Malta update, so I've been looking for the most famous thing in aviation.
In 1933, there was the Chicago world's fair and there was a general named Italo Balboa who flew with an entire squadron of planes in what was then called the decennial. In that decennial, there was the plane we were looking for. The plane is the Savoia Marchetti s55, there's only on left.
New development partner – Mike Johnson - Timestamp
Mike – Some of you might know me for some FSX content. I've been around flight sim for a long time, I started when I was 12 years old. I've been in games since 1995 for several studios and a private pilot for about 25 years.
I had the chance to co-own an RV-7 for few years and learn to maintain it myself.
Prior to MSFS2020 I develop the Albatros for FSX. While working on another project, Jorg asked if I would be interesting in working on L-39 for Reno expansion and I said yes. It was a super fun project to work on.
Then Jorg ask if I would be interesting in making a new unusual plane. After seeing the, I though this would be a great challenge.
Jorg – Roadmap - World Update Italy is coming in may (17th) followed by the Top Gun Maverick may (27th).
We usually update you on what's the next World Update, but this time we can't and we have to wait for our Keynote.

Timestamp – Q&A session 3
Question - Is it possible to put the rapid takeoff point on the holding points rather than on the runways?
Martial – It's a conversation we had with the design team. We are talking about new ways of flying or starting a flight.
Question – What are your thoughts about communication with 3rd party devs when there is very open and public comments.
Jorg – There's a dedicated tool for it, dev support (Answer Hub).
The team is constantly under fire bringing new features / fixing bugs and we listen a lot.
I bought the concord and was a bit sad to it not working after SU9 – After a month of flighting we were happy with the build, but we were surprise to what happen to the concord. I pinged Dean [Crawford] to talk about this. We have listening systems: Devs support and also the Forums but we don't take action on 3rd party planes so there might just be a process hole. We need to find the right balance between the team workload and interaction/communication with them.
Question – Will we get more ATC voices? Will we be able to declare emergencies?
Jorg – Yes, for ATC voices.
Martial – No update so far for declaring emergencies.
Question – Can we get an update on synchronizing animations in multiplayer especially on propeller and landing gears. Oftentimes you do not see other players' propeller spinning or gears going up and down.
Martial – This is bug and we need to fix that.
Question - Will we ever see VOR station modelled on the ground where they are in real life?
Martial – We've got the data and meshes but we don't have the system that flattened the terrain to have a proper integration of these meshes. We are not 100% satisfied with the meshes we have as they are standardized for all regions.
Question - Will loss of performance with pop-out windows be revisited?
Martial – This is part of the performance issue we've been talking about during this stream. This is something we are following, and we want to tackle that.
Seb – I know that there was one fix in SU8, but it wasn't complete. It's depending on the hardware and drivers. The person who fixed it completely fixed it on his machine and it didn't change anything on my machine. So it's a partial fix on SU8 and it's on the backlog for the future.
Question – Will carriers in Top Gun add-on will functional?
Jorg – Very soon, we'll be able to talk about all this
Question – Is there any news on the freeware Marketplace system?
Jorg – We still want to do it this year.
Question – What are your thoughts on the upcoming PMDG-737 and Fenix A320?
Jorg – They're both going to be great. Our main pilot here (at Microsoft) has been looking a lot of PMDG video lately.
Fenix aircraft is cool as well among few other planes.
Question – What's the upcoming feature you are most excited about?
Jorg – Helicopters! They look great, we have Helicopters models that's coming.
Seb – I've been lately spending more time on Helicopters than planes. It has a completely different experience. I think it's going to be great!
Martial – The updraft visualisation tool. This will help learn a lot!
Update on the Charitable Campaign from March 24 – 31 to support Ukraine - Timestamp
Jorg - We sent a significant financial support to the organization. We also got some feedback from Antonov.
225: It needs to be preserved. I want to contribute to the rebuilding of this plane.
Quick note for 3rd party developers: thank you, the work is awesome and we are very sorry when we break certain things, we are trying not to, that's why we have these listening systems.