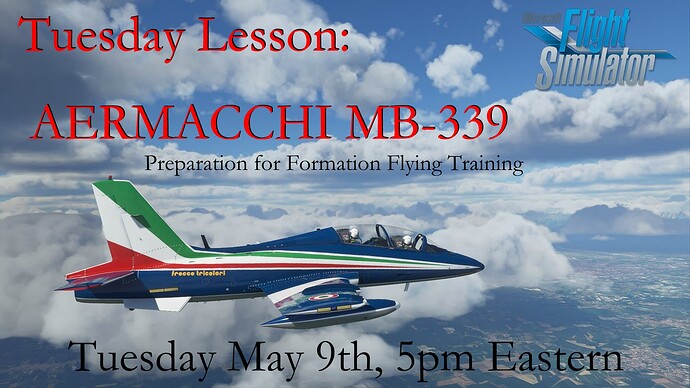 There will be a free, open to the public, training session focusing on confidently handling the MB-339 on Tuesday, May 9th. 2100 GMT , for the ForderLearnToFly Tuesday Lesson, for those who need to come up to speed in flying the MB-339 before we concentrate on formation flying skills the week afterwards. Formation Flying 101 with the Shadow Display Team
Where: Twitch at the same airfield where the formation flying lessons will be held. 2023-05-09T04:00:00Z at 5pm Eastern, 2100 GMT.
What you will Need: Flight Simulator on an Xbox or PC with the MB-339 Military Training Jet.
All are welcome as long as you are using this jet. You can come to watch the stream or even be in the simulator area as a camera if you aren't flying. (drone mode).
ForderLearnToFly Twitch Stream: twitch.tv/ForderLearnToFly
See you there.